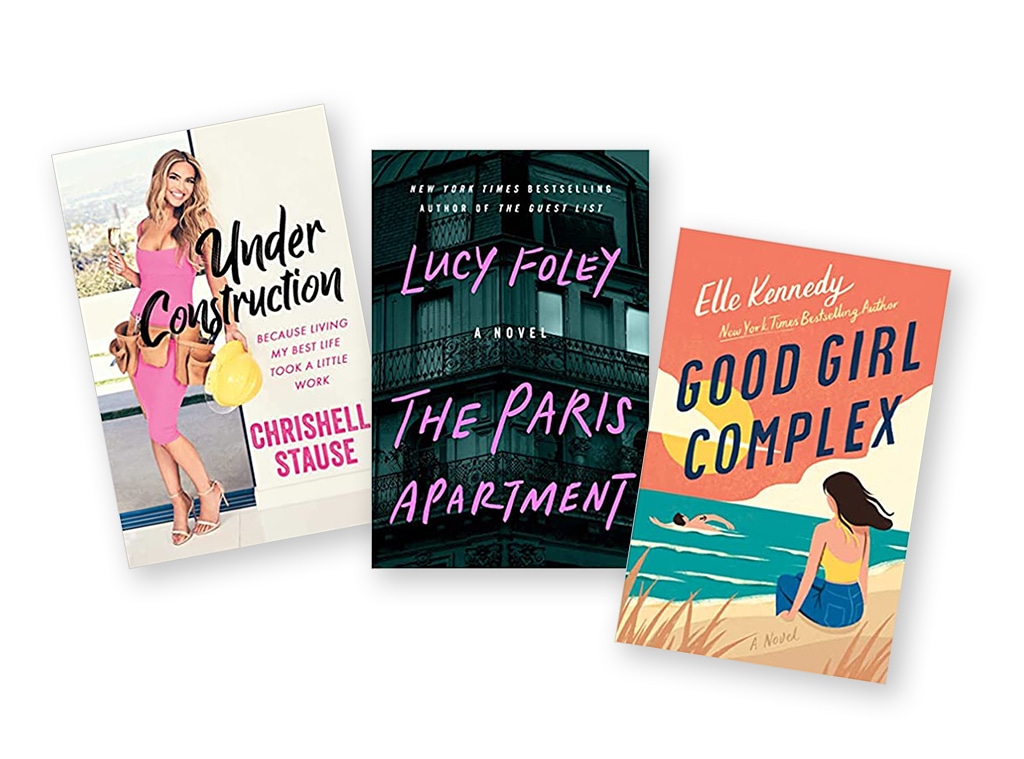 We love these products, and we hope you do too. E! has affiliate relationships, so we may get a small share of the revenue from your purchases. Items are sold by the retailer, not E!
Once upon a time, there was a bookshelf just waiting to be filled...
Sounds like the beginning of a great love story between you and some of February's best new reads, right? Whether you are in the mood for a thriller that will make your pulse race or a swoon-worthy rom-com, we have just what you need among our picks of the best releases of the month. Flowers may come and go, but books are forever!
So, as you indulge in a box of chocolates and a glass or two of wine, you should definitely add a page-turner to the mix and start buying physical copies of our picks or—because, you know, technology—pulling them up on Kindle Unlimited or through a free trial of Audible.
Here are our top picks of the books to add to your reading list this February:
Black Cake by Charmaine Wilkerson
Two estranged siblings must set aside their differences to deal with their mother's death and her hidden past in this poignant and powerful debut novel. Already in development as a Hulu original series produced by Oprah Winfrey, this is a moving must-read about the inheritance of betrayals, secrets and family traditions, including, yes, Black cake. (February 1)
Good Girl Complex by Elle Kennedy
Mackenzie "Mac" Cabot has always been a people pleaser, even moving to the wealthy beachside town of Avalon Bay to attend college to make her parents happy rather than grow her booming Internet business. But her life of controlling her impulses is thrown for a loop when she meets local rebel Cooper Hartley. While the polar opposites begin to form a deep connection, a secret from his past threatens their relationship. You know what they say about bad boys... (February 1)
Other People's Clothes by Calla Henkel
Two American exchange students obsessed with the Amanda Knox trial find themselves in the midst of their own scandal, complete with murder and celebrity, in this wickedly sharp debut novel. When art student Zoe and her new friend Hailey move into a sublet owned by a popular thriller writer in Berlin, they are convinced the author is using their antics as inspiration for her next novel. When they attempt to display main-character energy by hosting a weekly nightclub in their apartment, things slowly begin spinning out of control. (February 1)
The Christie Affair by Nina de Gramont
Did you know Agatha Christie mysteriously disappeared for 11 days in 1926 and to this day no one knows exactly why and where she went? In this brilliant reimagination, de Gramont unravels the circumstances leading up to the scandal, including her husband's affair with Nan O'Dea, who serves as the novel's narrator. (February 1)
Beautiful Little Fools by Jillian Cantor
The women of The Great Gatsby finally take control is this re-crafting of the American classic. Told in three alternating voices—Daisy Buchanan, Jordan Baker and Catherine McCoy—the story picks up after Jay Gatsby is found dead in his swimming pool and a diamond hairpin is found at the crime scene. Think Big Little Lies but in the jazz age. (February 1)
The Arc by Tory Henwood Hoen
Forget Tinder or Bumble, The Arc is a highly secretive, super-sophisticated matchmaking service that allows its users to curate their perfect partnership in this high-concept love story that is sure to satisfy fans of Taylor Jenkins Reid and Sally Rooney. When 35-year-old Ursula Byrne pays the steep price tag to find her soulmate, she is paired with lawyer Rafael Banks, but their relationship proves to be anything but predictable, no matter what the algorithm says. (February 8)
Under Construction: Because Living My Best Life Took a Little Work by Chrishell Stause
The Selling Sunset fan-favorite is holding nothing back in her heartfelt and humorous memoir. Stause opens up about her unconventional childhood and her days as a daytime soap star, while pulling back the curtain on her highly publicized love life, including her high-profile split from Justin Hartley in 2019. Along with sharing deeply personal stories, the reality star offers a relatable guide to overcoming obstacles, wising up about romance and getting ahead in your career. (February 8)
One Night on the Island by Josie Silver
In her follow-up to One Day in December, Silver delights with another unexpected love story when two people who want nothing more than to be alone end up double-booked in the same remote cabin. Did we mention the next ferry doesn't arrive until next week? Looks like these two should make some room for fate in their getaway. (February 15)
Our American Friend by Anna Pitoniak
A Cold War spy thriller and a fictional tale of a mysterious first lady is the unusual but compelling combo at the heart of this decades-spanning story. White House correspondent Sofie Morse is surprised when the president's wife Lara Caine asks her to write her official biography, with the pair forming a deep friendship as Lara is candid about her beloved father's work as an undercover KGB officer in Paris. But Sofie can't help but wonder why Lara is revealing all of this sensitive information, finding herself in a dangerous cat-and-mouse game. (February 15)
Moon Witch, Spider King by Marlon James
In the highly anticipated second installment of The Dark Star trilogy, James explores the South Kingdom after introducing readers to its adversary in 2019's Black Leopard, Red Wolf. And Sogolon, the Moon Witch, takes center stage in the epic fantasy, flipping the first book's narrative and telling the story from a woman's perspective. With Michael B. Jordan acquiring the film rights, don't be surprised if this series becomes the next Game of Thrones or Black Panther, so you'll want to get a head start now. (February 15)
The Paris Apartment by Lucy Foley
She's ba-aaack! The Guest List author has delivered yet another thriller that will keep you guessing until the very end. In her latest, Foley takes her readers to Paris as Jess decides to pay her half-brother Ben a last-minute visit. The problem? He is missing when she arrives and the apartment building he had been living in and its inhabitants all have secrets. This whodunnit will have you saying, "Oh mon Dieu!" (February 22)
Fake by Erica Katz
Doesn't a high-stakes globe-trotting thriller set in the art forgery business sound like it should be the plot of a Tom Cruise movie? Well, it's actually the life that talented forger-for-hire Emma Caan lives before she receives an offer from a mysterious art collector to work at his prestigious gallery in New York City. Though Emma quickly finds herself becoming an art influencer and getting caught up in the glitz and glamour of her new world, her carefully curated life begins to crack when the past she's worked hard to overcome begins to resurface. (February 22)
I'm So (Not) Over You by Kosoko Jackson
If you thought your relationship status was complicated, try being aspiring journalist Kian, whose ex-boyfriend, Hudson, asks him to pretend to be his boyfriend again while his parents are in town. But as the fake romance continues, giving Kian access to some of Hudson's wealthy family's media contacts along the way, both men will have to figure out what's true and what's fiction. (February 22)
The Paradox Hotel by Rob Hart
Welcome to the Paradox, where ultra-wealthy tourists arrive ready to catch their "flights" to the past, using the hotel's timeport to visit different eras, in this sci-fi thriller. But when a corpse shows up in one room just as the government is about to privatize time-travel technology, head of security January Coles' job just got a whole lot harder as she finds herself in the middle of a murder mystery. Oh, did we mention there might be ghosts roaming the property, too? (February 22)
This Might Hurt By Stephanie Wrobel
The Collins sisters are trapped in different ways: Natalie has been keeping a dark secret, while Kit hasn't been seen in six months after going to Wisewood, a private island off the coast of Maine that cuts off contact between its inhabitants and the rest of the world. When Natalie receives a threatening e-mail from the facility, she finds herself checking in as a way to save her sibling, but the cult has no plans to let either of them go. (February 22)