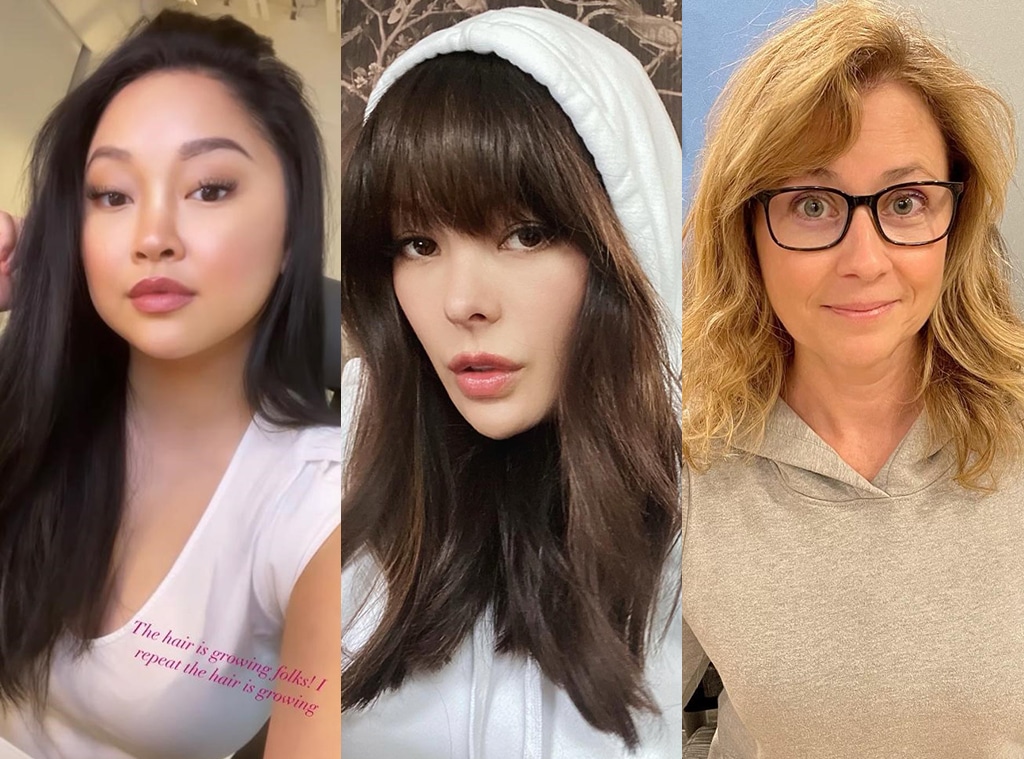 We interviewed Alice Kim because we think you'll like her picks at these prices. The products featured are from Alice's line PerfectDD. E! has affiliate relationships, so we may get a commission if you purchase something through our links. Items are sold by the retailer, not E!. Prices are accurate as of publish time.
If you've ever put on a button-down shirt, feeling "professional" and ready to take on the world, only to catch a glimpse of yourself in the mirror and notice a major gap between buttons, you're not alone. If you've ever wished that your sleeves were longer because your chest pulled up the fabric of your sweater, you're not the only one. These are fashion problems that women with larger chests encounter all the time when they try on clothes.
AAPI fashion designer Alice Kim is all too familiar with those struggles, which was why she created her own clothing brand, PerfectDD. PerfectDD is a sustainable brand with styles that take a woman's chest size into account with an emphasis on smart fits and body positivity.
Recently, Alice Kim talked to E! News about creating her brand, the unique details of her pieces, and the celebs who have been spotted in PerfectDD.
E!: I've noticed a lot of celebs wearing your clothes. How does that feel?
AK: Jenna Fischer actually posted on her Instagram, wearing my sweatshirt too, which is so crazy. Lindsay Price had sent a few of the AAPI campaign sweatshirts to her friends. They posted wearing it on Instagram too. Lana Condor wore one of the shirts on her Instagram Story. Janette OK featured the brand on her TikTok. It's just so crazy to see these things without ever expecting them and I am so grateful.
E!: Before starting your brand, what problems did you encounter while shopping and how did you address those when you created your own pieces?
AK: I have a small to mid frame. When I would go shopping, I would try on clothes that would fit my shoulders and my torso, but because I have a double D chest, I would always pop out. So whether it's pulling across my chest, buttons popping open, or just by my mid midsection, fabric would hang and makes me look bigger. In order to accommodate my chest, I would have to size up. Professionally, I just didn't feel confident because of how clothes fit. I would have to get things tailored or leave blazers open because I couldn't button them.
I wanted to create a line that fits our body type for women with a larger chest. I responded by adjusting the fit of my pieces. There's much more room in the chest area and more room around the armpit. The waist is taken in on the pieces.
I think what I do differently is the pattern. For every size, I make a unique pattern, from size XS to 3X.
E!: What are some of the biggest challenges of starting and continuing to grow this brand?
AK: The focus on sustainability can be very difficult because of the manufacturing cost. You hope that people will pay for the high quality and for the knowledge that we made efforts toward sustainability. The pieces are expensive because of the craftsmanship. I tailor every size specifically and I use the highest quality materials that are organic and sustainable. Plus, 90% of the collection is made in the the US because I want to stimulate US economy. I'm born and raised here a native New Yorker, so it's near and dear to my heart. The only reason the other 10% isn't produced here is because of the craftsmanship, but also the availability of specific machinery.
E!: You mentioned that you struggled to feel like you were dressing "professionally" because of how certain garments fit you. Tell me about the button-down shirts from your brand and how those differ from the others out there.
AK: First, there's that big problem of buttons gaping at the chest. These shirts have much more room to accommodate a larger chest, so it doesn't pull across your chest. It's also reinforced with a hidden button. It's all about a focus on the details. We have tailored the sleeves to be a little bit longer because sometimes a bigger chest can pull a whole garment up and make the sleeves look shorter. I also love a good puff sleeve.
PerfectDD Franci L/S Button Down
This top has a hidden button, which means no more gaping at the chest. Where it as is or roll up the sleeves for a chic look.
E!: Tell me about the construction of the Logan sweatshirt and the design aspects that flatter women with bigger chests.
AK: What's unique about the shirt is the neckline, which can be worn a few different ways. You can pull it down to showcase some cleavage. You can wear it off one shoulder or you can wear it lower on both shoulders.
PerfectDD Logan V-Neck Sweatshirt
This v-neck sweatshirt has an ultra-flattering neckline for anyone, especially those with a larger chest. Plus, those puff sleeves give it an extra touch of sophistication. It is also available in white.
E!: Who are some celebs that you would love to see in your clothes?
AK: I would love to see the clothes on Priyanka Chopra, Billie Eilish, Kate Upton, and Salma Hayek.
E!: Tell me about having a focus group to test out styles and inspire new pieces.
AK: When I started this, a lot of people were like "That's so me." I didn't have many samples, so I would just give them the product to try for a couple days and they would provide feedback. Then the focus group started to build up because of my customers. They loved to give feedback and I love to listen to their opinions and ideas. We listen and make adjustments to get things right. I've been a fashion executive for almost 20 years and I'm proud to say that my return rates are in the single-digit percentile, and the reason that most people make returns it's to exchange for another size.
E!: What are some aspects of your brand or even your website that differ from others out there?
AK: In addition to showing photos of women wearing our clothes, we show pictures of them in other clothes, or bras and bikinis. Sometimes people look at the photos with our garments and think "there's no way she has a large chest." We should the additional photos to emphasize the impact our pieces can make.
If you're looking for more styles to accommodate your body type, check out this bralette we tested on three different cup sizes. 
—Originally published Jan. 31, 2021 at 11:05 AM PT.