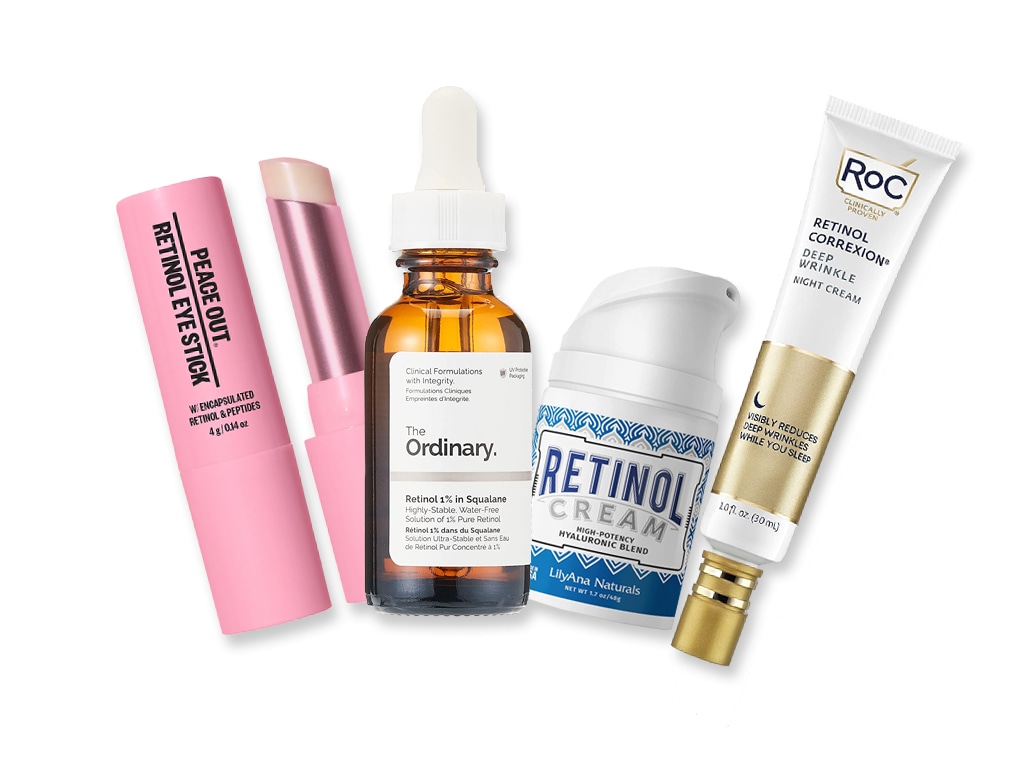 We independently selected these deals and products because we love them, and we think you might like them too. E! has affiliate relationships, so we may get a commission if you purchase something through our links. Items are sold by the retailer, not E!. Prices are accurate as of publish time.
When it comes to anti-aging skincare, pricier doesn't always mean better. While we don't mind splurging a bit on a retinol products we absolutely love like Sunday Riley's Luna Sleeping Retinoid Night Oil or Drunk Elephant's A-Passioni Retinol Cream, we've found some wallet-friendly options that work just as good. 
For instance, Peace Out's Retinol Eye Stick works wonders on dark circles and fine lines, and it's only $28. It's no wonder it sells out all the time. The brand even recently came out with a Retinol Face Stick that Sephora shoppers are already loving, and it's only $34!
Amazon is also a great source for finding retinol creams and serums that won't break the bank. Thanks to reviews, we know which ones are worth trying. For us, this $20 trio of anti-aging serums with over 38,000 five-star reviews, hits all the marks. The products even work just as great as anything more high-end.
We've rounded up some of the best retinol products you can get for under $50. Check those out below. 
Peace Out Retinol Face Stick
If you love the Peace Out's best-selling Retinol Eye Stick, you definitely need to check out their brand new Retinol Face Stick. It contains a 3% encapsulated retinol blend, which works to reduce the look of fine lines and wrinkles. It's also made with a fruit enzyme blend to target pores. It just came out recently but shoppers are already obsessed.
As one Sephora shopper wrote in their review, "WOW! I just was looking for a simple retinol to incorporate into my routine to get rid of fine lines that had really started to bother me lately. I'm 28, so these lines were nothing too crazy, but they were getting deeper and I knew I wanted to start prevention soon. This product is absolutely insane. Within a week and a half of use — a few times a week, not every day — my fine lines are basically gone. It's incredible. I've had no drying effects whatsoever and I have dry skin to begin with. Definitely worth the money in my opinion…want to try to eye version next!"
Tree of Life Retinol Serum
Amazon has a ton of amazing anti-aging serums that are totally affordable and Tree of Life's Retinol Serum is a must-try. It's non-drying, good for all skin types and made with "super" ingredients like vitamin E, jojoba oil, green tea and witch hazel. It's an Amazon shopper-fave with over 15,900 five-star reviews, and many say it really makes a difference. 
As one shopper wrote, "I'm a regular Amazon customer and I only leave reviews if I really love or hate a product. In this case, I love this serum. Super affordable and you get a lot of it. I've tried a lot of retinol serums that are more expensive and still like this one more. It's a thicker serum that feels more like a gel. After three days of use my skin was brighter, and I saw a slight difference in fine lines. I use at night and my skin looks great. Will definitely buy again."
The INKey List Retinol Anti-Aging Serum
If you're new to retinol products, this award-winning retinol serum is a great starter option. It has a slow release formula to minimize irritations, and it also contains squalane to hydrate and soothe.
As one Sephora shopper wrote, "This was the first retinol I have used, and I would say it's going to stay in my routine for a long time! It has helped so much with lightening my acne scars and helping new pimples disappear faster. I still have to adjust to it even if it's a milder concentration. But after four weeks of use I will say my skin looks so much better and much more even!" 
CeraVe Resurfacing Retinol Serum
CeraVe's Resurfacing Retinol Serum will minimize pores, even skin tone and reduce the appearance of post-acne marks. It's made with three essential ceramides, which help to fill in the gaps between skin cells and seal in moisture. It has over 16,500 five-star reviews on Amazon and the before and after photos from real shoppers really speak for itself.
As one reviewer wrote, "I swear by anything from CeraVe, but especially this serum. I suffered from terrible acne for my entire adult life. After undergoing a very harsh treatment with my dermatologist, the acne disappeared but I was left with deep scars, dry skin (it was oily before), ultra sensitivity to pretty much anything, and dermatitis. I tried a bunch of products and nothing helped, most things left me with a pretty nasty rash, even stuff that was designed for sensitive skin. I decided to make the switch to CeraVe and now I couldn't be happier with the results! I was really depressed because of my skin but I finally got my confidence back!"
Ebanel Liposomal 2.5 Percent Retinol Cream
This retinol moisturizer cream from Ebanel is equal parters wrinkle filler, skin firmer, skin lifter, dark spot and blemish remover and pore minimizer. It's made with 2.5% retinol, three peptides, ascorbic acid and hyaluronic acid. It has over 1,900 perfect reviews and multiple shoppers called this a true miracle worker. 
RoC Retinol Correxion Deep Wrinkle Anti-Aging Night Cream
This anti-aging night cream from RoC will work its magic on deep wrinkles while you sleep. It has over 10,000 perfect reviews on Amazon, and one shopper said they started seeing major improvement after a few short weeks of consistent use. 
The Ordinary Retinol 1 Percent in Squalane
Many people love The Ordinary for having cheap skincare products that get the job done. According to one Amazon reviewer, this retinol serum changed their skin. They wrote, "My acne is basically gone and my hyper-pigmentation improved significantly. My skin feels and looks healthier and glows from within. Seriously." 
NatureWell Clinical Retinol Advanced Moisture Cream
NatureWell's Retinol Advanced Moisture Cream works to improve skin tone and texture, boost firmness, and keep the skin hydrated. According to Amazon shoppers, it's an awesome product that's long-lasting and such a great value.
As one reviewer wrote, "No expectations but WOW! I found a cream that makes my skin really really soft (like silk) and changes the appearance of the crepey skin. I love it. I used a little on my face and my face is so much softer."
Olay Regenerist Retinol Moisturizer
Problematic skin? Olay's Regenerist Retinol Moisturizer was made to reduce the appearance of dark spots, scars and blemishes. You'll also see improvements in fine lines and wrinkles, texture and tone. It's made with vitamin B3 and a retinol complex to give you all the anti-aging benefits, while providing hydration for up to 24 hours. According to one shopper, they could see and feel the difference in their skin as easily as three nights in.
LilyAna Naturals Retinol Cream for Face
Amazon's best-selling LilyAna Naturals Retinol Cream is a shopper-fave with over 21,700 five-star reviews. It works to reduce the appearance of lines and wrinkles, firm and lift the skin, smoothen rough texture and give you an overall, youthful-looking glow. It's highly moisturizing, good for all skin types and wallet-friendly at just $20. According to Amazon shoppers, don't let the lower price point fool you. After one use, you may find yourself trading in your high-end products for this.
Peace Out Retinol Eye Stick
Last but not least, we have the ultra-popular Retinol Eye Stick from Peace Out. It's made with encapsulated retinol to soften lines and wrinkles, a power peptide complex to firm the skin, and vegan squalane and astaxanthin to keep your skin looking bright, bouncy and glowy. We love that it goes smooth and doesn't dry out the skin. 
As one Sephora shopper wrote, "I have tried multiple retinol products from serums to creams to even prescription products. In the past, many retinol products have either caused too much dryness, or have specifically stated to avoid the eye area. This product seems to be made for the more delicate skin around the eyes. It's applied like a lip balm (but around the eyes) and is super easy to use."
It's a product that's so beloved, it sells out all the time. If you're going to try anything on this list, we highly recommend this!