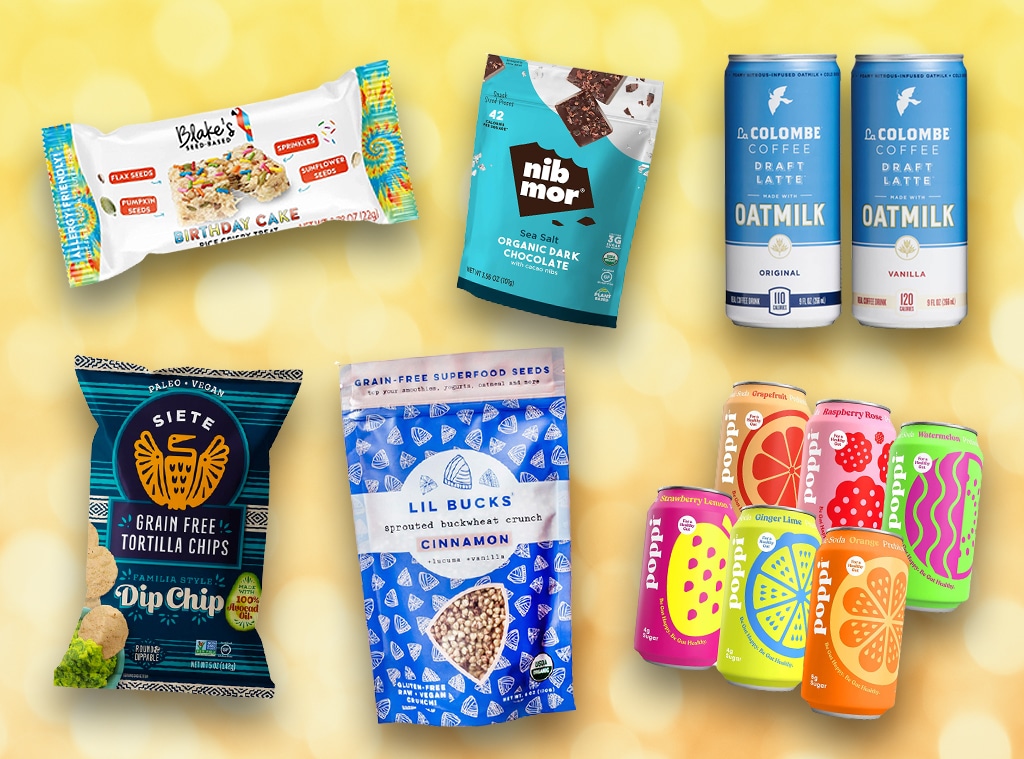 E! Illustration
We love these products, and we hope you do too. E! has affiliate relationships, so we may get a small share of the revenue from your purchases. Items are sold by the retailer, not E!
It's the homestretch, people! 
The end of January is here, which means the finish line for a lot of folks who made wellness-focused resolutions or embarked or month-long challenges at the beginning of the year.
And whether it was doing Whole 30, sticking to a ketogenic diet or just trying to eat healthier, there's no reason you can't bring some of the lessons you learned from your respective journey with you through the rest of 2022. We are here to help, assembling a line-up of better-for-you alternatives that are equally as satistfying to turn to when you feel a sugar craving come on and you are committed to your new feel-good lifestyle. 
So regardless if you are looking to eat dairy-free, intend to keep it keto or just want to stock your shelves with healthy choices, here are all the snack swaps you should check out:
Poppi Sparkling Prebiotic Soda (12-Count)
If You Are Craving: Soda
Try: Meet Instagram's favorite beverage, which looks as bright and bold as it tastes and more than lives up to the hype. Plus, your gut will thank you as each can packs apple cider vinegar (a holy grail product that can help to lower blood sugar and cholesterol levels), five grams of sugar or less and no more than 20 calories. Feel free to double-tap!
Sakara The Metabolism Duo
If You Are Craving: Hot Chocolate 
Try: Imagine a drink that could both curb and fill your sugar cravings while also supporting your metabolism, gut health and digestion. While it may sound good to be true, that is exactly what Sakara's super powder—think rich dark chocolate with a coconut essence—can do for your daily coffee, smoothie or night cap. Plus, the chic brand also offers those benefits in bar form, a perfect addition to your on-the-go bag.
Siete Foods Build-Your-Own Grain Free Tortilla Chip Bundle (4-Count)
If You Are Craving: ALL the Chips
Try: Why limit yourself to just one chip flavor when you can enjoy the beloved family-owned brand's bevy of options, like fuego, ranch and nacho? Dairy and grain-free, Siete mixes healthier ingredients (think cassava flour and avocado oil) with the classic Mexican-American flavors rooted in their childhood. 
nib mor Organic Snacking Chocolate (6-Pack)
If You Are Craving: Straight Up Chocolate
Try: Prepare to have that pesky little tooth totally satisfied with one of these squares, which are just 42 calories, plant-based and have a sprinkle of sea salt that nails that sweet and salty combo. We sometimes like to add a spoonful of nut butter or mix a few pieces into our popcorn as a mid-day snack. 
Primal Kitchen Paleo Bowl Bundle (3-Count)
If You Are Craving: A Nice Meal But Have No Time to Cook
Try: While they are known for their incomparable line-up of dressings, sauces and oils, Primal Kitchen also has delicious frozen meals that are ready in less than five minutes. The flavors—chicken pesto, beef and mushroom and chicken panang curry—are paleo-friendly and Whole 30-approved and will become your go-to on nights where you can't even. 
Purely Elizabeth Apple Walnut Grain-Free Granola + MCT Oil
If You Are Craving: Apple Pie
Try: Hey, no judgements here if you aren't quite ready to say goodbye to the flavors of Thanksgiving and Christmas just yet. For a heathy-yet-still-nostalgic take on the classic dessert that is keto and paleo-friendly, we recommend topping these clusters with warm milk and some dairy-free whipped cream. 
La Colombe Oatmilk Draft Latte Duo Pack (12-Pack)
If You Are Craving: A Fancy-Ass Latte
Try: While we all love visiting a cute coffee shop, our bank accounts are often less enthused, especially when it sees we have to pay extra for an alternative milk. Coming in at $3.50 per can and containing one-and-a-half cups of 100 percent Arabica coffee, La Colombe is turning your kitchen into the best café in town. 
Hu Kitchen No Added Sugar Keto Baking Chocolate Chips (3-Count)
If You Are Craving: A Homemade Cookie
Try: One of our go-to brands for all things healthy living finally launched their own chocolate chips, which are a pantry essential for any paleo or keto baker. Sweetened with dates and containing no sugar alcohols, dairy or additives, your baked goods will thank you for using Hu. 
Blake's Seed-Based Birthday Cake Rice Crispy Treat (24-Count)
If You Are Craving: Rice Krispie Treats
Try: Indulge your inner child by grabbing one of these nostalgic squares that are vegan, gluten-, dairy- and nut-free and are made with sunflower, flax and pumpkin seeds. And did we mention the birthday cake flavor has sprinkles? Adulthood really is jus finding the little things that bring you joy. 
Hippeas Organic Chickpea Puffs Variety Pack (12-Count)
If You Are Craving: Cheese Puffs
Try: The coolest thing about chickpeas is that they are just as good for the planet as they are for you, so eating one of these bags—the flavors are vegan white cheddar, sriracha sunshine and bohemian barbecue—basically makes you a superhero with really good taste. 
Oats Overnight Variety Pack (8-Count)
If You Are Craving: A Smoothie That Packs a Punch
Try: Blueberry cobbler, maple pancakes, chia latte and peanut butter cookie dough cacao crunch. It doesn't sound like those could possibly be healthy breakfast options, right? Well, thanks to Oats Overnight, which just requires the addition of milk, you can indulge every morning while also ingesting 20 grams of protein. 
LesserEvil Sour Cream and Onion Sun Poppers
If You Are Craving: Sour Cream and Onion Dip
Try: Talk about a fitting name for these delectable little nuggets because once you pop you won't be able to stop. And with dairy-free seasoning blend, plant protein from watermelon and pumpkin seeds and 45 poppers coming in at 130 calories, that is totally okay. 
Mush Ready-to-Eat Oats Variety Pack (6-Count)
If You Are Craving: Oatmeal
Try: Okay, so oatmeal can, of course, be healthy, but why go through the trouble of making it yourself when Mush has already perfected the art of the overnight oats? This Shark Tank-approved brand is developing a cult following and for good reason as their ready-to-eat cups all contain natural ingredients, no added sugar and, oh yeah, a ton of flavor.
Fix & Fogg Everything Butter
If You Are Craving: Peanut Butter
Try: Quick pro-tip. The only time the ingredients list for your favorite jar of PB should be longer than one line is if it is packed with nuts and seeds like this stacked offering from the New Zealand company. With eight grams of protein per serving, pair this with your favorite bread, a banana or, you know, your spoon for a filling snack option.
Lil Bucks Sprouted Buckwheat Groats
If You Are Craving: Granola
Try: We are issuing a fair warning that you might not be able to resist downing the whole bag of these tasty little cuties. But, if you are able to hold off, we highly recommend topping your smoothies, oats, pancakes, toasts and more with the grain-free crunchies that also contain adaptogenic ingredients that will benefit your gut.
HighKey Build-Your-Own Keto Mini Cookie Bundle (4-Count)
If You Are Craving: A Chocolate Chip Cookie
Try: Fret not, ketogenic friends, you can still enjoy cookies! Yes, you can stick to your low-carb and low-sugar diet while still enjoying flavors like chocolate chip, snickerdoodle, peanut butter and double chocolate brownie. So go on, put your hand in the cookie jar. 
Birch Benders Sweet Potato and Waffle Mix (3-Count)
If You Are Craving: Pancakes or Waffles
Try: You are just one scoop of water away from digging into a warm stack of pancakes packed with sweet potato, zucchini, carrots and cinnamon. So, that basically means you are eating vegetables without even realizing it, which is kind of what adulting is all about. 
Califia Farms Cinnamon Roll Oat Creamer
If You Are Craving: A Sugar-Laden Iced Coffee From Dunkin'
Try: Plant-based and with just three grams of sugar per serving, you can now drink a cinnamon roll in the form of this creamy and decadent new flavor from Califia. (P.S. They are also offering a cookie butter almond milk option, too.)