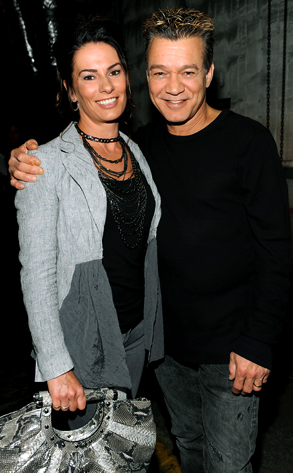 Frank Micelotta/Getty Images
Why can't this be love? Oh, wait. It is, and Eddie Van Halen has the ring to prove it.
The Van Halen axeman swapped vows over the weekend with his girlfriend of three years, Janie Liszewski, at his seven-acre estate in Studio City, Calif.
The garden ceremony was officiated by his older brother and V.H. drummer, Alex Van Halen. Eddie's 18-year-old son, Wolfgang Van Halen, who backed his dad on bass on Van Halen's successful reunion tour last year, served this time as his best man.
Van Halen, 54, was previously hitched to actress Valerie Bertinelli, but the couple divorced in 2007 after 25 years of marriage. Around that time the rocker hooked up with the 39-year-old Liszewski, the group's publicist, and popped the question in October.
Proving that things are still amicable, Bertinelli was among the 100 guests present for the nuptials.