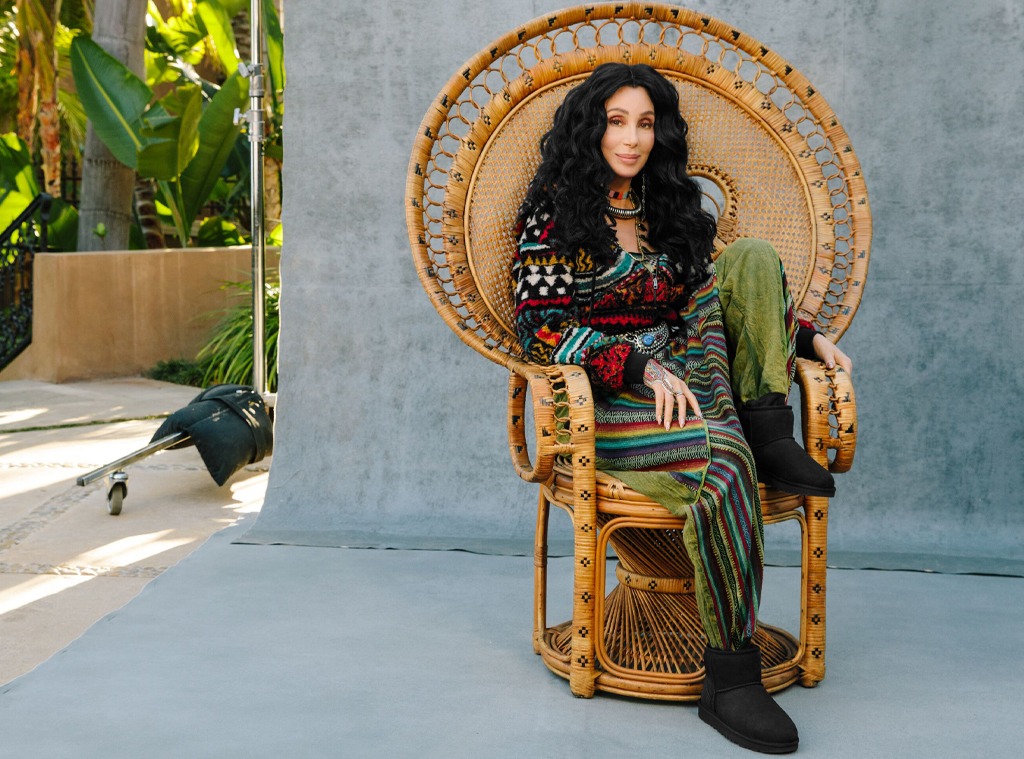 Neil Favila
We included these products chosen by Cher because we think you'll like her picks. Cher is a paid spokesperson for Ugg. E! has affiliate relationships, so we may get a commission if you purchase something through our links. Items are sold by the retailer, not E!. Prices are accurate as of publish time.
When I had the opportunity to talk to Cher about the UGG "FEEL ___" campaign, I was shocked when the first words out of her mouth were about me (of all people). She said, "I am so excited to talk to you. I am really excited because back in the day, I never got to talk to women. Very very few people who interviewed me were women. I mean, there were women, but they were not in the majority."
The icon recalled, "Through history, we've had to fight for everything that we have gotten and it never came easy. There were no women executives in music. You were supposed to sing and then someone patted you on the head and then you went and sat down." Of course, some positive changes have been made, but there's still so much work to go, with Cher advising, "You have to push the envelope and that's so cliche, but you have to. When men are forceful or know what they want, they're respected and viewed as 'tough.' When women are not even pushing it, but just say 'I can't do this. I'm not comfortable with that,' then they're thought of as a 'bitch,' when that isn't the case."
Cher reflected on her success, shared invaluable advice, and she dished on her UGG campaign in an exclusive interview with E! News. 
Cher explained, "Women went through that before I did and just passed it on. We have to just keep going because we're making strides. When my mom was young, my mom was tough."
She continued, "My mom is still tough, but there were these silly laws and rules she and her friends were expected to follow, like this notion that you have to cut your hair when you became a certain age. And, I kept thinking, when will the age come that I will have to cut my hair? I finally thought this is such 'bullsh-t. I'm not gonna do any of these things.'" And, thankfully, she hasn't. Her signature long locks is more than just a hairstyle. It symbolizes Cher's reluctance to abide by unnecessary social norms that she describes as "silly things that just really made no sense." 
Cher concluded, "Women deferred to men, you know? Men have the power and women have had to outsmart them." 
E!: What do you think of when you hear 'UGG.' What three words come to mind?
C: Oh, I can't say anything in three words. It's a really good brand. It's a really good product and that's why people are drawn to it. It's one of those rare brands with products that say something to everyone. You can say different things to different people, but somehow it speaks to everyone.
E!: There are so many projects presented to you and brands to align with. What made you team up with UGG?
C: I knew what I wanted to do. They gave me so much freedom, and I got to work with these young directors, which was really exciting for me. The ideas were so wonderful, and I just thought, this is a fit and I'm going to be able to show people a side of me that they don't get to see often. I'm the same person I've always been, but I have many facets to who I am. I think women need to show and embrace every part of themselves because nobody wants a one-dimensional picture.
When I said, 'Mom, I am a rich man,' it really came out of nowhere, but, obviously that came out of me because I believe that I didn't need to ask a man for anything. I wanted to do a project and I didn't have the money and my mom said, 'You know, honey, you should marry a rich man,' and that instantaneously came out of my mouth before I could even process it. I realize that this is what women have had to go through and now we don't need to.
UGG Classic Mini II Boot
Cher wore these classic mini boots for the campaign. These lightweight boots will keep you warm no matter what you're up to. Just like other UGG footwear, these are durable and versatile. Cher proves that you can never go wrong with black, but these are so many other colors to choose from.
Ugg Coquette Slipper
This is another one of those incredibly versatile options from UGG. You can slip into this while you're indoors for some cozy comfort and you can wear it outside since it has a durable sole. Cher wore the black, but there are so many solid colors and prints to choose from.
E!: Do you have any advice for anybody about being yourself, not apologizing for it, and just trusting your own instincts?
C: I didn't really start out as myself. I mean, I started out as myself until I met Sonny [Bono], but then I wasn't my exact self. I tailored myself and I adjusted myself and then I got tired of adjusting myself. But, I realized that when you have no power, it's difficult to stand your ground and after you've been in a job for 60 years, or however long I've been doing this, then you can just tell everybody that you're going to do what you want to do. Even then sometimes you have to give and take while being true to who you are.
You can couch it in a smart way, you know? If we can't come to someone straight on, we can go around them just in our process, you know. We can just keep going by outsmarting people. Women are quite good at that. Sometimes you can't go head-on because it's not smart. You need to be a few steps ahead and think out your words.
E!: Success isn't easy to come by, but you've been killing it for decades. When you reflect on that, what comes to mind?
C: I chose to be an artist, but when you fail, you fail in front of the entire world. That's just something I took on. People don't realize that I have failed almost as many times as I've succeeded. It's just when you're in failure mode, nobody is interested. So nobody's aware that you're around and then you do something else and they go, 'Oh my God, you really reinvented yourself.' I've been the same since I was four. I've never actually reinvented myself.
E! That's so funny that you think that because I feel like that concept of 'reinvention' and even the word itself is something that a lot of people associate with you.
C: I know, but it's silly. It's just so silly. I mean, truthfully, I have been my same stubborn, funny self since, well, I wanted to run away from home when I was about four. I just had a suitcase packed. I went outside and I told my mom, 'It's getting dark. I'll go tomorrow.'
E!: What are some things women should keep in mind to stick to their goals?
C: I think if you're strong, try to be smart, trust your intuitions, and you're kind, you have half the battle won.
I think kindness is major in life and I just learned it all from my mom and continued to expand on it in my life because I was able to. I learned so much from my mom about kindness. We were kind of poor, but my mom always found a way to show us that we had so much more than some people and she taught us to stop, talk, and help out. My sister and I were in the car going someplace and I never have any money for some reason. I saw a homeless man on the street and I'm talking to him. I yell to my sister, 'Jen, do we have any money?' And, then my sister goes, 'Oh my God, you're just like mom.' And, I went, 'Yeah.' In many ways, I'm just like mom. My mom is 95 and still an ass kicker.
E!: You've have been in the entertainment industry for a long time. How do you stay grounded?
C: I have to keep in touch with people because I live a very strange life and if I don't communicate with people who come from every walk of life, I will have no idea what's going on. I'm usually on the road, traveling, in a group that's always together, unless I go out of my way, or if I see people on the street and talk to them. I just, I was coming out of the movies and I saw this really cute couple and they she it was some holiday because she had roses in in a cellophane and I took a photo of them. And it just kind of picked up momentum like a wildfire.
Because I have certain things, I have to search out other things. I know what life is like. I don't forget where I came from, but I have to keep being reminded and I think the key is really to make sure that I remind myself. I find that I learned so much from talking to everyone. I've talked to homeless people on the street and have had better conversations than some head of a company.