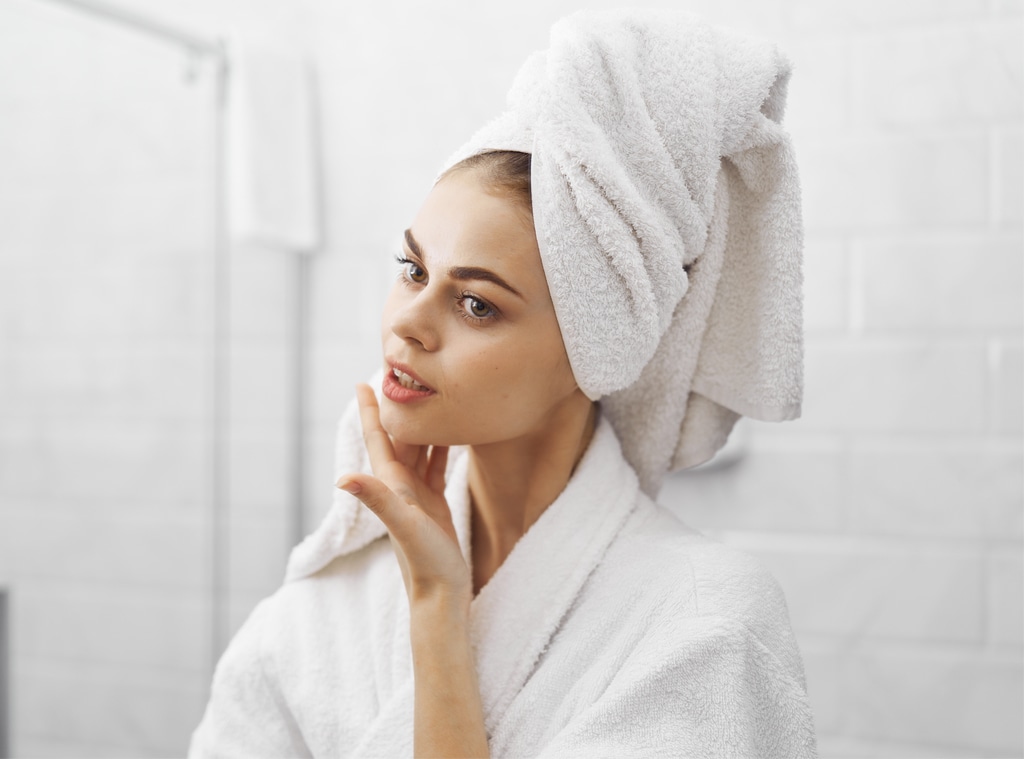 Getty Images
We independently selected these products because we love them, and we think you might like them at these prices. E! has affiliate relationships, so we may get a commission if you purchase something through our links. Items are sold by the retailer, not E!. Prices are accurate as of publish time.
If you feel like your skin is dry one day and oily the next, you're not alone. Have you tried just about everything to bring some balance to your skin? I sure have. For years, I have used everything I could to clear up the congested skin on my forehead, from iconic, expensive products to TikTok-famous solutions. Nothing actually worked. I have just had these teeny, tiny little patches on my forehead that aren't extremely noticeable, but I just wished my forehead was smooth and clear. I am consistent with my skincare and I couldn't understand why I couldn't clear things up.
I asked everyone about it, from facialists, to dermatologists to friends with perfect skin. I was open to any and all suggestions, but nothing seemed to make a difference. My forehead just looked the same for years. Then, while I was on the Soko Glam website I typed the word "congestion" in the search bar and the Inward Agas ACue Herbal Mask came up. It's only $27 and I tried everything else, so I decided to give it a shot and I am so glad that I did.
When I opened up the container, it honestly looked like more of a green smoothie than a face mask, but since I had nothing to lose, I tried it out. I have never used a face mask with this consistency before. I was admittedly confused when I opened the container because there were little green leaves floating in it, but when I put it on, I felt instantly refreshed. I left the cooling mask on for about 20 minutes, thinking it would do absolutely nothing for my face given its unusual consistency.
When I washed it off, I was in shock. My face never felt so smooth and after one use those little bumps on my forehead looked significantly smaller. I guess you really can't judge a book by its cover, or in this case, a skincare treatment by its consistency. 
Of course, everyone's skin is different and we all have our different miracle cures, but for anyone who has tried it all, I encourage you to give this one a shot. My skin has never been softer or more clear and the face mask experience is just so refreshing.
I'm not the only one who was amazed by this mask. Check out what these other Soko Glam shoppers had to say.  
One customer gushed, "I have extremely sensitive, acne prone skin. I received this as a free gift on an order and was skeptical but gave it a try. I thought "oh this thin, runny mess with leaves in it won't do anything." I left it on longer than recommended... and when I rinsed it off (which was extremely easy to do) my skin felt softer, more even, and cleaner than ever before. I can't even believe it. I'm now using this once a week and it really does wonders at getting out blackheads and imperfections. I honestly can't believe it. Highly recommend."
Another shared, "I had a really bad case of hormonal acne; and I felt that this herbal mask really helped calming down the redness and irritation."
"I've used this mask about a dozen times and I love it. It feels really refreshing and has a nice green tea scent. I usually use this when my skin feels congested, a shopper wrote."
Another described this as a "must buy for dry skin," adding, "This mask is saving my skin this winter. My whole family also loves it!! I have super sensitive acne prone skin and it worked wonders for me. It is super soothing and makes your skin so soft. Definitely going to keep buying."
Someone else wrote, "This is such a nice wash-off mask! It leaves skin smooth and refreshed after use and is good for blemish control, in my experiences. It was extremely soothing to my irritated skin after a recent allergic reaction to another product and has been a great help in getting my skin back to its normal state since then. I have dry, sensitive, acne-prone skin and use this twice weekly - three times if I need an extra boost. I recommend it!"
"The mask is a little bit messy to apply but it's worth it for the effects! After I used it just once, my skin was noticeably more glowy and bright. It's a super effective mask and a little goes a long way. I highly recommend," a fan of the product shared.
Another person wrote, "Calming and clarifyingI really like this mask. It calms my skin if it's red and breaking out. Simple and effective."