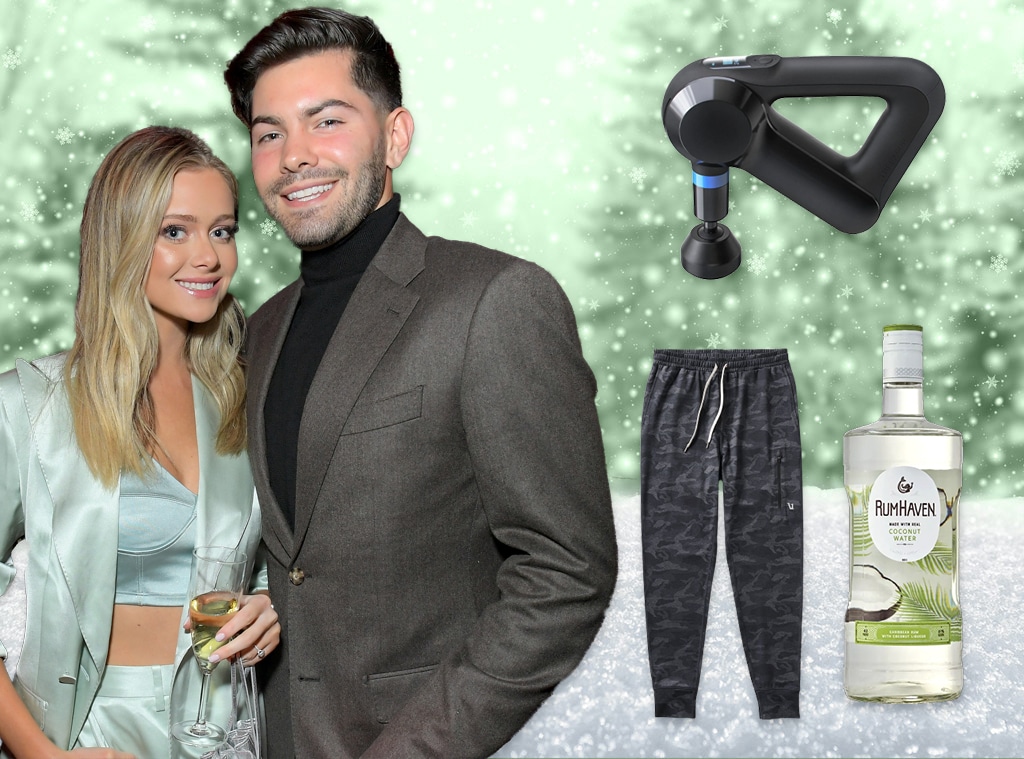 Charley Gallay/Getty Images, E! Illustration
We interviewed Hannah Godwin and Dylan Barbour because we think you'll like their picks. Dylan and Hannah are paid spokespeople for RumHaven. E! has affiliate relationships, so we may get a commission if you purchase something through our links. Items are sold by the retailer, not E!.
Hannah Godwin and Dylan Barbour fell in love while filming Bachelor in Paradise Season 6 in 2019. By now, they've celebrated plenty of holidays together and they have this gift-giving thing down. If you're not sure what to get for your friends and family, the Bachelor Nation fan favorites have plenty of budget-friendly gift suggestions for everyone on your list.
They recommend RumHaven Coconut Rum as a great gift and as an essential for hosting holiday parties. They even shared their go-to cocktail recipe with E! News, which means hosting couldn't get any easier. The pair's other gift suggestions included some practical items, like the Theragun Elite and some cozy Vuori sweats. For anyone who wants to take a more humorous approach with their holiday present picks, Hannah and Dylan have socks decorated with each other's faces on them and suggest that you follow their lead. No matter what route you want to take with your gift giving, the BIP favorites have some solid suggestions and shopping tips.
RumHaven Coconut Rum
E! What's a great gift under $50 that you would recommend?
DB: One of our go-to gifts under $50 is a bottle of RumHaven. This has been a favorite among our friends and family, because it's made with real coconut water and brings the tropical beachy vibes, even during the colder months! It's so versatile and always a crowd pleaser.
HG: Our go-to spirit any time of year, RumHaven, is made with real coconut water and can always be found on our home bar cart!
Vuori Sweatpants
Dylan said, "These are quite literally the comfiest thing you'll wear for the rest of your life. We love supporting local San Diego companies, and Vuori is one of our favs! These are the perfect gift for your s/o, so thank us later!"
Fire TV Cube- Hands-Free Streaming Device with Alexa
Hannah joked, "Alexa, play 90 Day Fiancé!" is the most used phrase in the Barbour-Godwin household. The Fire Cube is great for playing your favorite show or holiday soundtrack!"
Enindel Large Glass Mugs- Set of 4
E! You're going to a white elephant gift exchange and the limit is $25. What gift are you bringing?
HG: I think we both agree about how obsessed we are with our clear coffee mugs at home, so I think we'd bring a whole set for just $25!
My Face Socks
E!: What is your go-to stocking stuffer?
DB: A few months ago we each purchased a pair of socks with our faces on it and gave it to the other haha! So, why not do that for your family this year?
Theragun Mini
The Theragun Mini is just what you need in your gym bag and for travel. It's ultra-quiet, which means you won't be at-all-disruptive while you treat your muscles. The portable device comes with a soft case and it has a 150-minute battery life. It has three different speeds and it's also available in red and white.
Echo Dot (4th Gen)- Smart Speaker With Clock & Alexa
This device is great to control smart home devices (including light bulbs and locks), play music, set alarms, make calls, get sports scores, check the weather, play the news, answer questions, and play audiobooks. If you have multiple Echo devices in different rooms around the house, you can even announce that dinner is ready instead of yelling to get your family's attention. You can even set up the Amazon Guard feature to detect the sound of a smoke alarm or glass breaking when you are not home.
It's also available in black and a kid-friendly tiger design.
Territory Foods Subscription
Hannah shared, "We've been so busy lately, it's been hard to cook / eat healthy meals! Thankfully, we found Territory Foods, which has the BEST breakfast, lunch, and dinner meals. Plus, they're so quick and easy to prepare!"
E! Why should RumHaven be our go-to holiday drink?
HG: RumHaven has really become our go-to for all of the holiday festivities since it's so easy to mix with any fresh juice or sparkling water for a delicious cocktail, every time. One of our favorite RumHaven cocktails to make during the holiday season has been the RumHaven Coquito. The recipe is super simple - just combine equal parts RumHaven and Horchata over ice and garnish with cinnamon. Whenever we're in need of a new recipe, we check out RumHaven's IG for inpso.
E!: What's a gift you've received that you get so much use out of?
DB: Hannah got me a car detailing service which has been CLUTCH! I'm not sure if it's an age or maturity (or just me being less lazy) thing, but I love having a clean and freshly detailed car. Now only if I can get something like that for my garage...
E!: Who is harder to shop for, Hannah or Dylan?
HG: Definitely Dylan. Every year he says he doesn't need any presents nor does he want any. Easily the most difficult person to shop for!