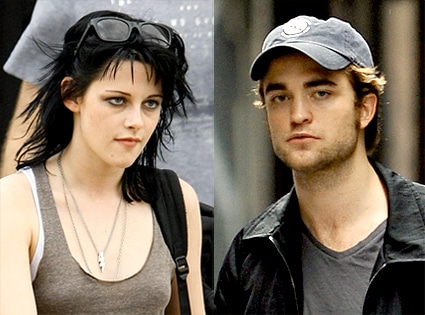 Nate Jones, Sam Sharma, PacificCoastNews.com; PacificCoastNews.com
We told you yesterday that Robert Pattinson and Kristen Stewart are no strangers to the nightlife—especially after insane work days. Just because they aren't physically together doesn't mean they're going to sit around alone and mope. That would just make their summers that much worse.
So how are Rob and Kristen spending their time? And have they seen each other?
Do read on:
Don't think that K.Stew is crying into a Rob Pattinson pillow while her man is out and about in NYC. We got word that Kris was having a lot of fun at a house party in Burbank Tuesday night, where she was hanging, low-key, with some of her costars from The Runaways.
"They were just all sitting around, talking about their day, laughing, having a good time," dishes a fellow partier.
"It was interesting because at one point I heard them talking about Kristen having so much power on the set," blabs the source, "but they all were just laughing about it since they're all friends."
Looks like R.P. isn't the only one who doesn't abuse his fame. Love it!
Kris stayed until about 1:30 a.m. before being dropped off at her Woodland Hills home around 2 a.m. Oh, and fyi, no Michael Angarano visits, who has very much been in town. That's so over.
Meanwhile, we all know Rob is enjoying himself in New York after long days of shooting. Who wouldn't?
"He's been spotted all around the city—hot spots and dive bars," dish our NYC eyes. "But every time [Rob's] out, he's very low-key and mellow, just hanging with friends. You won't find him trying to be the life of the party, hitting on every girl that comes around. Because trust me, lots of girls have tried."
So has there been a Robsten reunion? That's been word of late on lots of the Twi blogs. We're working on getting you all total confirmation, but from what our studio peeps tell us, they don't think it's happened.
Rob isn't done filming his scenes until the end of the month, and he's been in the middle of a superhectic schedule over there. But hey, there's nothing we'd love more than a Rob-Kristen rendezvous, so we'd love to be proved otherwise.
We'll keep ya updated!