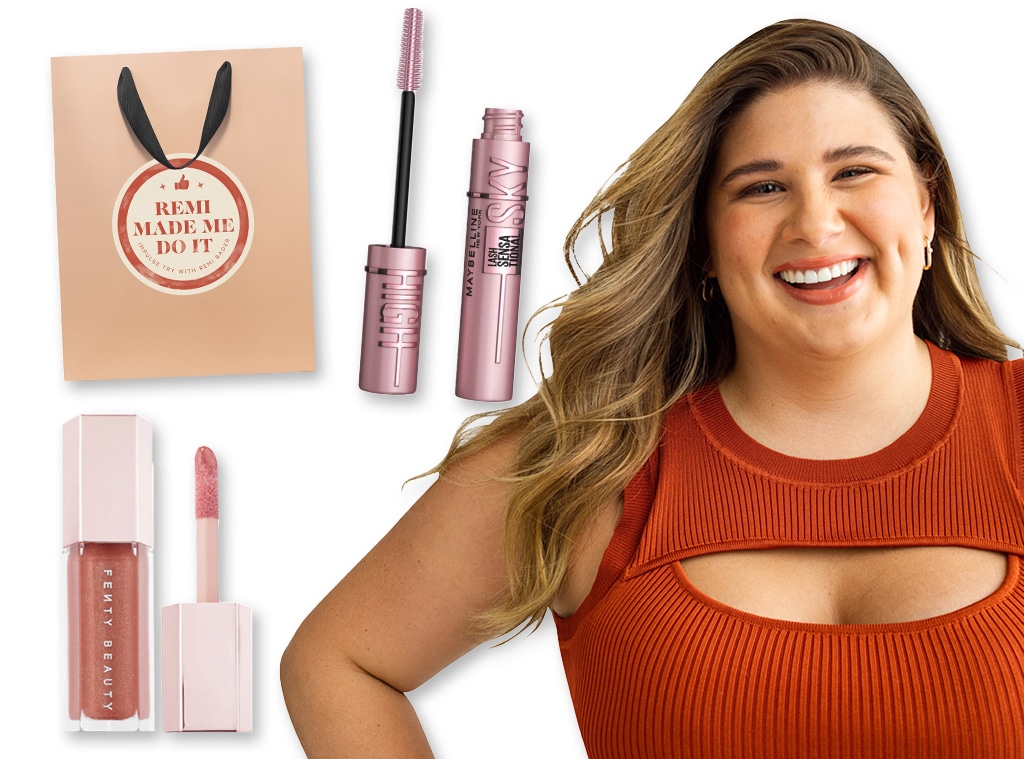 We interviewed Remi because we think you'll like her picks. E! has affiliate relationships, so we may get a commission if you purchase something through our links. Items are sold by the retailer, not E!.
We don't know about you, but this week, the only thing that we are looking forward to more than our Thanksgiving feast is Remi Bader hosting Bravo's Impulse Try!
The three-day live shopping event will help you get everyone checked off your list thanks to deals on fashion, beauty and home must-haves. Plus, the curve model will be joined by Bravo stars like Shahs of Sunset's Reza Farahan and Jill Zarin from Real Housewives of New York City.
Ahead of her Bravo debut, E! got the opportunity to sit down with the queen of realistic clothing hauls herself to find out what she's shopping, her everyday must-haves, her dreams and more burning questions that will make you want to join the Remi Bader fan club ASAP.
Keep scrolling to learn more about the Impulse Try host!
E!: What would your Real Housewives tagline be?
RB: I'm all about being realistic, so don't call me fake.
E!: What shows are you watching?
RB: Vanderpump Rules, The Morning Show and I'm a huge Love Island fan. 
E: What is the anthem of your life?
RB: "Tie Me Down" by Gryffin. I like pump-up songs like that and I cannot stop playing it. I feel with music, I mostly listen to new releases on Spotify.
E!: Which beauty products can't you live without?
RB: For me, lip gloss is my number one. When I don't feel something on my lips, I'm freak out, so I carry lip gloss with me at all times. Same with mascara, but it has to be waterproof. Right now I'm wearing Fenty's Gloss Bomb. I love Buxom— they have really great lip glosses if you want more of a plumper look. I also love MAC lip gloss and always have. My favorite is a color called 'Lust' and have bought like a million tubes— I'm addicted
For mascara, the Maybelline Waterproof Lash Sensational Sky High, which I discovered on TikTok. 
I also can't live without bronzer. Lately, I've been trying out Hoola, Charlotte Tilbury and Bobbi Brown. 
MAC Lipglass Lip Gloss - Lust
This shade makes for the perfect everyday nude! With a glass-like finish, you'll have people complimenting your lips left and right.
Maybelline Lash Sensational Sky High Waterproof Mascara
Infused with bamboo extract to promote fuller, thicker lashes, a few swipes of this mascara will help you bring the drama to any makeup look without the need for extensions.
Fenty Beauty by Rihanna Gloss Bomb Universal Lip Luminizer
Available in six everyday shades, you can get a Rihanna-approved pout in seconds with the Gloss Bomb Universal Lip Luminizer. Plus, it's packed with shea butter to help you achieve softer, kissable lips.
E!: Are you an early bird or late owl?
RB: These days I'm both, but I'm always happier when I wake up earlier. 
E!: What is your cocktail of choice?
RB: I like a dirty martini extra dirty or an espresso martini if I have to stay up. I love red wine, too. 
E!: What is your personal mantra?
RB: Everything happens for a reason.
E!: What did you want to be when you were younger?
RB: An ice cream lady! At my preschool graduation, the principal said, "When Remi grows up, she wants to be a ballerina or a singer or an actress or an ice cream lady." We had the same ice cream cart in the park near me in the city when I was growing up and I thought the people were behind it making the ice cream. I thought it was sick and I wanted to make the ice cream one day.
E!: That is amazing, so I must ask what is your favorite ice cream flavor?
RB: Chocolate fudge brownie is my favorite flavor, but I would always get a Neapolitan sandwich at the ice cream cart.
E!: Who is your role model?
RB: I'm super close with both my parents, but my dad is in the fashion industry and sells womens jeans and has always worked with plus-size women and made his lines size-inclusive. It's a crazy thing now that I can wear and work with his brands, but also have that common in with him. He's always been who've I've gone to for business and fashion advice. He had cancer three times and never missed a day of work, so he always gave me the motivation to work. 
E!: What are some things we would see on your TikTok FYP?
RB: You would see some curvy fashion models, but my videos are so random. I like a lot of singing videos, TikTok drama, the dances or funny skits. The comments on videos are the best. My sister and I just send videos to each other and say, "comments" because people say what you're thinking.
E!: Which TikTok creators would you recommend to someone who just downloaded the app?
RB: I think it's hard to say because people like such different things but Erika Priscilla is really funny. You gotta follow The D'Amelios or Addison Rae because those are the biggest people on the app. 
E!: What was your first TikTok that went viral?
RB: My first video was Khloé Kardashian in a size 16 body. I wore her exact outfit but with other brands, except the shirt was from her brand. I got some views but not a lot. My first four videos weren't seen by a lot of people. It was probably my fifth video where I started doing the realistic clothing haul videos when I went viral. 
E!: What is your favorite opportunity you've been given since going viral?
RB: I think the Aerie Real campaign was really cool because there were a lot of people who had a bigger following than me included in that. The fact I was included and it was in People magazine was so exciting to me. It was about being real, not editing yourself and being okay with who you are in your body. It's always exciting when a brand's campaign aligns with your brand. When I talk about those things I never want it to come across as you always need to be happy, positive and feel great every day in your body because that's my whole point- that's not how I feel. 
E!: What advice do you have for your fans?
RB: My whole message on TikTok is it's okay to be struggling at times. There's a lot of things we might not like about ourselves but that doesn't mean that you should not be going through life and enjoying life. We're all struggling, but we can get through this journey together. The more that things are shared and talked about, the better. 
E!: If you had unlimited funds to spend at a store of your choice, what would you treat yourself to?
RB: Spa treatments. I would die for a massage every day.
E!: What are some of your go-to brands?
RB: Right now I've been shopping Good American a lot. As much as I make fun of Zara and that it's hit or miss, I do find good stuff there sometimes. I really like Abercrombie & Fitch and Free People. For low-end things, I've been shopping at Walmart and think more people should shop there- it's underrated. Target is good, too!
E!: Which activewear brands do you feel are most size-inclusive?
RB: I really like Athleta and Fabletics. Lululemon and Old Navy recently extended their sizes, so I definitely want to do a haul for both soon.
E!: Do you have any hacks for making clothes work from brands that aren't size-inclusive?
RB: When it doesn't fit me, I send it right back. I don't really do any tailoring or hemming. I think it's part of my frustration of wanting these brands to get it right and do better.
E!: Besides having your own ice cream business, where do you see yourself in five years?
RB: I cannot say because this whole thing has been a result of not planning. I want to get into the TV space, but I want to keep changing the fashion industry. Down the line, I would love to have my own clothing line that has my name on it and put everything I talk about into action.
For more Remi, make sure to watch her host Impulse Try beginning this Friday at 3 p.m. ET/12 p.m. PT on the E! News and BravoTV Instagram handle, Additionally, you can tune in at 4 p.m. ET/1 p.m. PT on Bravo's Facebook Page and Xfinity X1 & Flex. Episodes can be streamed on Peacock and the NBC app the next day!