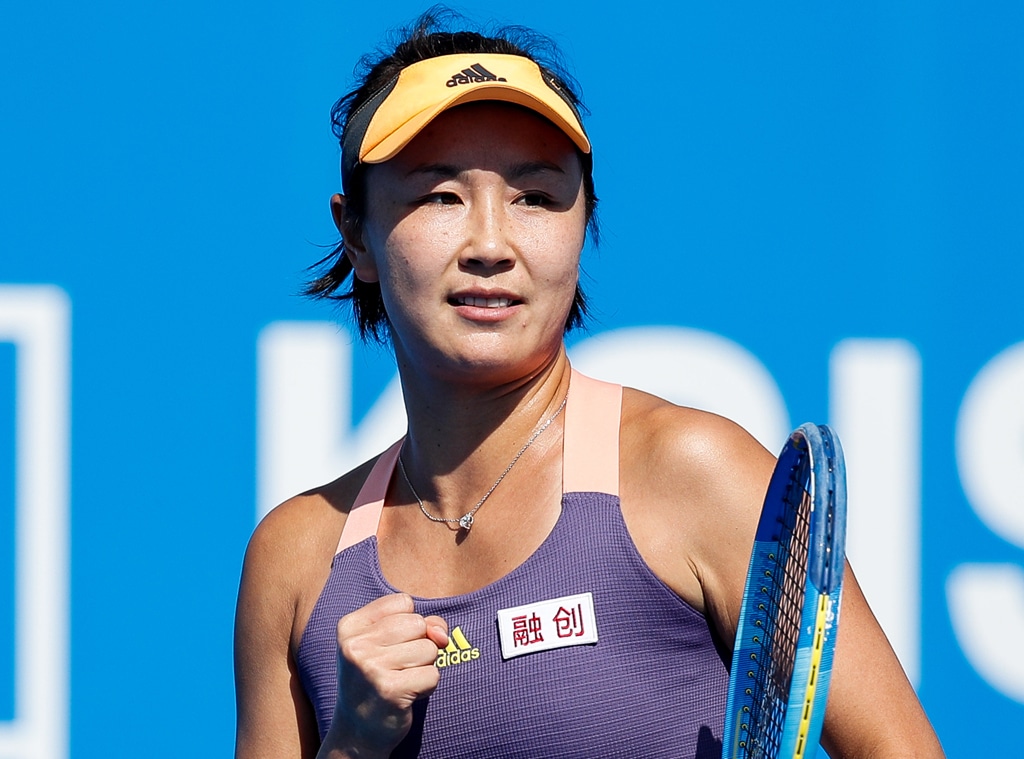 Zhizhao Wu/Getty Images
Chinese tennis star Peng Shuai said in a video call with International Olympic Committee officials that she is safe and well, the group said, which comes almost three weeks after she sparked global concerns over her mysterious disappearance following her allegations of sexual assault against a former vice premier.
Audio of the 35-year-old athlete speaking was not released and she has made no public comments. However, on Sunday, Nov. 21, the IOC summarized her remarks and shared a photo of Peng on a TV screen speaking to the group's president, Thomas Bach, and two more of its officials, smiling while appearing amid a backdrop of stuffed animal toys.
"At the beginning of the 30-minute call, Peng Shuai thanked the IOC for its concern about her well-being," the group said in a statement. "She explained that she is safe and well, living at her home in Beijing, but would like to have her privacy respected at this time. That is why she prefers to spend her time with friends and family right now. Nevertheless, she will continue to be involved in tennis, the sport she loves so much."
Call participant Emma Terho, Chair of the IOC Athletes' Commission, added, "I was relieved to see that Peng Shuai was doing fine, which was our main concern. She appeared to be relaxed. I offered her our support and to stay in touch at any time of her convenience, which she obviously appreciated."
Peng's disappearance has sparked concerns from the Women's Tennis Association—who threatened to pull its tournaments out of China. fellow tennis stars such as Naomi Osaka and Serena Williams, as well as Western government officials, have since spoken out about the situation. On Friday, Nov. 19, U.S. Press Secretary Jen Psaki said the White House was "deeply concerned by reports that Peng Shuai appears to be missing." In the U.K., senior legislators called for a boycott of the Beijing Winter Olympics, which begins in February.
On Nov. 2, Peng said in a post on Weibo that Zhang Gaoli, a former member of the Politburo Standing Committee of the Chinese Communist Party, who served as China's vice premier between 2013 and 2018, coerced her into sex three years ago. She also claimed they had had an on-off consensual relationship. Neither Zhang nor the Chinese government have commented on her allegation.
After making the accusations, Peng was not seen or heard from publicly until Sunday. Peng's social media post was soon deleted and has been blocked from being discussed or searched for in China's heavily censored Internet.
The IOC's post marked the first time there was international confirmation that she was safe and came hours after Chinese state media officials shared videos of Peng. The authenticity of the clips could not be independently verified.
Hu Xijin, the editor of the Chinese state-affiliated newspaper The Global Times, tweeted a video of the athlete at sitting at a crowded table. He wrote, "was having dinner with her coach and friends in a restaurant. The video content clearly shows they are shot on Saturday Beijing time." In the clip, the people at the table carefully specify the day's date being Nov. 20, according to U.K. newspaper The Guardian.
Women's Tennis Association President Steve Simon said in a statement, "I am glad to see the videos released by China state-run media that appear to show Peng Shuai at a restaurant in Beijing. While it is positive to see her, it remains unclear if she is free and able to make decisions and take actions on her own, without coercion or external interference. This video alone is insufficient."
"As I have stated from the beginning, I remain concerned about Peng Shuai's health and safety and that the allegation of sexual assault is being censored and swept under the rug," he continued. "I have been clear about what needs to happen and our relationship with China is at a crossroads."
Hu also posted on Twitter a video of Peng standing with other people inside what appeared to be a sports gym, writing, "Peng Shuai showed up at the opening ceremony of a teenager tennis match final in Beijing on Sunday morning. Global Times photo reporter Cui Meng captured her at scene."
The editor later posted a video of Peng signing giant tennis balls for a group of children, writing, "Can any girl fake such sunny smile under pressure? Those who suspect Peng Shuai is under duress, how dark they must be inside. There must be many many forced political performances in their countries."
Watch:
2020 Tokyo Olympics Closing Ceremony: Must-See Moments