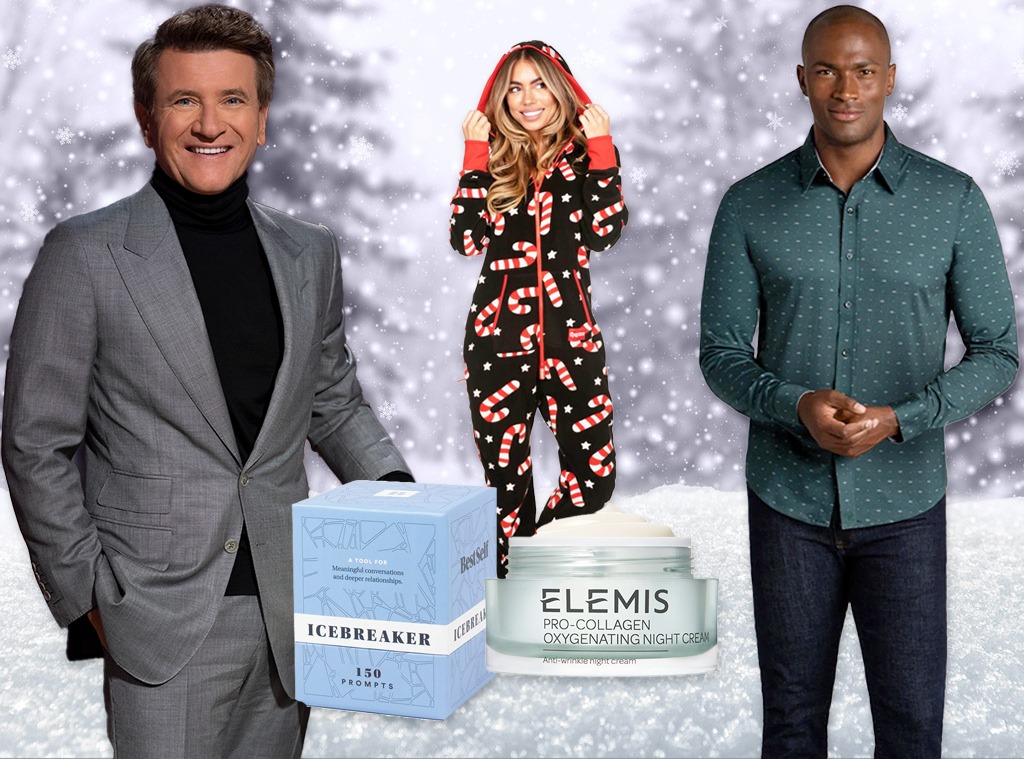 Christopher Willard/ABC via Getty Images
We interviewed Robert Herjavec because we think you'll like his picks. Some of the products shown are from brands he is paid to endorse. E! has affiliate relationships, so we may get a commission if you purchase something through our links. Items are sold by the retailer, not E!.
When it comes to gift giving, always trust a shark.
As one of the stars of ABC's Shark Tank, Robert Herjavec has seen his fair share of products. But when compiling his holiday gift guide for E! News, there was one investment that stuck out for the dudes on your list. 
"You know what every guy wants as a gift? He wants something he's actually going to use," Robert told E! News. "Buttercloth is so comfortable it feels like a t-shirt, and it's so versatile you can wear it to the office and go right out at night. Buttercloth makes the perfect gift because he's actually going to use it. And every time he uses it, he's going to think of you."

What else does Robert recommend? Keep scrolling and start shopping! 
BestSelf Co. Conversation Starter Icebreaker Deck
BestSelf Co.'s Icebreaker Deck will help you start stimulating and relationship-building conversations with fun and engaging cards that breakdown communication barriers to cultivate connections, openness and vulnerability.
Buttercloth Men's Regular Fit Chasing Skies Long Sleeve Dress Shirt
Is the special man heading back to the office in 2022? If so, upgrade their fashion game with Buttercloth's extremely soft and comfortable dress shirts. 
Vetelli Hanging Leather Toiletry Bag for Men
As a businessman always on the go, Robert takes his travel bags very seriously. Vetelli's bag features a heavy duty metal hanging hook, so you can hang your bag on the back of the door or on towel racks. 
Tipsy Elves Men's Gaudy Garland Ugly Christmas Sweater
Nobody designs ugly holiday sweaters quite like Tipsy Elves. As an investor for the company, Robert argues that the season isn't complete without a new outfit from the brand. 
Buttercloth Waterloo Drift In Cotton 10.0
Waterloo Drift is the wardrobe essential every dapper gentleman needs. The playful pattern of this long-sleeve button up adds to the cool factor of a shirt that moves with you. 
Sand Cloud Turkish Towel
Designed for the home or beach, this Turkish towel discovered on Shark Tank is perfect for all different activities. Sand Cloud, which received an investment from Robert, says their towels become softer with every wash. 
ELEMIS Pro-Collagen Oxygenating Night Cream
More than 600 Amazon shoppers give this night cream a 5-star review. After applying the cream nightly, shoppers wake up with a firmer-looking, radiant complexion. 
Tipsy Elves Men's Gingerbread Man Jumpsuit
Ugly holiday sweaters are cool, but what about a holiday jumpsuit? Tipsy Elves gingerbread man outfit is super comfortable and extra mobile. Run, run, run as fast as you can. Try to catch this gingerbread man! 
Buttercloth Iconic Chill In Icy Cotton
Whether your man has a bustling workday or a relaxing date night, Buttercloth's Iconic Chill will help any guy look his best. Plus, he can enjoy it all year long. 
Tipsy Elves Candy Cane Lane Jumpsuit
Comfortable and completely candy cane covered, this jumpsuit is the (minty) freshest way to enter your holiday season. And yes, it's pretty darn cozy too.