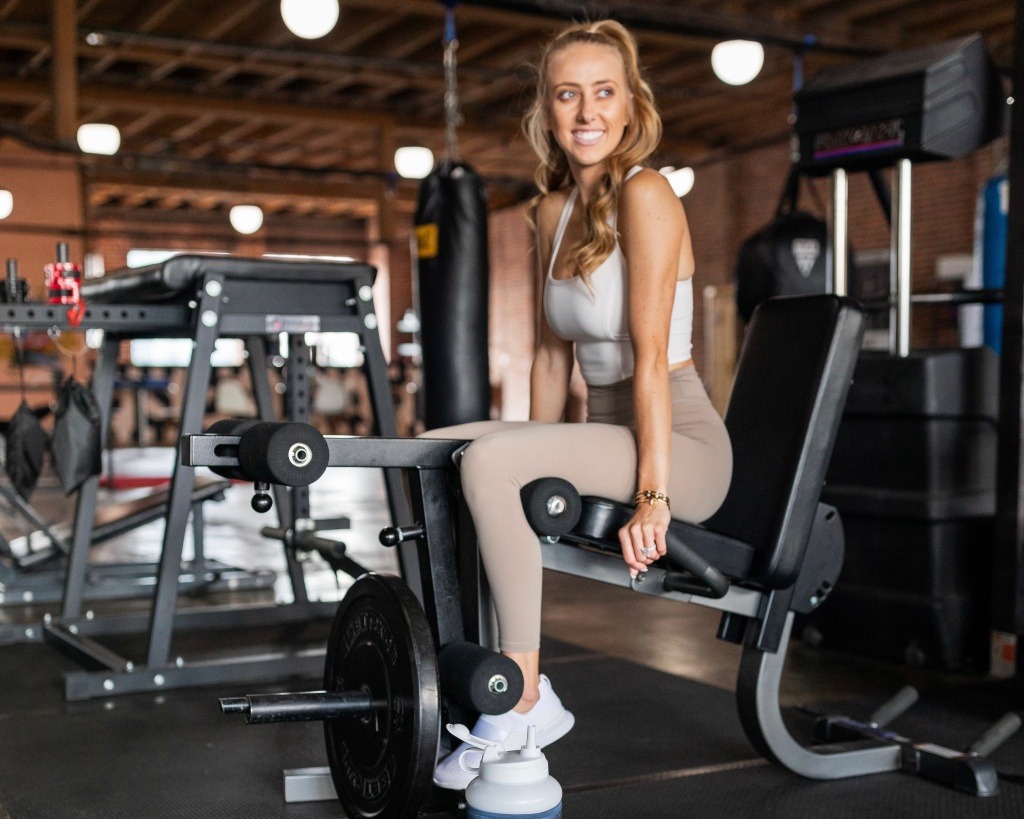 Balance Athletica
We interviewed Brittany Matthews because we think you'll like her picks. Some of the products shown are from brands she is paid to endorse. E! has affiliate relationships, so we may get a commission if you purchase something through our links. Items are sold by the retailer, not E!
Have you been having a hard time coming up with gift ideas for the upcoming holiday season? No need to fret, Brittany Matthews is here to help.
In between cheering on her fiancé Patrick Mahomes this NFL season, Brittany has found some great gifts for the holiday season. Her finds are inspired by her love of introducing her loved ones to something new or something they would not buy for themselves.
"One of my favorite things to gift is winter gear because it's so cold here that I like them to be prepared when they come to visit in Kansas City!" Brittany told E! News after partnering with Balance Athletica. "The holidays are the best time to spoil those you love the most."
While giving gifts is a fun part of the holidays, it's also about spending time with friends and family that makes this time of year truly special.
"We can't wait for Sterling's first Christmas this year," Brittany shared. "I'm trying not to go overboard with gifts but I can't help myself! We're so excited."
Keep scrolling to see what must-have items Brittany has included in her gift guide!
The Ethos Jacket
"Balance Athletica is my absolute favorite athleisure brand. If you follow me on Instagram, you know I wear their outfits almost every single day around the house, working out, running errands, literally everywhere." Brittany gushed. "Their pieces make great gifts. I'd gift a pair of their signature Cloud leggings with a matching sports bra (the Ignite bra is my favorite!) and a jacket or hoodie to complete the look!"
The Ignite Bra
Add Balance Athletica's Ignite Bra to your favorite gym look. The sleek, black sports bra will keep you looking good while staying supported.
The Cloud Pant
Balance Athletica's iconic Cloud Pant leggings are must-have for the person in your life who is always on the move. The high waisted, seamless leggings will stay snug and comfy throughout a workout. 
Angelina Flutter Top
"Toluca Swim makes me feel great in my own skin when I am at the pool or beach." Brittany mentioned. "They provide different levels of coverage and support, giving women the ability to find their perfect swimsuit that makes them feel most confident. A swimsuit, cover-up and matching earrings are the perfect gift for a friend!"
Bose Earbuds
"Whether I'm at the gym or on a plane, I love the gift of silence!" Brittany gushed. "Bose QuietComfort Earbuds have the world's most effective noise cancelling and high-fidelity audio and make a great gift for the fitness enthusiast, traveler or just about anybody."
HydroJug Bottle
"The gift of health is priceless and hydration is such a great way to stay healthy during the holidays!" Brittany expressed. "Carrying a HydroJug has become my favorite way to make sure I'm drinking a ton of water every day. Their bottles are leakproof and have a handle for easy carrying, but the best part are the sleeves that you can buy to pair with them. They have a strap and pockets for holding keys, phones, etc. while you're at the gym and I have my very own sleeve design available inspired by my sweet Sterling Skye! Pro tip: it fits on the new Glass and Stainless Steel bottles, too!"
BioSteel Sports Drinks
"BioSteel is the only thing I drink other than water!" Brittany exclaimed. "Their sugar-free Sports Drink is made from clean, quality ingredients, has essential electrolytes and contains no artificial flavors and colors. My favorite flavors are Peach Mango and Rainbow Twist."
Tula Skincare 6-Piece Skin Radiance Kit
"I recently started using Tula Skincare and it is TOTALLY worth the hype," admitted Brittany. "It's pregnancy and breast feeding safe, which was super important to me this past year. You can get the Time to Delight Holiday Gift Set for just $100 with my 15 percent off code BRITTANYLYNNE (nearly a 50 percent total savings!)"
Bose Speaker
"For those who like to crank the music, the SoundLink Flex Bluetooth speaker is the perfect gift for anyone on the go, with a rugged design able to withstand water, dust, and a few bumps and bruises along the way." Brittany said. "I like to use the SoundLink Flex in my home gym when I'm blasting music to get myself in the zone for a good workout."
Companion Protect Pet Insurance
"The perfect gift for any pet parent and the gift that keeps on giving! Pet insurance has saved us thousands of dollars in vet bills and has given us peace of mind that's priceless." Brittany, who is a brand ambassador, said. "Companion Protect is affordable, transparent and most importantly doesn't discriminate based on breed!"
FabFitFun Seasonal Subscription
"FabFitFun boxes have introduced me to some of my very favorite brands," Brittany explained. "A box or a seasonal subscription would make a great gift for that friend who has everything or would be a special treat for a mom or mother-in-law! Code BRITTANYLYNNE saves you $10 off your first box (which are all valued at over $300!)"