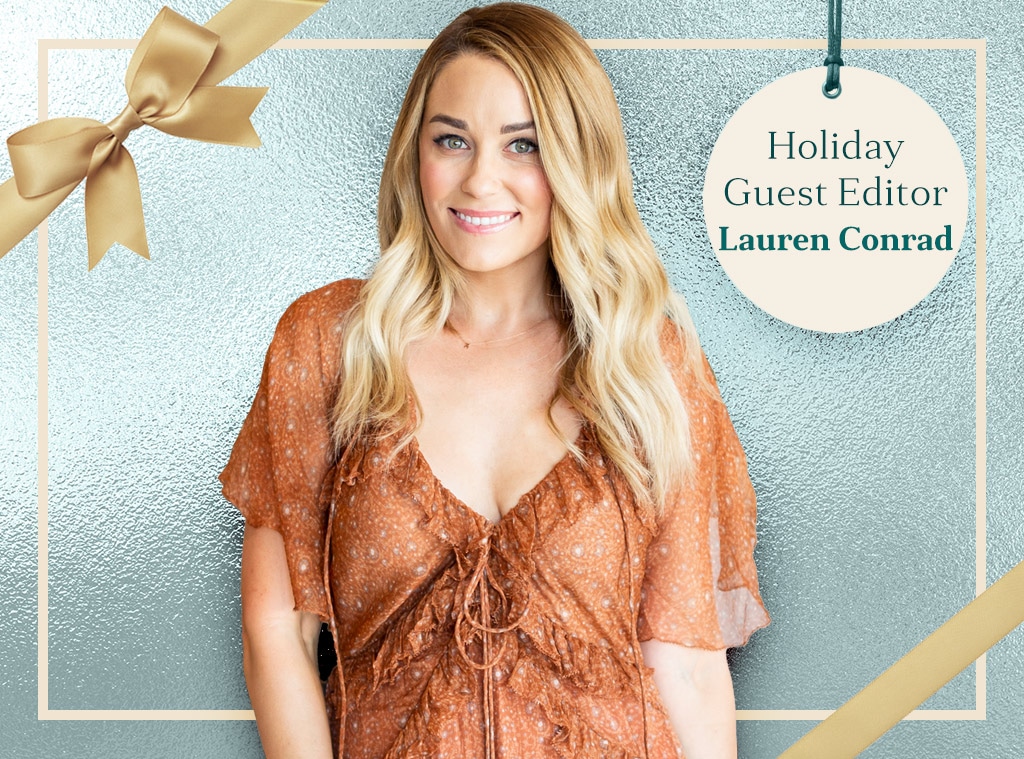 Stephanie Todaro
We interviewed Lauren Conrad because we think you'll like her picks. E! has affiliate relationships, so we may get a commission if you purchase something through our links. Items are sold by the retailer, not E!.
It seems like holiday preparation starts earlier and earlier every year. It can be easy to get caught up in creating a picture-perfect holiday celebration and sometimes that can get a bit stressful. Thankfully, we have an expert on hand, ready to impart all of her knowledge about hosting, gifting, decorating, and everything in between. The one and only Lauren Conrad is our E! Holiday Guest Editor through December.
Lauren is the editor-in-chief of her lifestyle website, where she curates the best fashion, home decor, beauty, food content, and more. She has an ever-growing brand at Kohl's, LC Lauren Conrad, which has size-inclusive apparel for women, children's clothes, jewelry, accessories, footwear, and bedding among its many products. Lauren has also used her platform to empower others, specifically through The Little Market, which is a nonprofit marketplace with a goal to connect shoppers with artisans from around the world. The Little Market just launched a new eco-conscious collection of gift wrap and accessories that have been hand-dyed in India. 
 In the coming weeks, Lauren will share her recommendations for all things holiday, starting with her editor's letter and Friendsgiving tips below.
Dear E! Readers,
The leaves are falling, the temperatures are dropping, and the holiday cheer is building up. This is such a fun time of year, especially because my kids are getting older. I'm looking forward to seeing loved ones, creating new traditions and all the delicious treats! I know I'm not the only one who counts down to the holidays, which is why I am excited to serve as E!'s Holiday Guest Editor all season long. 
I have gift suggestions to help you with your list and some helpful insights on hosting events. We all know that hosting can be stressful, but it doesn't have to be. I used to be a lot more invested in creating the "perfect" presentation with elaborate tablescapes and decor. However, in the past few years, there are a lot more kids at our events. Admittedly, things have become a little more chaotic for all of us. Nowadays, I am much less focused on presentation and I'm more about creating an atmosphere that everyone's really comfortable in so we will enjoy spending time together. 
My friends and I have a Friendsgiving celebration every year. Instead of putting one host in charge of the entire meal, we invite people to bring their favorite dish. It requires a little bit of organizing so you don't end up with six different potato dishes, but it's a nice way for everyone to share their own traditions and it takes pressure off the host. 
If you're not sure where to begin, there's no need to worry. Take a deep breath. You've got this. I have plenty of ideas, tips, and shopping suggestions to make hosting as easy as possible. And, that's not all. After Friendsgiving, we will dive into gift-giving and other essentials for the rest of this year's holidays.
Lauren
E! What should we keep in mind if we want to host our own Friendsgiving? 
LC: I think it depends on how you're doing it and the approach you want to take, but I highly recommend sharing the responsibilities. Cooking can take up the entire day, so I think coming together and having everyone bring a little piece of their holiday to the friend group is a really nice way to go. When you're hosting, you're cooking the main dish. Then, you'd ask others to provide whatever their favorite thing is, whether it be a salad or stuffing or a potato dish. It's fun to do it that way. 
E!: What are some ways to create a good ambiance at a Thanksgiving or Friendsgiving table?
LC: When you're doing a holiday table, one thing that I've gotten really into and I feel like a lot of people have them lately are the place setting little poppers. Meri Meri does a really cute one. They have tons of different versions. I think that having an interactive table is really nice for everyone. You give everyone a little popper and it also serves a dual purpose because it serves as decor and entertainment. 
You can also cover your table in kraft paper. A lot of the time, people will have in front of every place setting, the words 'I'm thankful for' and then they let everyone decorate the table or write their own words. I think things like that are really nice.
E!: That's a really nice idea, especially since there are more kids joining the table as the years go on.
LC: Yes, give them an activity, let them draw on the table and just have fun.
Meri Meri Fall Leaves Medium Crackers- Set of 6
These poppers are decorated with beautiful fall leaves and gold foil, which makes them a stylish edition to your Friendsgiving (or Thanksgiving) table settings. Each popper has a small gift, a party hat, and a joke to keep your guests entertained.
Note Card Cafe Kraft Paper Jumbo Roll
Use this jumbo roll of kraft paper is just what you need to create that fun, interactive holiday table that Lauren described. Additionally, it's a very versatile product. You can use this as wrapping paper, a floor cover, a drop cloth, or as a sketch paper. 
Rachel Murray/Getty Images for The Little Market
If you want to get ahead on holiday gift wrapping, this new collection from The Little Market has boxes, gift bags, gift tags, stationary, and more in beautiful shades of pink and blue. Indian artisans created these items through age-old, sustainable techniques. Check out some of the items below.
The Little Market Naturally Dyed Square Box
These handmade gift boxes are great to wrap up presents, but you can also use them throughout the year to organize and store household items. They are available in different shades of blush and indigo in assorted sizes, which make them easy to mix and match to create your own unique sets. Each box comes stamped with the story of how it is made.
The Little Market Naturally Dyed Gift Tag Set- Set of 8
Tie these gift tags to your presents to add a finishing touch. You can even include a meaningful note with your gift. Each tag is made from repurposed cotton textiles. These tags are also available in blush.
The Little Market Naturally Dyed Drawstring Bags- Set of 8
Use these handmade drawstring bags to package gifts or for other small items beyond the holidays like jewelry or snacks. Each bag has a one-of-a-kind design and has been carefully dyed in Southern India. The bags are also available in shades of indigo.
The Little Market Naturally Dyed Stationery Set
This stationary set comes with ten cards and ten envelopes. These are great for holiday messages, thank you cards, and congratulatory notes. These unique, one-of-a-kind sets are also available in blush.