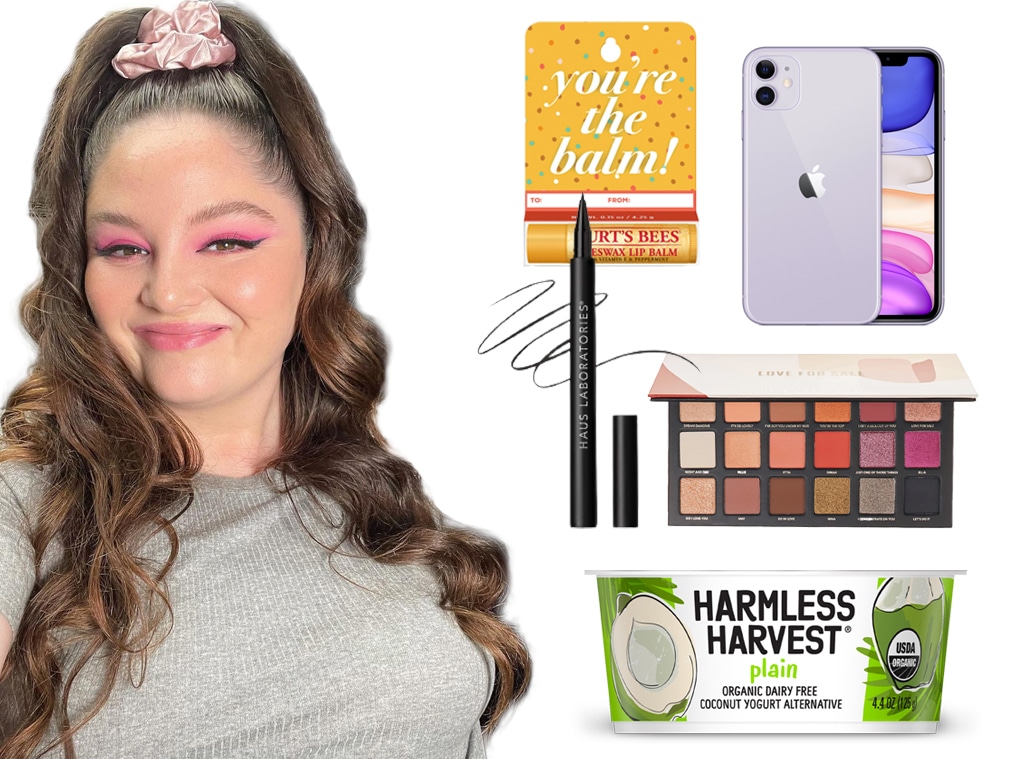 Instagram, E! Illustration
We interviewed Megan Stalter because we think you'll like her picks. Some of the products shown are from a brand she is paid to endorse. E! has affiliate relationships, so we may get a commission if you purchase something through our links. Items are sold by the retailer, not E!.
Forget cuffing season. According to Megan Stalter, "Spooning Season is in!" 
The hilarious Hack star recently partnered with Harmless Harvest to ring in the start of Spooning Season with a series of fun videos dedicated to the "art of spooning." And just so we're all on the same page here, we're talking about spooning yogurt.  
"Harmless is best known for their coconut water, but they also have a delicious dairy-free coconut yogurt, hence the 'spooning' connection," Megan told E! News. "We worked collaboratively on the scripts for the videos because the Harmless team wanted me to have a say and make it feel like my own 'voice.' I always love making videos so it was a perfect match!" 
In addition to her new campaign with Harmless Harvest, Megan also shared some of her current beauty and fashion faves. 
Fashion Brand Company and Big Bud Press are two brands Megan's really loving right now. "They are both size inclusive and known for being bright and fun," she shared. "I feel like they both are always coming out with something new and exciting. I always feel amazing when I wear their stuff!" 
When it comes to must-have beauty products, Megan said she's "addicted" to the black liquid eyeliner from Haus Laboratories. She also named Vaseline as a product she's used forever that doesn't get the hype it deserves. 
If you want to feel like your best self, Megan had this piece of advice to share. "Get ready for yourself and not for someone else," she said. "Whenever I pick an outfit or do my makeup, I always ask myself what I want to look like and not what's appropriate for the occasion or the person I'm meeting. Life's too short not to wear what you really want to wear." 
To see what Megan has in her bag, check out the below. 
Harmless Harvest Dairy-Free Yogurt Alternative
"I love this plant based coconut yogurt as it's perfect for my morning routine, a mid-afternoon snack or even a healthy dessert. Once you try it, you'll understand the hype."
Vera Bradly Wallet
"Need the essentials of course. I love this wallet and have had it for years because it has just the right amount of compartments. My mother got it for me for Christmas...I would never think to buy myself a wallet."
Burt's Bees Chapstick - 4 Pack
"I have several tubes in my bag at all times. I love Burt's to give me that cooling peppermint feeling on my lips, especially in the winter."
Cover Girl Exhibitionist Lip Liner
Face masks, like the Neutrogena Hydro Gel face mask, and lip liners are beauty products Megan always buys at least two of. "I've gotten really into lipliner lately as lipstick and I always grab a couple of different ones whenever I'm in the store," she said. Cover Girl's Exhibitionist Lip Liner in the shade Wine is one she carries in her bag. "It gives my lips a nice pop." 
Haus Laboratories Liquid Eyeliner in Matte Black
"Lately I've been addicted to the black liquid eyeliner from Haus (Lady Gaga's line)! I'm an eyeliner girl and this one is so easy and lasts truly all day. I sound like I'm selling it but I swear I'm only a fan. Although if someone asked me to, I would sell it. That's how much I like it." 
Haus Laboratories Love For Sale Shadow Palette
"I'm not afraid of bright colors and eyeshadow is the perfect way to incorporate bright, fun colors into your makeup look."