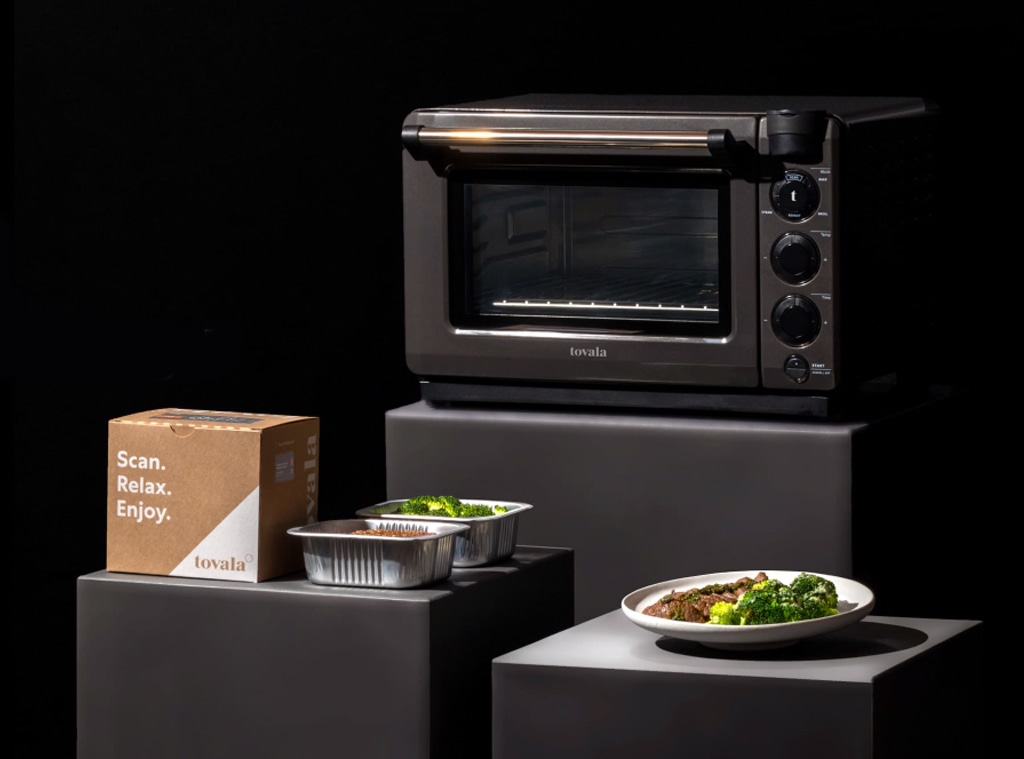 We independently selected these products because we love them, and we hope you do too. Shop with E! has affiliate relationships, so we may get a commission if you purchase something through our links. Items are sold by the retailer, not E!.
As you know, we love a good deal here at E!. Today, we're bringing you a deal so good, you'll regret missing out. 
The Tovala Smart Oven, which was recently named one of Oprah's Favorite Things of 2021, is on sale right now for $99. That's $200 off the original price! It's a very neat product that's unlike anything else, so we're really excited about this deal.
In case you aren't familiar, the Tovala Smart Oven is an all-in-one appliance that can steam, bake, broil, reheat and toast. It also connects to Wi-Fi and has a built-in QR code scanner to make cooking so much simpler. If that sounds insane, it'll all make sense in a bit.
In addition to the smart oven, Tovala also has a meal kit service. When you use their meal kits, you just scan the barcode that comes with the kit and the oven will automatically know which settings to use. You can even scan the barcode of a box of Pop-Tarts or a bag of mandarin orange chicken from Trader Joe's, and the oven will work its magic. It's really simple. It's no wonder why it made it onto Oprah's Favorite Things list.   
Read on to learn more and to get one for yourself. 
Tovala Smart Oven
As Oprah said on Oprah Daily, "Gayle swears this kept her fed through isolation. You can scan the barcode of a grocery item and the oven will adjust its settings to cook it. Giftees can also sign up for a Tovala meal plan to receive scannable meals."
If you're someone who's super busy and barely has time to prep and cook a well-balanced meal every day, the Tovala Smart Oven plus their meal kit service is perfect for you. There are hundreds of menu options to choose from, and every meal is fresh and created by professional chefs. For a limited time, the Tovala smart oven is only $99. The discount will be applied when you choose the option of ordering six meal deliveries.
It's a really great deal. There's no better time to try this out for yourself. 
If Oprah's stamp of approval isn't enough, just check out some of the glowing customer reviews.
"Where has this oven been my whole life? I feel like I can get my life back knowing I don't have to spend precious time cooking! The meals are great and everything cooks perfectly. If you are a single household, this oven is a necessity."
"Once you go Tovala, you can't go back. We've tried all the other meal prep services from CookUnity, Hello Fresh, Blue Apron, Factor 75, etc. Tovala is lightyears ahead of them all, from the packaging to the complete end to end system for heating. These meals are tasty, as fresh as it gets, and always perfectly cooked. Don't make the mistake we did of hesitating on buying one for years. This is a true game changer for at-home prepped meals."
"Didn't realize how amazing these meals would turn out! I still continue to be surprised at the awesome quality and variety of meals that Tovala turns out. Love this as a healthier option for fast food and eating out."
"My husband and I are very happy we discovered Tovala! After working for 40-plus years, we retired a couple of years ago and wanted to engage in our hobbies, visit with new friends, and just enjoy our new lifestyle. Hours spent grocery shopping, preparing and cooking meals, and cleaning dishes are just not things we wish to devote our time to any longer. We thought, 'Let's try Tovala and see if this oven/meal service works. We absolutely LOVE it! Tovala is actually cost-efficient because we no longer need to purchase lots of different food ingredients which we end up wasting because it spoiled before we could use it, or we just didn't feel like devoting hours to prep and cook. We tell all our retired friends and neighbors they should try Tovala—it has literally saved us money, and we eat better and healthier than we ever have!"
"Very impressed! Loving our Tovala! The food has been so good. The portion size is perfect. The meals are great for busy weeks, and my husband who doesn't cook can make these meals. The oven is easy to use and with the app, it's very versatile."
Looking for more of Oprah's favorite things? Check out Can't Miss Under $50 Deals From Oprah's Favorite Things 2021 List.