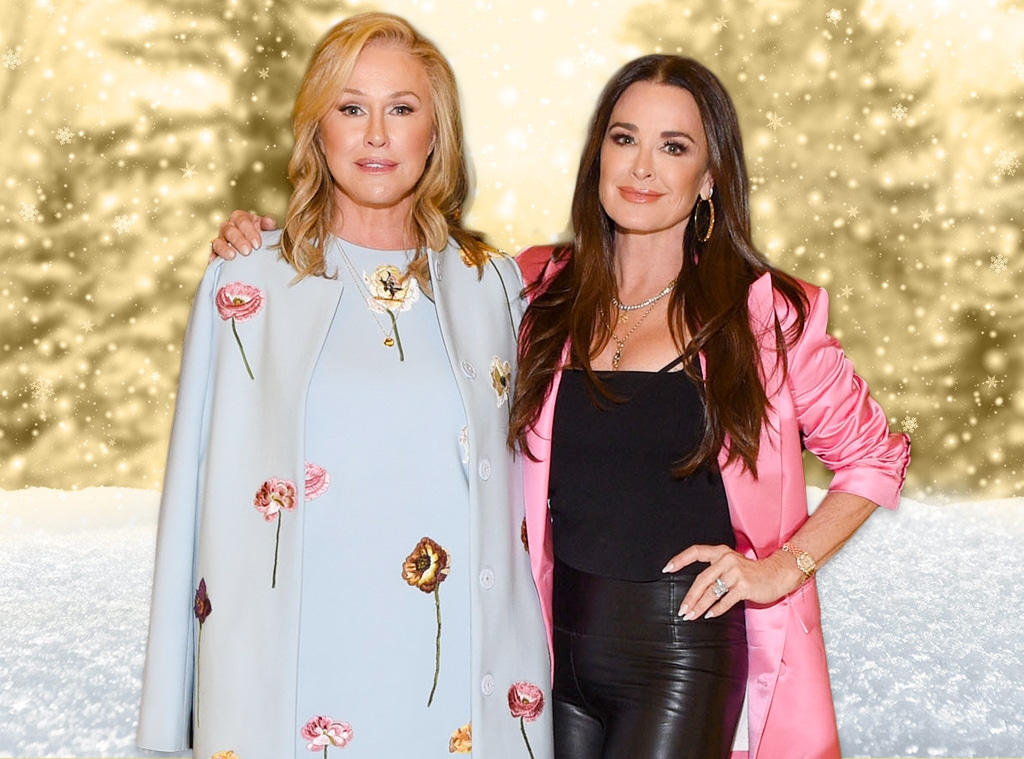 Michael Simon/startraksphoto.com/Amazon
We interviewed Kyle Richards and Kathy Hilton because we think you'll like their picks. Kyle and Kathy are paid spokespeople for the Amazon Live Influencer Program. E! has affiliate relationships, so we may get a commission if you purchase something through our links. Items are sold by the retailer, not E!.
If Kathy Hilton and Kyle Richards love a product, we just have to try it out. Thankfully, The Real Housewives of Beverly Hills stars love to share their shopping recommendations with their friends, family, and followers. In an interview with E! News, the sisters talked about their appreciation for the Amazon Gifts page, especially since they have so many family members to shop for. Kathy explained, "I am very thoughtful with what I buy my sisters. They're easy to shop for and I enjoy that. But it can get very hard though with the rest of the family. You've got to remember I have lots of children to buy gifts for, my sons. I have a new son-in-law. I have my other son-in-law, James. It's a lot. I'm happy I have Amazon."
Kathy jokingly told Kyle, "Your shopping list is easy for all girls," elaborating, "you know exactly what's on-trend, what they're going to wear, and what they have in their closet." However, shopping can get a bit complicated for the mother of four, who shared, "I really like to think about who the person is. I torture myself thinking and analyzing about what people are going to enjoy and what a gift would mean to someone. I put a lot of time into picking gifts." And that's why Amazon is so clutch during the holiday season.
Amazon has so many gifts organized by category, recipient, price point, and even by celebrity recommendations, which is something that Kathy and Kyle both take very seriously. Kathy insisted, "If I don't really love it, I won't talk about it." Kyle agreed, adding, "You can't even say you love a product a straight face unless you genuinely feel good about it." 
"I love Amazon. I can order clothes, slippers, dog food, books and everything that we need for the house all in one order. It's the easiest place to shop for gifts," Kyle declared. Kathy praised the website for its fast shipping, revealing, "For Paris [Hilton]'s wedding, so many people did not receive the invites or they got them three or four weeks late. Even if you can't rely on the mail, you can rely on Amazon. Amazon will get it to you on time and that is really one of the things that made me love shopping Amazon."
The Real Housewives of Beverly Hills stars shared gift picks inspired by their family...and Justin Bieber.
Zesica Women's Long Sleeve Crop Top and Pants- 2 Piece Set
Kyle explained, "Kathy's daughters and my girls are very hard to buy for, but at the end of the day, we all want to be comfy. We all want the same thing. So for me, I love buying cozy sweats, and cozy slippers because there's no one who doesn't love those. If you had a hard day, you want to lounge in something comfortable."
This two-piece set that the sisters recommended is available in 13 different colors and has 1,900+ five-star Amazon reviews.
Jiasuqi Cross Open Toe Fuzzy Fluffy House Slippers
Kathy divulged, "I do this at my own Christmas party at like 11 o'clock with people still downstairs. I go up and put on cozy sweats and these great fluffy slippers Kyle got me."
These fuzzy slippers are available in 21 different colors and patterns. The sisters aren't the only people who recommend them; the slippers have 2,900+ five-star Amazon reviews.
Ugg Women's Scuffette Ii Slipper
Kathy said, "I wear Ugg slippers like Justin Bieber now, out in public, to the airport," with Kyle chiming in, "I will wear them out in public and people think it's cool with jeans and a cute sweater."
Kathy revealed, "I'm getting these pink Ugg slippers," which prompted Kyle to say, "Ugg is such a great brand, a brand that never goes out of style. Every Christmas, I have to get them for all my children."
In addition to pink, these classic slippers are available in grey, brown, black, and beige. By now, we all know how amazing Ugg slippers are, but in case you needed another reason to click "add to cart," these have 3,900+ five-star Amazon reviews.
Daily Ritual Women's Relaxed-Fit Mock-Neck Short Puffer Jacket
If Kyle only had two days to order a gift from Amazon Prime, she would get "Puffer jackets for my girls," which is a sentiment that Kathy "100 percent" agrees with. Specifically, Kyle said, "I love the velvet puffer jackets. They're all gonna love that."
If you love this jacket, you need to check out the other colors because there are so many stunning options.
Amazon Essentials Women's Soft-Touch Crewneck Novelty Sweater
Kyle shared that she plans to get all four of her daughters some "cool sweaters" for the holidays this year, suggesting one of these, which are available in 11 different colors/patterns.
NEST Fragrances Holiday Scented Classic Candle
If you're looking for a great host gift, Kyle shared, "NEST candles are my favorite. To me, those are the most beautiful. Their holiday candle smells amazing and you could never go wrong bringing that to someone's house as a gift."
Kathy has the same love for NEST candles, remarking, "Those candles are so beautifully made and they last for hours. At Nicky [Hilton]'s wedding, she had them inside where we did the ceremony. We had a blue one. Oh, it's so gorgeous. Really beautiful. I think a candle is your best bet."
There are so many comforting fragrances to choose from. NEST candles have 5,700+ five-star Amazon reviews from satisfied shoppers.
Flowers
"Also, flowers are a great gift for a host," Kathy suggested. Kyle added, "I love when someone does bring flowers, but the most thoughtful move to send them before they arrive because I think "I could always use them" when I'm hosting. When someone sends them the day of an event, but before, it's a really good idea."
There are many great flower options available at Amazon, you can never go wrong with a bouquet of red roses.
NEST Festive Votive Trio Set
"Votives are a beautiful gift too, Kathy commented. She said, "You can set up a little cluster anywhere and it looks so nice." Kyle shared, "NEST makes great votives. There's a cute set with three little ones."