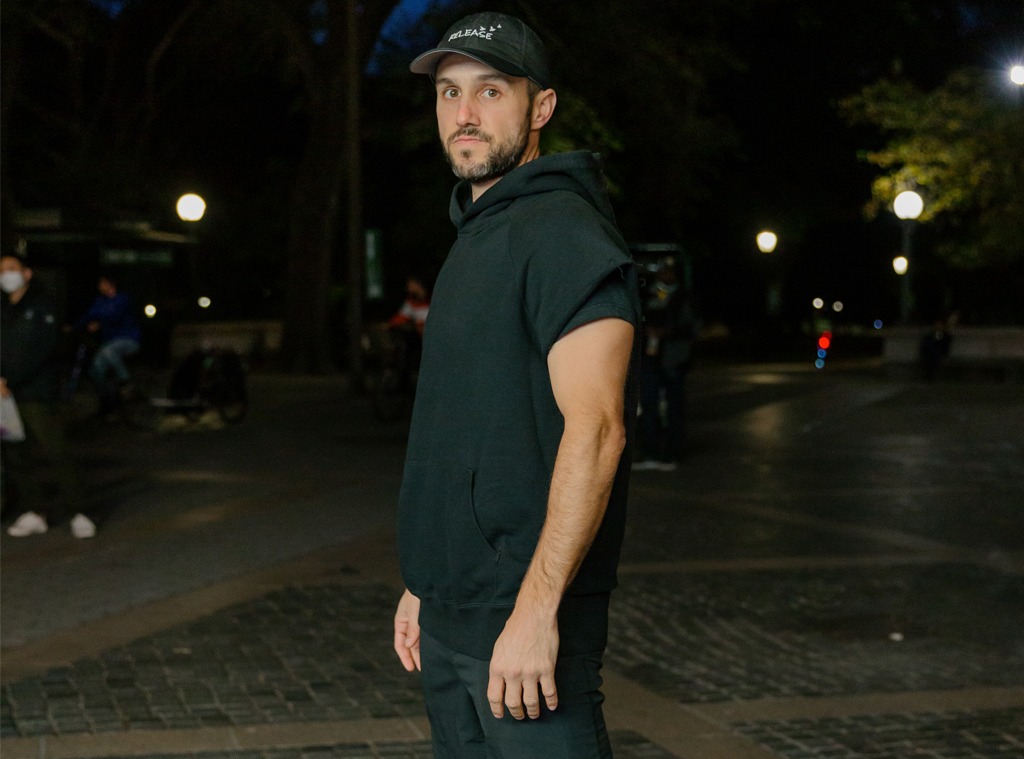 Courtesy of Reebok
We interviewed Zac Clark because we think you'll like his picks. Zac is a paid spokesperson for Reebok E! has affiliate relationships, so we may get a commission if you purchase something through our links. Items are sold by the retailer, not E!.
A lot of us got to know Zac Clark through his journey on The Bachelorette. We saw him propose to Tayshia Adams and hop in a cardboard taxi to a fictionalized New York City. This past weekend, the couple ran in the New York City Marathon together. Zac put together a team to raise funds for and bring awareness to the Release Recovery Foundation, which is a nonprofit organization that he co-founded. The foundation is "dedicated to ensuring all who are ready and willing to seek professional treatment, are able" to if they are struggling with substance abuse and mental illness.
Zac and his business partner Justin Gurland have been working together for over a decade, but, now they can "cast a wider net" in part due to Zac's platform from The Bachelor franchise. Prior to running the marathon, Zac spoke to E! News about running the marathon, the Release Recovery treatment center, the Release Recovery Foundation, and partnering with Reebok to expand his mission to help underserved people who may not have the resources for recovery treatments. Zac discussed a wide range of topics, from his go-to Reebok running shoes to some fitness essentials, and what it's like to run with Tayshia for her first marathon.
E!: Tell me about the importance of running for your mental health and the other aspects of running that are beneficial as a part of your regular routine beyond the physical.
ZC: For me, I grew up an athlete, right, I played three sports and have been super competitive my entire life. And for me, it was always about winning, right? That's just what it was. I had to "win" everything I did. My story is at 27, I ended up going to rehab to get sober, I put the drinks and drugs down, and I started to explore some healthy habits. Running has just become an unbelievable tool for me. Obviously, there are wellness components to it, you're going to get in better shape, feel better, sleep better, and all of that stuff, but for me, it's my go-to when I'm having a tough day. It's a nice time to not be attached, put the phone down, and look inward.
E!: Tell me about your partnership with Reebok.
ZC: It's a "pinch me" kind of deal because of Reebok's history and heritage. look, I'm a Philly guy, so I mean Reebok for me is next level because of the brand's history with Allen Iverson. What's most important to highlight is they're just really aligned with my belief system. First off, they have this generosity of spirit where they they kind of looked at our marathon team and said "What can we do?" and they've donated a pair of Floatride Energy 3's to every person doing the marathon for us, which is huge out the gate guys. Okay, these guys get it right.
The fact that they're kind of like turning the lens a little bit to an everyday runner like myself and encouraging people to get moving and focus on wellness has been an unbelievable experience. From, the second we started kind of talking,  I could tell that they were just really motivated to do more for the world and that's really important to me. I couldn't be more excited about working with them and their team is super cool.
I ran the London Marathon in October and that was my first time running in Reebok, wearing the Floatride Energy 3's. Heading into The New York Marathon, I'm super pumped to be rocking them again with my teammates.
What I really appreciate about them is they're really showing some love to the everyday runner. And so if you look at our team of 60 runners running for the Release Recovery Foundation, no one's going out to win this thing. It starts with one step, and that turned into two steps. And then all of a sudden, you kind of get to see where this thing can take you. And so the story behind running is also something that I'm so, so passionate about because  I love humans, so each person on our team, and myself included, we have these stories.
E! What do you love about Reebok and the brand's products?
ZC: This is my eighth marathon. I've tried every brand of sneakers. It's a joke within the running community that once you find your shoe you'll never let go of it and I believe that especially after the experience I had with Reebok when I ran London. I've been training in them and I'm just super pumped because they're shoes for the everyday runner. The shoes are the perfect mix of performance and comfort.
Reebok Floatride Energy 3's
If you've been looking for a running shoe that's lightweight and reliable with responsive cushioning, the search is over. The Reebok Floatride Energy 3's are available with a variety of color options in both men's and women's sizes.
E!: There have been so many iconic Reebok moments and endorsements from Allen Iverson and Shaq to partnerships with pop culture figures like Jay Z and Cardi B. Do you have a favorite Reebok moment in history?
ZC: That's an easy one for me. Game one, Iverson crosses up, Tyronn Lue falls down, and Iverson steps over him in his Reeboks and looks back on him. Unfortunately, the Sixers went on to lose the series, but at least for that moment, Philly felt on top of the world. As a sneaker head, what Reebok has been able to do with their collaborations, the streetwear, and staying relevant in that world is impressive and very tough to do.
E!: Tayshia is running in the marathon too, what has it been like training together?
ZC: We are taking a party approach with it. We will run it together and I'm committed to that, so whether she wants to go out and send it or if she wants to kind of chill and have a good time with it, I am open-minded and ready to support her in any way she needs. It's her first time doing this and I have a little bit of experience to be able to help her. We plan on starting together and finishing together.
Bryan Bedder/New York Road Runners via Getty Images
E!: Aside from your Floatride Energy 3's, what are some of your other running essentials?
ZC: Rhone does have some good stuff. I wear their Swift Tank Top when I run and some of their other stuff. It's a brand that's really focused on that male component and they have an underlying story supporting mental health needs.
My go-to water is Poland Spring. I'm a Northeast guy through and through.
E!: You're running on behalf of the Release Recovery Foundation, tell me about that and how we can get involved to support the organization.
ZC: Release Recoverystarted about four and a half years ago as a for-profit entity operating out of New York City and Westchester County, where we provide transitional living for people coming out of rehab right. Traditionally, our organization has worked with people who can afford our services right? And there's no other way to say it: it's expensive. Good doctors are expensive, good psychiatrists are expensive. We are at the upper echelon in terms of the services we provide. Our spaces are really nice, but more importantly, we help people reintegrate back into life after they've had maybe a struggle with substances or they had some mental illness creep into into their world. That has been my pride and purpose and passion for the past four and a half years.
And, then in early 2020, I got together with my business partner Justin Gurland, who I've been doing this work with for about ten years now. We looked at each other and said "You know, we need to do more, right? How do we cast a wider net? Naturally, we looked at starting a nonprofit, which is the Release Recovery Foundation. We had started, we had our first big event planned, and then the pandemic hit, and we had to cancel. I end up on this television show, come out of his television show and all of a sudden people care about what I'm saying and we have this amazing platform to share the foundation. This first year has been incredible. 
We are basically like Robin Hood, if someone needs help, we want to write the check to get them to treatment, and then help them reintegrate back into the world. We have partnered with a couple of treatment centers and we focus primarily on three groups, LGBTQIA+, people of color, and women, because those are all historically underserved populations when it comes to addiction treatment and mental illness. Our marathon team has 60 runners and we've raised like $400,000, so there is so much good happening.
To learn more about the Release Recovery Foundation, click here.
E!: Do you have any advice or words of encouragement for anyone who's curious about the marathon, but hasn't signed up yet?
ZC: You are more than welcome to be there, running or watching. I'm going to tell you that It's the best day of the year. Another reason why I love Reebok is that Reebok stands behind this idea of being all-inclusive and believing that everyone's in this together. The New York City Marathon just embodies that. It's the one day of the year in New York where everybody is on the same team, no matter what. We put everything to the side and we're all going together. Everyone's cheering for the runners. You gotta watch it because I guarantee if you watch it that you'll be running it. It's my guarantee.