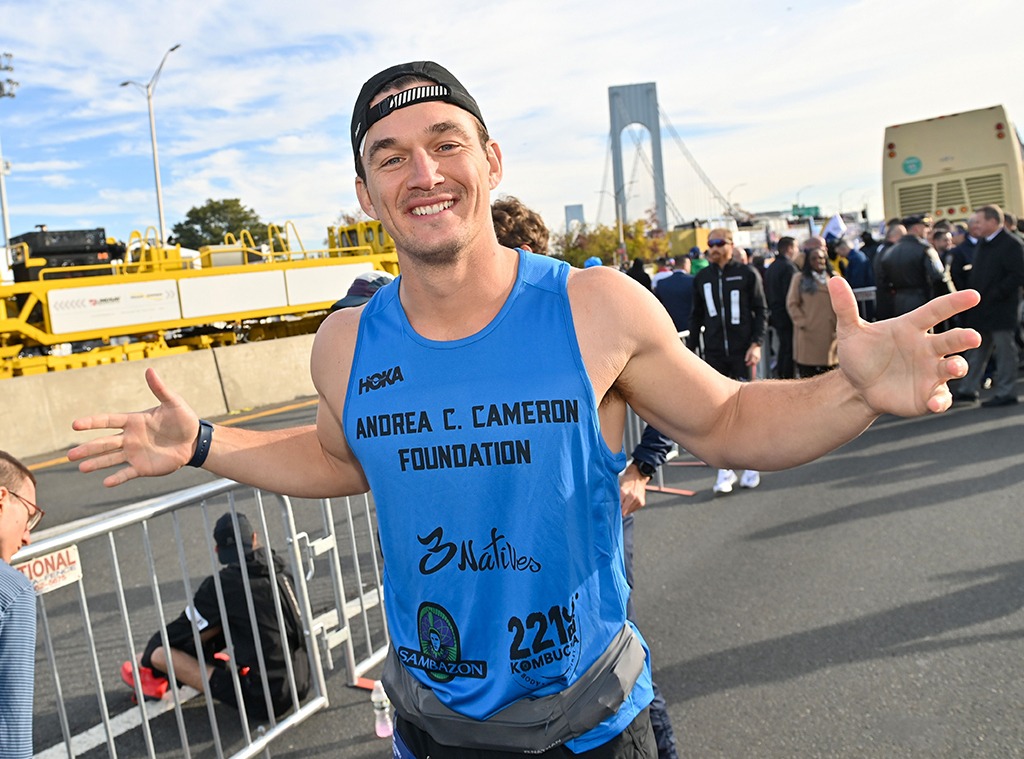 Bryan Bedder/New York Road Runners via Getty Images
We interviewed Tyler Cameron because we think you'll like his picks. Tyler is a paid spokesperson for Hoka. E! has affiliate relationships, so we may get a commission if you purchase something through our links. Items are sold by the retailer, not E!.
In the past few months alone, The Bachelorette alum Tyler Cameron released his first book, appeared on Saturday Night Live with Kim Kardashian, and ran in the New York City Marathon. Even with all of his success, Tyler is most proud to be his mother's son and to carry on her legacy of generosity and kindness. His beloved mother Andrea Cameron passed away in 2020. A couple years later, Tyler and his brothers Austin and Ryan have started the Andrea C. Cameron Foundation to award scholarships and create opportunities for deserving students.
This past weekend, Tyler and a group of friends ran the New York City Marathon in honor of the Andrea C. Cameron Foundation. Days before the race, Tyler talked to E! News about a wide range of topics from starting his own foundation, teaming up with Hoka for the cause, his fitness essentials, and most, importantly, the impact his mother continues to have on him and so many others.
E!: Tell us about the Andrea C. Cameron Foundation and what we can do to get involved.
TC: The best way to support right now as we're getting started growing and learning is to just go to the website to learn more about what we're doing and send us any advice or opinions because I'm learning as I do this. And, then, donate because every dollar and every cent counts. Every dollar is going back to our students. We're gonna find ways to get kids to college. My mom was a mom to so many people, whether they asked for it or not, you know what I mean? She would give tough love, but she was also the most giving person in the world and that's something we've all adopted from my mother. I hope that we can use this platform and this foundation so my mom can still give back even though she's not with us.
We have a lot of like cool ideas with the focus on making the support for the foundation into an interactive experience. We are planning a huge weekend, tentatively in April 2022, that will be super fun with a live auction or maybe a basketball game or golf to benefit the foundation. We are aiming to do a whole weekend of events, celebrating my mom and also finding ways to make a difference.
There are so many great charities and organizations that my mom gave her time to. She was always helping someone, even people she barely knew or didn't know at all. If someone reached out to a friend of a friend and asked for help, she would run the whole project and do an amazing job. That's just who she was and who she is. We are trying to take that spirit and keep that going.
E!: Tell us about teaming up with Hoka and why you love the brand's products so much.
TC: Whether you're a super experienced runner or you're just starting out, they have shoes for you. Their shoes are very protective. I'm a big dude. You know me running is a lot on my knees, my ankles, and my feet. With all that being said, these shoes are very protective. They're very cushioned.
Also, if you don't need as much cushion, there are other Hoka shoes for that. I love that Hoka really has something for everyone to run in. For me, it's been the safest shoe for to run in, especially in a marathon where you have to run a lot of miles. The Bondi X is what I'm running in. It's my new favorite shoe. I've been running them for the last six months.
E!: What makes the Hoka Bondi X such a game-changing shoe for you? 
TC: Well, one is you get tons of cushion, so it's very protective. And now they added the carbon plate to it, so it gives you a bit of a kick with some propulsion, and I'm a slow mover. I'm a Cadillac. So any any kind of propulsion is something I could use.
Hoka Bondi X
The Hoka Bondi X is a maximally cushioned road shoe, designed to go the distance. It's spring-loaded with that carbon-fiber plate Tyle was talking about and it has extended crash pads that act like a marshmallow-like foam.
E!: What Hokas do you wear when you're not running marathons?
TC: What I like about Hoka too is that you see nurses wearing them. That's how you know they're good. I'm on sets all the time lately and the cameramen are wearing Hokas. These people who are on their feet all the time are wearing Hoka, so I trust that. For me, if I'm going to the airport and traveling all day, I'm in Hokas just because they're so comfy on my feet. My feet don't kill me after a long day. Get yourself a pair of Hokas just to chill in. These are the Clifton 8's that I'm wearing right now. They're not just running shoes, they're my everyday shoes. 
Hoka Clifton 8
These sneakers are incredibly light and breathable to wear all day long. These come in a variety of colors too.
E!: How do you stay on top of training for the marathon, especially when you're traveling or just busy all the time?
TC: I'm not the best at it, but I'm trying. I'm big into bands. Band work is great. They're good for stretching and for fitness, especially when you're on the go or traveling. They're so easy to pack because they're so light.
When I was when I was shooting The Real Dirty Dancing, I brought a pair of shoes that were good for the trails. We were running. We had mountains and trails to run in. And I was running in those, so I'm happy I brought those. If you see me traveling, I have a pair of Hokas tied around my backpack.
Zinal
Hoka has multiple options for anyone who likes to run through the trails. This pair is great for shorter distances, delivering the perfect blend of speed and agility.
Fit Simplify Resistance Loop Exercise Bands with Instruction Guide and Carry Bag, Set of 5
This set of resistance bands is quite effective. You can get a lot done with this simple set, which includes bands with different levels of resistance. There are multiple color combinations to choose from. This set has 71,300+ five-star Amazon Reviews.
E!: When you run, do you listen to music? Do you go silent? Do you socialize with your friends? How does it typically go?
TC: I think the best thing to do is we're gonna have a squad. We're gonna run with each other. There'll be some times where gets darker and gets hard and we have to plug in our music. In the last marathon, the Chicago marathon, I played music for maybe a mile or two, just like New York.
E!: What headphones do you usually use? 
TC: AirPods with sports hooks, those help prevent the AirPods from slipping out. I have so many because sometimes I lose them. I put one of those Tile tags on them though so I can easily find them. 
Ear Hooks Designed for Apple AirPods
Never worry about your AirPods falling out during a workout again when you get these sport hooks.
Tile Tracker
Tile trackers are such a game-changer. You can just one Tile tracker or a set with multiple options, that includes Tile trackers that you can put on your keys, remote, and wallet whenever you misplace them. There's a free app that's compatible with iOS and Android devices that you can use to ring your tile whenever something goes missing. This four-piece set has 21,400+ five-star reviews from happy Amazon shoppers.
E!: Tell us about running for your mom and how you are carrying on her legacy with this foundation, and just every day in general.
TC: Even the people who never even met my mom, she loved. She loved this show. She loved all the diehard fans and she made so many friends with people she didn't meet, but would have these nice conversations just in the DM's. My mom just loved meeting and talking with people. So many people have reached out to tell me that my mom had such an impact on them and talk about how she helped them get through a bad day. Even if she never even met a person, she wanted to help and be kind because it was just the right thing to do. One person can do a lot for a lot of people.
We are wearing jerseys with the number 55 because she was 55 years old. That's so young. Life is so fragile. I just wanted to put that number on there as a reminder that we need to live our life and live it fully. That number is a reminder to be in the moment.
E! How does that kind of play into preparing for the marathon? It's such a multifaceted thing with athletic, emotional, and charitable aspects. How do you prepare?
TC: Having this charity behind us now and using that as our motivation is cool. I've got six guys running with me. You know, all the hometown homies. There's one guy Phil, who just lost his mother. He's been my trainer since I was seven. He's been a big brother to me. He's been one of my mom's best friends. So, when my mom passed, it was hard on him and then just this past year his mom passed. For us to to use this marathon to put our minds into something totally pulls us out of a dark place. Instead of dwelling in the dark, you can find some light through a marathon and that's why I love it.
To me, it's one of my favorite days of the year because there's just so much unconditional love between strangers. It's just everyone supporting people who they don't even know and you don't find that often. I love that everyone is just supporting everybody.