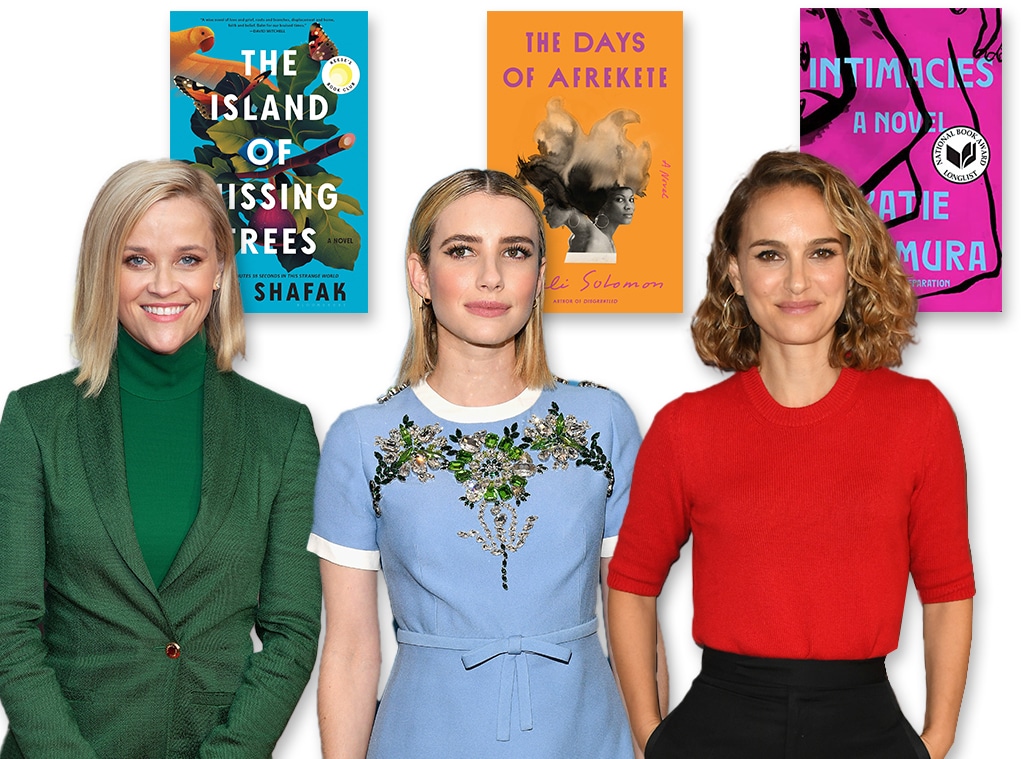 Getty Images
We independently selected these products because we love them, and we hope you do too. Shop with E! has affiliate relationships, so we may get a commission if you purchase something through our links. Items are sold by the retailer, not E!.
November is here, which means the holidays are approaching. There's no better gift for your loved ones (or yourself) than a great book. With so many books to choose from, take the guess work out of researching your next read and just take a recommendation from your favorite celebs instead.
This month, we are reading picks from Reese Witherspoon, Oprah Winfrey, Natalie Portman, Stephen Curry, Sarah Jessica Parker, Emma Roberts, Camilla Parker Bowles,  Jenna Bush Hager, Gwyneth Paltrow's Goop, Summer House star Carl Radke, and Megan Rapinoe.
The Island of Missing Trees: A Novel by Elif Shafak
"What a wonderful read! Let me start by saying that this book moved me to tears... in the best way," Reese Witherspoon admitted. The actress shared, "It is a powerful and poignant story about love, grief, exile - and a fig tree who sees it all. Set in different time periods, the story revolves around a couple who met in Cyprus shortly before the 1974 conflict. There's magic, mystery and a tree that plays a pivotal role watching over two star-crossed lovers who endure a world war that tears them and their countries apart. Most of all, I love the message at heart: humanity and nature are interwoven and despite our differences, there is far more that unites us."
Intimacies by Katie Kitamura
Natalie Portman shared, "Already loving Katie Kitamura's new novel Intimacies— which follows a woman who goes to work as an interpreter at the International Court in The Hague."
The Days of Afrekete by Asali Solomon
Emma Roberts and Karah Preiss' Belletrist book club selected The Days of Afrekete for its November 2021 read, teasing, "What if everything you thought was going perfectly suddenly wasn't?" They explained choosing the book "because it's going to challenge and surprise you - and we know you're going to want to dive into it."
Middlesex by Jeffrey Eugenides
Oprah Winfrey recently revisited a prior book club pick, telling her fellow readers, "Jeffrey Eugenides' intergenerational family saga, Middlesex, won the Pulitzer Prize for fiction and was a Book Club selection in June 2007. One subplot of this sprawling novel involves a Prohibition-era basement speakeasy."
Missing Man: The American Spy Who Vanished in Iran by Barry Meier
Sarah Jessica Parker described this pick as "an extraordinary story" and "a thriller," sharing that doesn't "want to put it down." The actor posted, "It's non-fiction but hard to believe the story it tells," revealing that she's a "long time admirer" of the author Barry Meier.
Killers of the Flower Moon: The Osage Murders and the Birth of the FBI by David Grann
Carl Radke selected this one for his most recent book club pick. It's based on a true-life murder mystery and the then-newly created FBI that took up the case.
Sisters in Arms by Kaia Alderson
Steph Curry told Literati readers, "Get pumped. This month, I'm coming to you with a story inspired by the true history of a group of underrated heroes. A fictional story based on an important piece of untold history. Kaia Alderson's Sisters in Arms shines a light on America's only all-Black, all-female battalion deployed during WWII, known as the Six Triple Eight. These brave women faced war overseas, racism at home, and people betting against them every day. Without their courageous service, history would look different. And yet, most of us haven't heard their stories until now. Let's celebrate the trailblazers. Let's celebrate the bravery of unsung heroes. Let's celebrate some of the fiercest women in history. This is what it's all about."
The Woman in White by Wilkie Collins
Camilla Parker Bowles chose The Woman in White by Wilkie Collins for her book club's next read, sharing, "On a moonlit road, close to midnight, a touch on Walter Hartright's arm sends him spinning. Next to him, materialised as if out of the air, is a woman dressed from head to toe in white…Published in 1859, this gripping story of desire, ruthless ambition and chilling suspense explores the horrors hidden deep within Victorian society. Painted with intense psychological realism, this was the novel to move the Gothic genre on, creating a whole new movement of its own, the 'Sensation Novel'."
The Family by Naomi Krupitsky
Jenna Bush Hager shared, "Sofia and Antonia's meaning of the world family is charged with violent undertones and organized crime. In this debut novel, Krupitksy tells the mafia's story through the female gaze of these two young girls as they grow into wives and mothers. A story that will leave you craving Sunday night dinners, brings 1930s and 1940s Brooklyn to life!"
Oh William! by Oh William!
Gwyneth Paltrow's Goop book club selected Oh William! for the November/December 2021 pick, sharing, "From legendary Pulitzer Prize–winning author Elizabeth Strout, a novel about the mysteries that exist in our most intimate relationships. Lucy Barton, a writer, was married to William Gerhardt, a scientist and professor, for twenty years before they divorced. They have two children. Lucy remarried once. William, three times. They have been friendly for a long time. Still, it's a bit surprising when William asks Lucy to join him on a trip to make sense of a family secret he's just unearthed. Will it change everything they understand about their past? Will it change who they are today? No one is better at bringing a voice alive on a page than Elizabeth Strout."
Felix Ever After by Kacen Callender
"I am thrilled to experience Felix Ever After together," Megan Rapinoe said via Literati. The athlete shared, "Young Adult novels are such an underrated resource; it's important to seek out the stories of people who don't often get to be centered. Kacen Callender weaves a story about the everyday life of a high school kid looking for love while also exploring what it means to be fully human and authentically yourself—even when it's hard. This is a beautiful portrayal of a coming-of-age story about love, identity, family, and friendship."
If you are looking more celebrity book recommendations, check out these picks from Camilla Parker Bowles, Gwyneth Paltrow, Emma Corrin, and more.