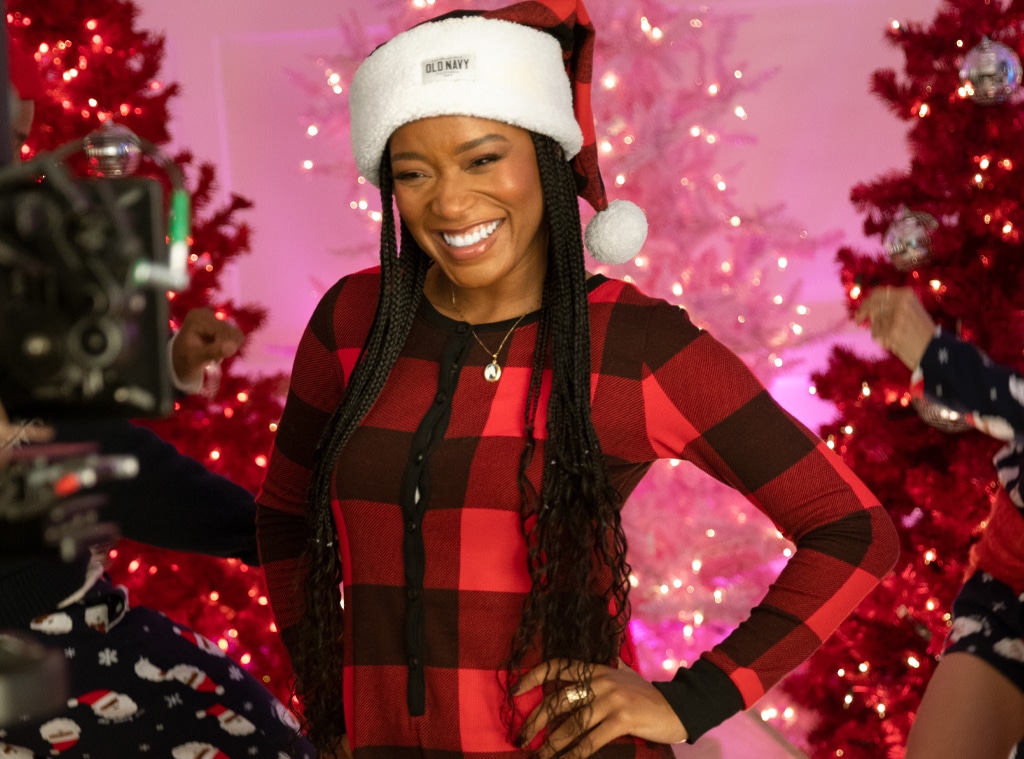 Courtesy of Old Navy
We interviewed Keke Palmer because we think you'll like her picks. Keke is a paid spokesperson for Old Navy. E! has affiliate relationships, so we may get a commission if you purchase something through our links. Items are sold by the retailer, not E!.
It's finally time to start holiday shopping for your friends, family, and even for yourself. There's no better way to enjoy the season than by rocking some holiday pajamas, right? Old Navy is the best place to get holiday pajamas, scarves, hats, slippers, and other winter essentials. They have so many different colors and patterns to choose from at a reasonable price point, which is why Keke Palmer teamed up with the brand to celebrate the ALL-IDAYS with Jingle Jammies.
Old Navy is rethinking "traditional" holiday celebrations by creating pajamas with culturally diverse Santa prints, Hanukkah pajamas, and more size-inclusive styles for women, men, children, and babies. Keke spoke to E! News about her longtime love for Old Navy, the new campaign, and some holiday gift picks.
E!: What do you love about shopping at Old Navy?
KP: It's the colors and the patterns for me and also the very, very good pricing, and I gotta be honest with that you. They always have some really good deals, very affordable, which I think is always the thing and then especially in these times that we're in right now. We want to be able to have good quality things that aren't going to break our pockets. 
E!: Why did you team up with Old Navy for the ALL-IDAYS campaign?
KP: I think it's a very American brand in all the ways that I feel like I represent. It's inclusive, celebrating all the different cultures and denominations like. To me, that's what I feel when I think of being an American. I feel like Old Navy has always been a good representation of that and this year is no different when it comes to the holidays. We're celebrating all people in all traditions.
This campaign is is very much in line with who Old Navy has always been though. I was even just looking at an Old Navy commercial from 2003 with Lil' Kim.  Old Navy has been doing this, trying to let everybody know 'everyone is welcome here,' and that's important.
A really cool fun fact off-camera is that everybody who's been in charge is a woman, literally the director, all the people that work for the agency, the clients, everybody. So, that's really nice. If you think about it, this is a big company. This is a big deal. To see women in these positions, it's definitely representative of the evolution that is happening and we're continuing to try to grow forward as a society.
E!: Which pair of jammies is your personal favorite?
KP: I have two. One is the rainbow colored complete onesie. The other one is a two-piece red and green one that I have.
Old Navy Matching Printed Thermal-Knit One-Piece Pajamas for Women in Rainbow Stripes
Old Navy Matching Printed Thermal Pajama Set for Women
Whether you just love seasonal pajamas or you're still working from home, a pair of holiday PJ's is an absolute must this time of year. This top has long sleeves with rib-knit cuffs. The pants have an elasticized waistband and a high rise for ultimate comfort and wearability.
E!: What do you love about shopping for presents at Old Navy?
KP: Old Navy won't let you down for the holidays, even if it's a last minute gift. Heavy emphasis on the great price point. 
E!: What are some of your holiday gift shopping recommendations?
KP:Old Navy is coming through with the winter accessories. Don't sleep on the winter accessories and the slippers. The main thing that I'm just really loving right now are all of the colors. They have so many different color options. I'm so excited about all the different patterns and all the different solid colors and neon colors, oh and the beanies. 
Old Navy 2-Pack Printed Pom-Pom Beanie And Scarf Set For Women
If you're going to bundle up, you might as well get cute with it. Accessories don't get any easier this colorful, matching beanie and scarf set, which Keke rocked in her Old Navy campaign.
Old Navy Soft-Brushed Printed Boucle Scarf For Women
If you love a colorful scarf, check out this bright, printed plaid option.
Old Navy Striped Sweater-Knit Beanie For Women
Go bright with your hat game this winter. This striped beanie is available in 3 different color combinations.
Old Navy Cozy Sherpa Double-Strap Slide Slippers For Women
These slippers are soooo cozy and they are so affordable, especially for such a popular style. They're also available in black.
Old Navy Faux-Fur-Lined Sherpa Slippers For Women
These super colorful slippers match with all of your pajamas and loungewear.
Old Navy Matching Printed Thermal-Knit One-Piece Pajamas for Women in Buffalo Plaid
Old Navy All the Santas Pajamas
Old Navy has Santa Claus prints in various skin tones on their holiday pajamas for men, women, children, and babies.
Old Navy Hanukkah Pajamas & Socks
Check out Keke's latest Old Navy commercial below.