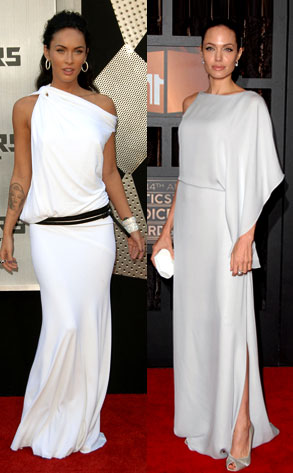 John Shearer/Getty Images, Jeff Vespa/Getty Images
The similarities are damn obvious when it comes to Megan Fox and Angelina Jolie: Both are ridiculously hot, badass, man-devouring chicks.
But before we get to the big diff between the two, we thought we should let Angie's dad, Jon Voight, and Megan herself, weigh in here.
First, we were curious if Jon sees any Ange in Megan:
"I do see the comparison. Megan and Angie are both sexy ladies. They're attractive, with some similar features, so it's easy to compare them like that. Plus, they've both been in action movies. But they are also talented," daddy Jolie told us at the Transformer's premiere.
Like we twittered from the carpet last night, we can't decide if that's honest, creepy or both.
When we ran into Miss Fox later in the evening, we asked if she thought of herself as Angie 2.0...