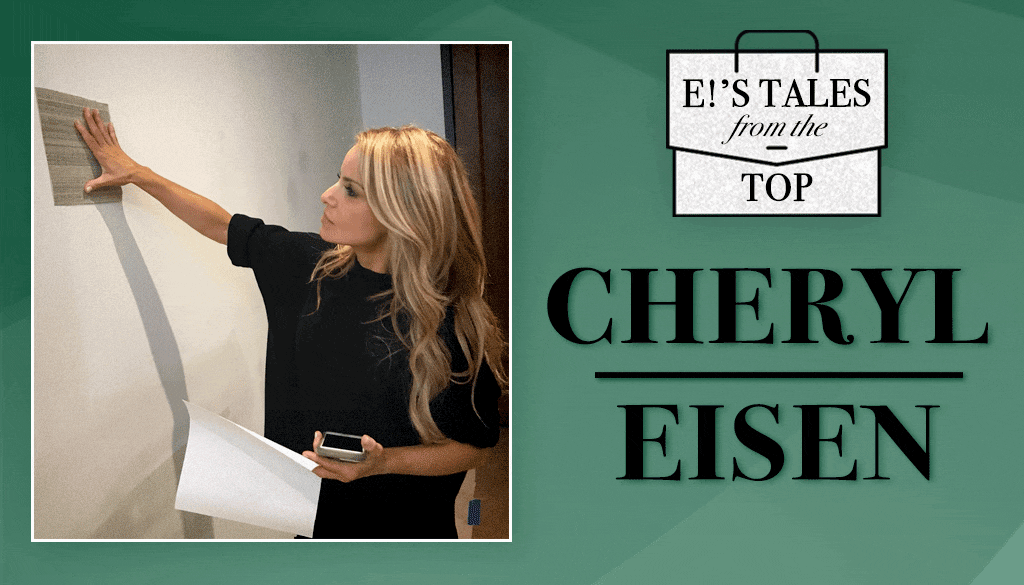 E! Illustration
Welcome to E!'s Tales From the Top, our series on women who are leaders in their fields and masters of their craft. Spanning industries and experiences, these powerhouse women answer all the questions you've ever had about how they got to where they are today—and what they overcame to get there. Read along as they bring their resumés to life. 
You never know where you'll get that life-changing spark of inspiration. For Cheryl Eisen, it was on her mom's couch. 
For a time during the '90s and early aughts, Eisen was running her own successful company. But, in the midst of the dot-com bubble crash, her executive search firm went under and the entrepreneur was suddenly unemployed with a tricky job history. "I was broke in my 30s, living on my mom's sofa and I had to completely reinvent myself," she said in an exclusive interview with E! News. "Nobody would hire me because I had CEO on my resume and I didn't go to college." 
While she had already tried a variety of gigs—art director, graphic designer and Macintosh software teacher to name a few—Eisen next turned to real estate, securing her license and a spot at an agency where commissions were her income. Ever the shrewd businesswoman, she stood out in the saturated market after getting an idea from an unexpected source. "I had been watching HGTV during my unemployment days, and I saw this show called The Stagers," she recalled, "and no one was doing that in New York at the time. And I thought, 'This is really neat. Maybe I could be the stager that sells real estate.'"
The New York City native, who had grown up with an interest in art, decided to merge her two worlds. "I was creative. I had a good eye for things. I had no experience, but the only way I was going to be able to compete in New York real estate, a very competitive real estate market for getting listings, was to have a differentiator," she explained. "And I saw this as an opportunity." 
While Eisen had to take on the costs of staging the spaces herself, she took inspiration from a book on Kelly Hoppen's interior designs and got to work. The impact was immediate. "From the first time I did it, it was so successful. The property sold at full-ask, all cash, completely furnished," she said, "where the seller had been trying to sell it himself for like a year without any success unstaged, so it was a great transformation. And brokers took notice and said, 'Wow, what is this staging thing? Can you stage my listing too?' And so then I was not only staging my own listings—and I got a lot of business from it—but also other brokers' and other agents' listings. And so, it really started taking off from there."
More than a decade later, she's the founder of luxury real estate design and marketing firm Interior Marketing Group, with a roster of luxe projects around the country that would make any aspiring homeowner's mouth water. The company has also since launched its own line of home decor, IMG Home, where customers can bring Eisen's aesthetic—or even an actual coffee table or couch used in one of her stagings—into their own house. 
For a woman who started out finding decor on Craigslist, her success is as clear as the windows lining the penthouses she's tasked with furnishing for the likes of Kim Kardashian and Kanye West. But, like most progress, it was not overnight for Eisen. "Eventually, I had so much of that business that I stopped taking listings at all and just did the staging part, but it took years for that to happen," she cautioned. "Everyone thinks it was a fast transformation—it wasn't—into owning a business." Instead, she would buy budget-friendly Ikea furniture for her stagings and put it into storage once the property sold, ready to be reused for the next project. And if an item wasn't a fit for a new project, they found a way to make it work. 
"We MacGyver everything. Now we try to buy things that are already ready to go because people now more and more are buying things turnkey, so they buy the furniture. It has to be really high quality. Before we were able to do that, we needed to be as high-margin as possible. We had to spend as little as possible," she said. "If the sofa was cheap, but it was blue, we would reupholster it and make it white and beautiful. And if it had cheap-looking legs, we would buy new legs or make new legs, or make a new top to a credenza and give it a new look, a new life."
Slowly, her collection evolved into what is now 60,000 square feet of inventory akin to her very own furniture candy store—and a far cry from the future her dad thought she might have. "I didn't have a career in mind," she said of her younger self. "My father always jokes that he thought I was going to be the one that he'd have to support as an adult."
Instead, now we're taking notes. Find some of Eisen's best nuggets of wisdom—from how she's bounced back from business mistakes to her keys for nailing a job interview—below. 
Watch:
Inside the Most Expensive Reality Real Estate
On honing her business sense:
"I learned a lot from my first failure where my company went out of business. I had 10 employees and the bubble burst and I hadn't saved. I spent everything on employees. And so I learned a lot from the mistakes I had made as to what not to do and what to do differently the next time. And that really taught me a lot. It was a huge lesson in that. I read books on business. My dad was an entrepreneur, so I relied on him for his advice as well. And then the rest I learned trial and error. It's not an easy lesson. I'm still learning."
On the business advice that has stuck with her: 
"Scale slowly, be incredibly frugal...and stay as self-funded as you can for as long as you can."
On nailing a surprise sale to Daniel Craig: 
"This is the first time I worked with Fredrik Eklund. He wasn't a superstar. He was just a small broker and he had this apartment, and I was just trying to get my staging business, and I was calling and calling. He finally said, 'OK, listen. I've got this loft downtown, come look at it. I might give you a chance to do this staging thing you're talking about.' So I met him on the site, and it was this really cool triplex loft. He says, 'So what are you going to do here?' And I said, 'I don't know, I got a vibe here. This is like a James Bond bachelor pad apartment, so I'm going to design it for that demographic, like the cool, bachelor, James Bond type.' So he's like, 'Alright, I'll give you a chance.' And I did it. I did fur carpeting and mid-century pieces and really cool, slick furnishings. And he called me a week later and said, 'You are never going to believe who bought this apartment'...And I said, 'Who?' And he said, 'James Bond bought it. Daniel Craig bought the apartment.'"
On the reality of her work behind the scenes:
"It's a roll your sleeves up, dirty, lifting furniture, sweating, my fingernails are never done kind of situation. It's not the glamorous, I go in in heels and makeup on. I just look like a construction worker, as do most of us. It's a tough, labor-intensive job. I'm not the mover, but to help design a space really quickly, in 12 days or whatever it is that we've got no time frame for, you're literally pulling furniture across the room, trying to make it work...I think everyone sees the videos and thinks it's very glamorous. And that it's about wearing heels and showing up with your hair done, but it's nothing like that."
On the keys to a successful job interview: 
"Nailing a job interview is really about one, researching the company as much as you can, and the person who's interviewing you so that you come in, not blind, but really knowledgeable about what the company's about, what the position is about. Even something personal about—not personal in a creepy way—personal about the professionals interviewing you. When people I interview know something about me—'I saw you started your business when you were 24. Can you tell me...'—it actually makes it a personal connection and creates a differentiator in the mind of the interviewer...Come up with ideas about what you can contribute to the company, so when you're in the interview, just say, 'I have an amazing background in XYZ that I think your company could really benefit from'—without being disrespectful—'I can really help grow the vision of blah, blah, blah, which I think is amazing...' I think just showing your worth, doing research and how specifically you would contribute to the success of the company."