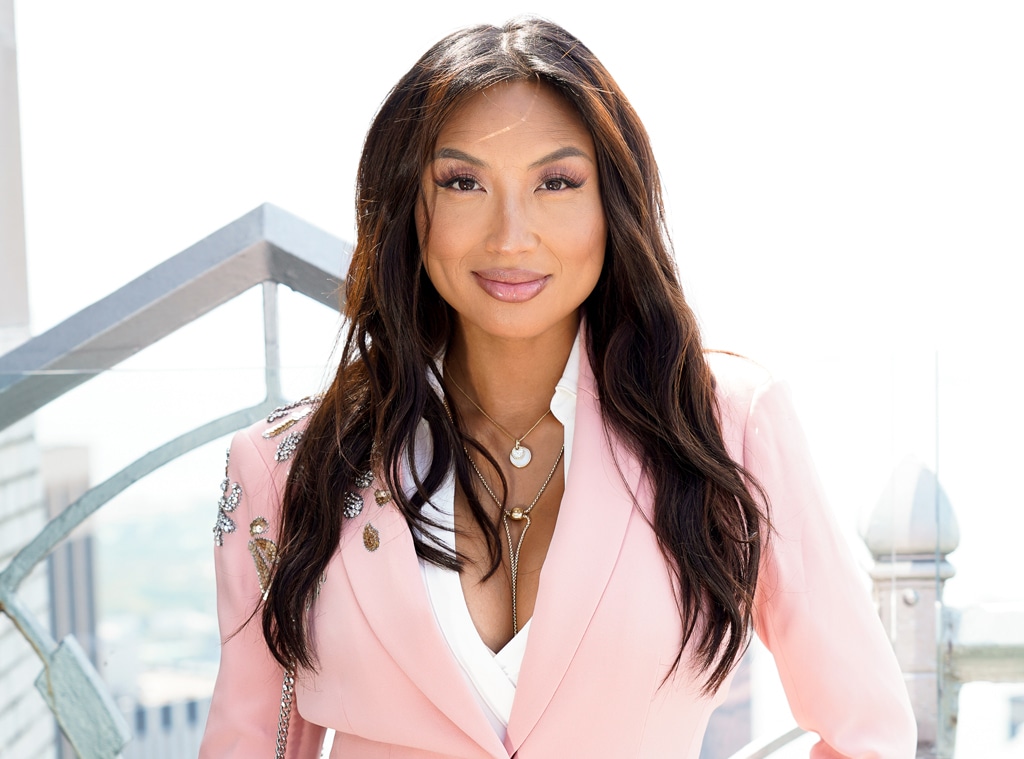 Jared Siskin/Getty Images
We interviewed Jeannie Mai because we think you'll like her picks. The products shown are from Jeannie's own line. E! has affiliate relationships, so we may get a commission if you purchase something through our links. Items are sold by the retailer, not E!.
We've all had that "I have nothing to wear feeling," but when Jeannie Mai had this thought she solved that age-old problem by designing her own clothes with Macy's x INC. After two years of work, the first Jeannie Mai x INC collection has dropped. During an exclusive interview with E! News, Jeannie said, "Some of the inspiration just comes from loving fashion so much that I needed more in my closet. More reasons to feel confident, more reasons to go out, more motivation to look different as I emerge from my home."
"And the second reason is I really don't like what I shopped online. I can't tell you how much I returned during quarantine because things did not look like the picture or the material didn't last through one wash or it didn't fit my body the way it fit the model. And I'm sick and tired of online getting away with pictures that aren't really what the garment will look like in real life," a very relatable sentiment Jeannie shared. The Real host said, "What excited me most is really creating things that I would want to buy myself," and now we can all buy the clothes too.
E!: It sounds like quality was a focal point for you while working on this collection. Tell us more about that.
JM: Quality and not having to spend a whole paycheck to get it. People think to get good quality you need to pay an expensive price tag and that's not true. If you find designers who spend time making garments that they too would want to wear themselves, that they would put on their kids, that they would put on their moms, that's where you find quality. And that's what I've tried to do in this collection. 
E!: Working within the limits of making something affordable, was it difficult to create that same quality? 
JM: A little bit, yes, to be honest. In order to satisfy that price point, especially for the Macy's customer because I'm the Macy's customer. I always shopped Macys. I go there because I know I'll have enough money to buy several pieces, not just one. So when it comes to things like my boucle jacket. Boucle fabric can be really expensive. It looks luxe but there's a hefty price to manufacture it. We were able to work within the factories to find a boucle that was beautifully refined that has that same weighted, elegant look to it and didn't break your bank. So it just took a lot more research and honestly, I can't tell you how many times I sent something back saying, 'This isn't it, this isn't it.' They were like, 'Jeannie, we're scouring everything, what could it be?' And they actually worked with me to find the one that made me happy and that's the entire collection you see today.
Jeannie Mai X INC Dionne Crop Drappy Tweed Jacket & Davenport Pocket-Detail Mini Skirt, Regular & Petites
Jeannie told E!, "I love shopping the tweed sets, especially when they're luxury. I think Chanel would be the most recognizable tweed set that we see on the market that of course not everybody can afford. And I thought why is it my whole life ever since I was a kind wanting to have some of these pieces in my closet but I've never wanted to sacrifice that much money on one outfit that you're only going to wear one time." 
The tweed jacket and mini skirt are both available in regular and petite sizes.  
Jeannie Mai x INC Janelle Ribbed Off-The-Shoulder Bodycon Midi Dress
Jeannie said, "You know what's crazy? I started the collection before I was pregnant and then when I got pregnant I was like, oh man I'm not going to be able to wear my pieces. So not true. Not only did I wear all of my pieces during my photo shoot, I'm now sitting in beautiful green, ribbed-neck dress that has power mesh underneath. The power mesh acts like an undergarment that helps support my breasts, my hips, my waist. My belly feels supported and it hugs my body in a beautiful way that gives me curves besides the bump. That's what I wanted. It brings out the best of your body shape and it's doing that for me whether I'm pregnant or not."
This dress is also available in black.
E! What else are you wearing these days? 
JM: My tweed jacket, I wore that on The Real just last week which was so cool because even though I'm in a bigger size right now it has a beautiful silhouette that took in my hips and made my bump look really cute and still made me look very svelte.
Keep on scrolling to see some more pieces from Jeannie's collection that are also very comfortable during pregnancy. 
Jeannie Mai x INC Salma Tie-Waist Tank Dress
"I can also wear my waist-tie dresses. The tie goes underneath my bump so it actually elevates it a little bit. The knit is so forgiving, it really smooths your body," the mom-to-be said.
This dress is also available in black.
Jeannie Mai X INC Lisa Wide-Neck Off-The-Shoulder Top & Bonet Wide-Leg Knit Pants, Regular & Petites
"I wore my loungewear set yesterday, I went to a doctor's appointment with my husband and everyone was complimenting it and I was like, oh my god this is my collection," the talk show host recalled.
Both of these pieces are also available in black
Jeannie Mai X INC Jeannie Rib Button-Detail Midi Sweater Dress, Regular & Petite
"And we also went to brunch the other day and I wore my camel, V-neck, gold-buttoned ribbed dress and I got compliments beyond about it. And I paired it with knee-high boots in matching camel. It was monotone head to toe, it was so sexy."
Jeannie Mai X INC Mobama Long Belted Coat, Regular & Petites
Add some polish to any outfit with this long, belted, ivory coat.
Jeannie Mai X INC Zula Long Blazer, Regular & Petites
You can wear this charcoal grey blazer as a part of your ensemble or as some chic outerwear.
Jeannie Mai X INC Tao Off-The-Shoulder Colorblocked Sweater,
Feel cozy and look elegant in this color blocked off-the-shoulder sweater. It's also available in grey and black/white.