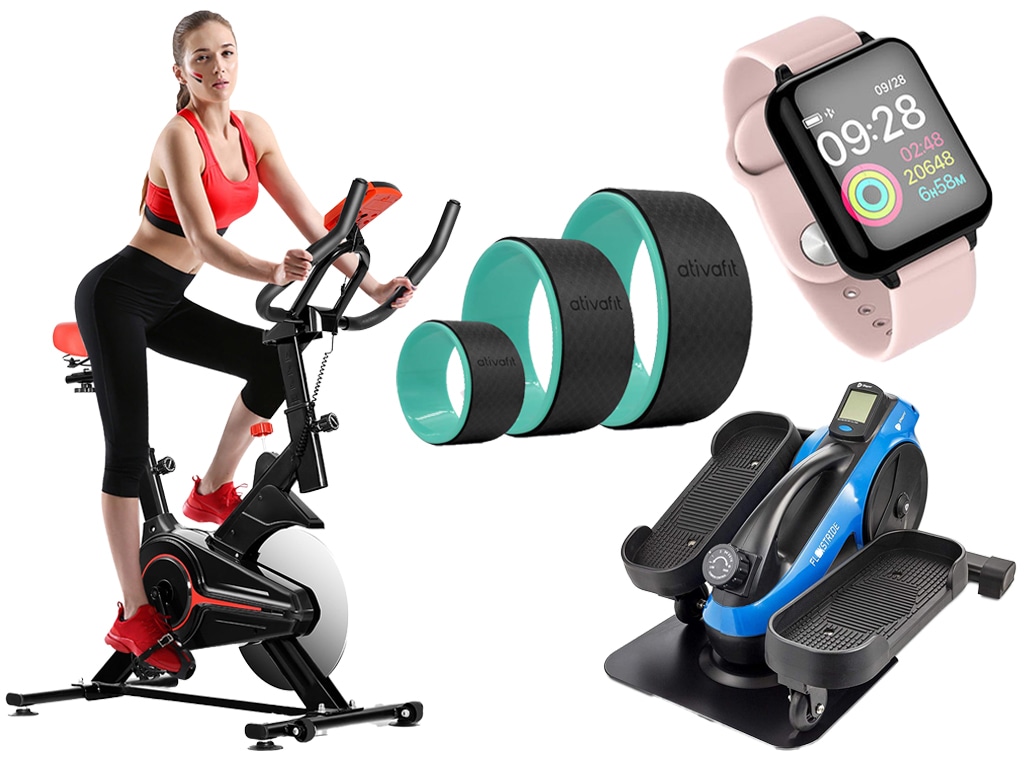 E! Illustration
This content was created by StackCommerce for E!. E! has affiliate relationships, so we may get a commission if you purchase something through our links. Items are sold by the retailer, not E!.
If you're like most people, you know what it was like to give up your gym membership or subscription to fitness clinics over the past two years. You had to make do with what YouTube and various workout apps had to offer and tried to break out a sweat as much as you can at home. And that experience taught you that you can absolutely live without dropping hundreds on your local gym.
But now that things are slowly going back to normal, you might feel tempted to purchase a membership again. You just have to remind yourself that you don't have to, especially since there are tons of fitness gear out there that can help you build a home gym and train on your own.
Here are 10 of them, all on sale at Black Friday prices for a limited time with code SAVE15NOV from StackSocial that you can use at checkout.
Smart Fit Multi-Functional Wellness & Fitness Watch
Why spend hundreds on smartwatches from big-name brands when this wallet-friendly option exists? This watch by Go Gadgets is designed to keep track of your health and fitness with features like a step tracker, blood pressure and blood oxygen monitor, calorie counter, and more. It's waterproof and sweat-proof, so you'll have no problem wearing it to your workouts. Use code SAVE15NOV at checkout.
Indoor Exercise Bike Fitness Cardio W/4-way Adjustable Seat - Black + Red
This indoor cycling bike's specs include bells and whistles to provide an amazing cycling workout at home. It features plastic pedals, a soft saddle, a 4-way adjustable seat, a height-adjustable handlebar, a counter for time, speed, distance, calories, pulse, and scan, and a plastic mobile phone holder to keep you entertained while pedaling your calories away. Use code SAVE15NOV at checkout.
Ativafit Sports Yoga Wheels 3-Piece Set
If you find yoga daunting because you're not flexible enough, a yoga wheel might help. This wheel by Ativafit was made to improve your balance and flexibility. This set includes three wheels for various levels of experience and a variety of stretches, and Ativafit says each piece is designed to assist you in building your balance ability, core, and back strength. Use code SAVE15NOV at checkout.
LifePro PowerUp Adjustable Dumbbells Set
Ideal for those only starting with weight training, these LifePro dumbbells feature a simple design that makes the whole process less intimidating. The weights start as low as 2.5lbs and gradually increase with the easy adjustment system. This way, you can ease your way into heavier weights and eliminate the need for a full rack. Use code SAVE15NOV at checkout.
Evertone BodySage Handheld Deep Tissue Massager
Muscle pain can be relieved with a deep tissue massage, and Evertone says this massager was made to deliver spa-level muscle treatments. You can target problematic areas with just one hand and reduce muscle stiffness and soreness all over your body. Use code SAVE15NOV at checkout.
JAWKU Muscle Blaster Mini: Ultra Compact Silent Massage Gun
Designed to treat sore muscles, this compact silent massage gun uses percussion therapy that Jawku says can help with rapid muscle recovery, release knots, relieve pain, increase range of motion, and more. JAWKU includes four massage heads that can target specific body areas you want to relieve. Use code SAVE15NOV at checkout.
LifePro Dynaflex Percussive Massage Gun
Made to speed up your athletic recovery, LifePro says this massage gun helps deliver a deep tissue massage using percussive vibrations. It has 10 interchangeable massage attachments for targeted relief, as well as an adjustable arm that allows for a massage that really hits the spot. Use code SAVE15NOV at checkout.
ABXCORE: Ab Machine with Virtual Trainer
With the ABXCore, you can train to get the washboard abs you've always wanted with this machine engineered to sculpt your abs in only seven minutes a day, according to the brand. It's compact and lightweight, so you can use it while sitting in a chair in your home or work, lying on a mat at the gym, or anywhere you can sit or lie down. Its specs include an adjustable width to accommodate various body types, resistances for varying fitness levels, and a locking mechanism that isolates abdominal groups and strengthens them. Use code SAVE15NOV at checkout.
FlexStride Pedal Exerciser
Rated 4.7 out of 5 stars on Amazon, the FlexStride is a mini elliptical machine you can use even while at work or relaxing on the couch. It offers eight resistance levels that FlexStrike says work to decrease stress, burn calories, and boost your metabolism, as well as wide pedals that improve your core strength, circulation, flexibility, and muscle tone. Use code SAVE15NOV at checkout.
Terra-Core Fitness Home Gym
Featured on Shark Tank, the Terra-Core is a balance trainer that also functions as a bench. It's designed to give you a full-body workout at home, and some exercises you can do include crunches, planks, and building abdominal, shoulder, and leg muscles. It also works with dumbbells, kettlebells, medicine balls, TRX, and all other fitness accessories. Use code SAVE15NOV at checkout.