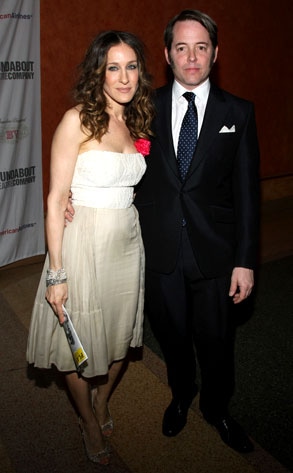 Jason Kempin/Getty Images
Sarah Jessica Parker and Matthew Broderick's dynamic duo has arrived.
The couple's surrogate gave birth last night to the highly anticipated twins at East Ohio Regional Hospital in Martins Ferry, Ohio.
"Sarah Jessica Parker and Matthew Broderick are delighted to announce the healthy arrival of their two daughters at 3:58 p.m. [ET]," the couple's representatives said in a statement released this afternoon. 
"Marion Loretta Elwell Broderick weighed 5 pounds, 11 ounces, and Tabitha Hodge Broderick weighed 6 pounds. Both Hodge and Elwell are family names on Parker's side. The babies are doing beautifully and the entire family is over the moon."
Security has been ratcheted up at the facility as the famous couple are said to be with the surrogate.
Drama has surrounded the Sex and the City star's surrogate for weeks. Just last week, officials confirmed two police chiefs were under investigation for allegedly breaking into her home in hopes of digging up dirt to sell to the tabloids.
Parker, 44, and Broderick, 47, also have a son, 6-year-old James Wilkie.
(Originally published June 23, 2009, at 8:38 a.m. PT)