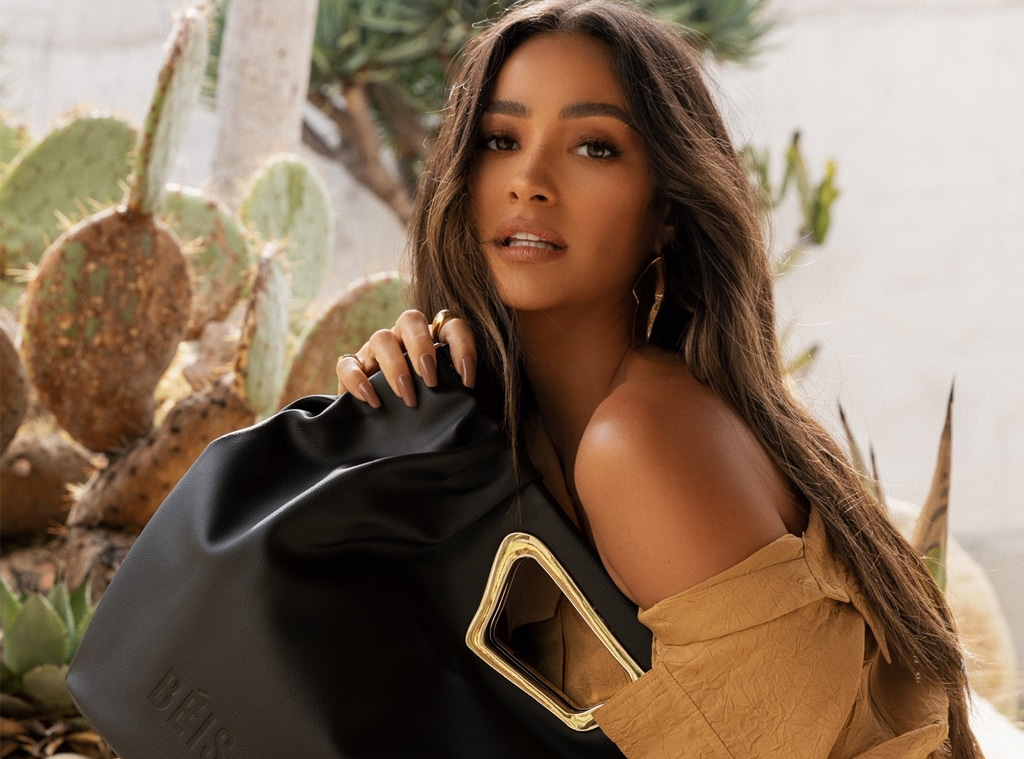 Courtesy of Beis
We interviewed Shay Mitchell because we think you'll like her picks. The products shown are from Shay's own line. E! has affiliate relationships, so we may get a commission if you purchase something through our links. Items are sold by the retailer, not E!.
We've all admired (and tried to emulate) Shay Mitchell's effortlessly cool style. After years of trendsetting, the actress started her own company BÉIS Travel, proving that it is possible to create products that are stylish, functional, durable, and eco-friendly at a reasonable cost. That's a very tall order to fill, but Shay and her team have done just that, setting the bar higher with each product launch. 
Today, Shay is celebrating the BÉIS third-year milestone by releasing the BÉIS Anniversary Tote. Shay shared, "Traditionally, the gift for three-year anniversaries is leather, known for being durable, resilient and flexible, able to handle any challenge, building character along the way.  Of course, we needed to BÉISify that tradition and use it as an opportunity to innovate with a new and exciting material, with this special edition anniversary piece made from cactus 'leather.'"
Shay elaborated on the new product launch, the challenges she's faced throughout these three years, and her future plans for the company in an exclusive interview with E! News.
E!: Tell me about the limited edition Anniversary Tote.
SM: It may be cliché but I love everything about this bag.  The material itself is impressive not only in concept but in execution. It is soft and buttery, but also durable and thick enough to offer structure.  We also have an asymmetric handle that  I'm pretty obsessed with. We had them custom-made specifically for this bag and the design was literally derived from a doodle I did… some of my favorite features on BÉIS bags have come from drawings and that is pretty cool. 
E!: There are a lot of misconceptions about the quality/effectiveness of sustainable materials. What made you go with the Cactus leather?
SM: Totally hear you. Honestly I can sometimes fall into that category of people with misconceptions, and I think a lot of people equate sustainable materials to being super granola, raw, rough, not durable.  But there have been so many innovations in this space it's fascinating and gives me some sense of hope. We chose cactus leather because it is durable and resilient which makes it perfect for our travel portfolio.  We also love and respect that it is a completely sustainably made material… literally nothing was harmed in the process of making it, and it's also a completely regenerative resource.
E!: I love how the tote is perfect to fit a rolling suitcase. How did the other BÉIS products influence the design of this tote?
SM: We absolutely are always thinking about our individual products in terms of the bigger picture of how they fit into our full collection. How they relate to other products. How they work well with other products, or how they complement… we of course want people to be able to use more than one of our bags together, but we design each one to pack maximum punch in terms of function and to always work well alongside a peer so you need LESS while you're on the go.  
BÉIS Travel The Anniversary Tote
This is the first product from BÉIS made from this completely sustainable material, developed from the Nopal Cactus. It will be a limited-edition luxe piece, exclusively made for a one-time run until supplies last. It's available in nude and black. The versatile bag has removable strap, giving you the option to wear it on your shoulder and it can be easily attached to a rolling suitcase. 
E!: Describe the BÉIS shopper. 
SM: BÉIS is for everyone and anyone. We desire to be the go-to travel accessories brand for ALL
E!: What has been the most surprising part of running BÉIS and developing products?
SM: There have been so many learning lessons and epiphanies. I think - consistently - the thing that continues to surprise me is just how much work happens behind the scenes. Consumer -facing experiences, product drops, social content, beautiful pictures, sales, but the amount of WORK that goes into making all these things happen is just wild. We are designing years in advance, formulating marketing for those collections while designing and honing in months in advance, dealing with inventory, tariffs and shipping delays, shoots… and when we play our cards right everything goes off without a hitch, but don't let the fact that a brand's presence LOOKS great deceive you…. people's blood, sweat and tears are behind those products and pictures. 
E!: You've accomplished so much with the brand in 3 years, what is on the horizon next (in terms of new products, materials, colors)?
SM: Thank you! It has been a super interesting and jam-packed three years.  We've spent a lot of time innovating, perfecting, and keeping our finger on the pulse of what is happening and predicting what consumers' needs will be.  We're always expanding our core collection while also releasing seasonal collections with exciting fabrications. Those seasonal pieces - and the marketing campaigns - really let us have a lot of fun and we have some really cool stuff in the pipeline for next year. 
Another thing we are starting to put wheels in motion on is to find more environmentally responsible materials and packaging, and phase those options in as much as possible. Our Anniversary tote, made of cactus leather, is really our first foray into this new realm and I couldn't be more pleased with how it came out.