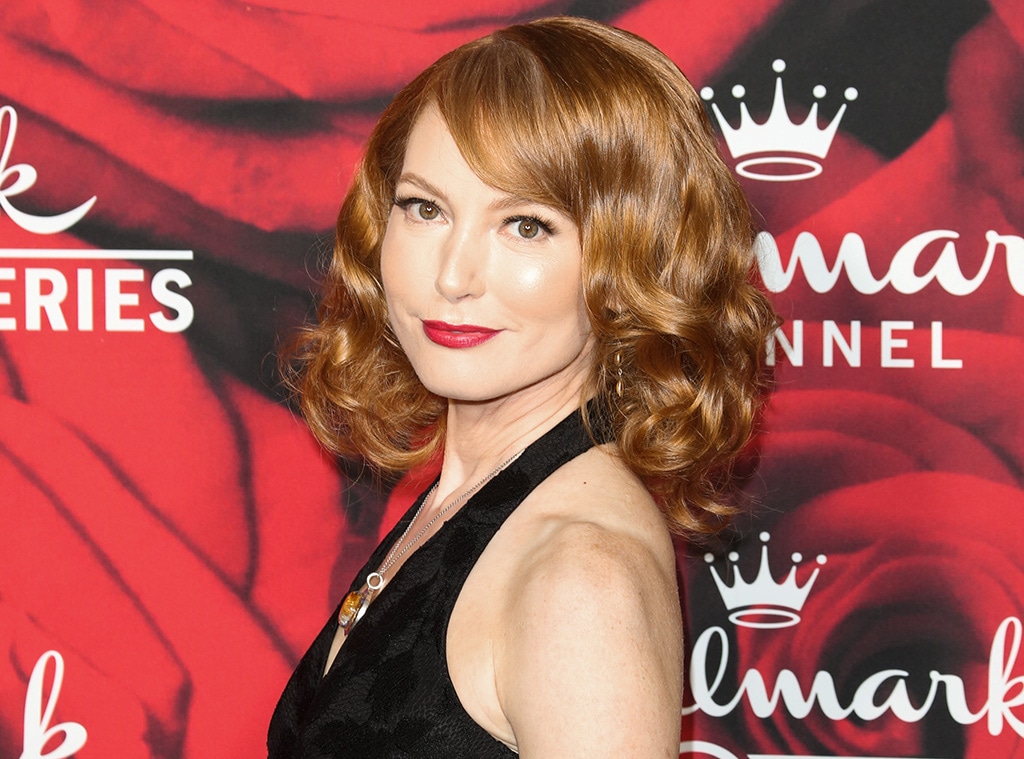 Paul Archuleta/FilmMagic
TV and movie lovers know Alicia Witt from her roles in 1984's Dune and the cult classic Twin Peaks, but now, the actress is reintroducing herself as an author. 
The 46-year-old actress penned the upcoming book Small Changes: A Rules-Free Guide to Add More Plant-Based Foods, Peace, and Power to Your Life, in which she reveals the lessons she learned throughout her life and illustrious career. Available tomorrow, Oct. 5, readers can expect to learn how a "few small changes to your daily habits" can "create a new lifestyle that's bursting with energy, health and mindfulness."
Suffice to say she has no shortage of stories to share as she started acting when she was merely 8 years old. Her first role was in David Lynch's Dune, starring as the little sister of Paul Atreides. From there, Alicia booked various roles in movies and TV shows, including Orange Is the New Black, Vanilla Sky and Nashville.
But it was while Alicia filmed The Upside of Anger with Keri Russell that the redhead had a superstitious encounter with a black cat, forever altering the way she'd think of herself.
To learn about that moment, read an exclusive excerpt from Small Changes below.
In 2003, I was in London to film the movie The Upside of Anger. The night after we all arrived for rehearsals, Keri Russell and I met up at The Ladbroke Arms in Notting Hill... I was teaching Keri how to play backgammon at our table beneath the awning out on the patio, enjoying the perfect summer night, when a black cat suddenly was thrown out the window of the apartment above the pub. The cat bounced off the awning, and as it scrambled, claws outstretched, desperate to find its footing, it landed on my face and then raced away into the night.
Travis Commeau/Harper Collins
It was such a shock, like being slapped hard in the face with something big, warm, and heavy. I did not register that something significant had happened until I saw the look on Keri's face. Touching my face, I realized how heavily I was bleeding. My upper lip was completely split in two.
In the ambulance, the EMT guy said, "Well, you know, scars give you character." My head and heart were reeling. I was twenty-eight years old and at that point, I very much bought into the idea that as a female actor, your looks were synonymous with your career... I was terrified not only that I would need to be replaced in this film, but that my livelihood as I knew it would be over.
But when our director, Mike Binder, joined us in the ER waiting room, he assured me, "I want you to know that no matter what, we're going to shoot around this. You're not going to lose the part." ... After I'd thanked him through my tears, Mike thought about it for a little while and then said one of the funniest things I've ever heard: "Hey, at least you don't have to worry about that happening ever again." Cat falling from sky onto face: check!
From that moment on, I've thought about beauty differently. My scar has become one of my favorite features.. It healed so well it's visible only at certain angles or up close. I've always appreciated those who have looked at me deeply enough to notice it and ask me about it.
I clearly see that my life can be divided into before-and-after-cat-scratch. My confidence has grown immensely, and I've been moving ever closer to living my authentic life, ever since I abandoned the notion that I should try to be some version of what others want me to be. Once I stopped worrying about my external appearance first and foremost, I feel I became a better actor, and I began writing consistently—and as a side result, I truly believe my external appearance improved too.
Watch:
Watch Keri Russell Stay Tight-Lipped About "Star Wars"
This excerpt was taken from Small Changes: A Rules-Free Guide to Add More Plant-Based Foods, Peace, and Power to Your Life by Alicia Witt Copyright © 2021 by Alicia Witt. Used with permission of Harper Horizon.