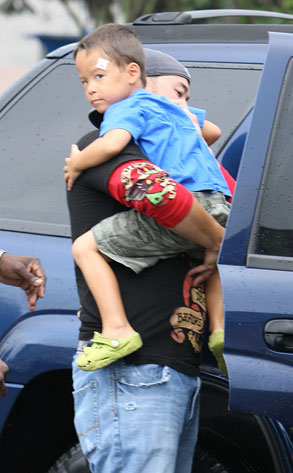 GSI Media
It seems the troubles just keep coming for the Jon and Kate clan.
On the eve of Father's Day, Jon Gosselin took one of his sons to a medical clinic for treatment of an apparent (and kid-standard) head injury. Although the banged-up tot has not been officially identified, paparazzi at the scene claim that little Aaden Gosselin was the rambunctious sextuplet on the receiving end of the medical attention.
The mini reality star had a bandage on his head when the duo left the clinic in their hometown of Reading, Pa. However, a source says that the tyke appeared to be fine.
The same can't necessarily be said for the Gosselin's marriage. TLC says the recently reconnected estranged couple will announce a "life-changing" decision on Monday night's show.
—Additional reporting by Ken Baker
(Originally published June 20, 2009, at 5:15 p.m. PT)