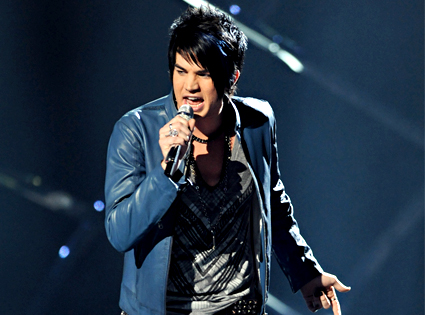 Ray Mickshaw / FOX
The American Idol runner-up must go On with the Show.
While glam-rocker Adam Lambert is currently working on his debut album with 19 Recordings/RCA records, the small indie label Hi Fi Recordings/Wilshire Records is digitally releasing On With the Show, an album containing eight songs the label says were copenned by Lambert before his almost-winning run on Idol.
Hi Fi CEO John Hecker claims that the music is not only incredible, it's completely legal. Says Hecker: "We would never put anything out that wasn't fully owned by the parties involved with all the rights secured. We were really careful."
The first single, "Want," streamed across websites this week, earning mixed fan reaction. Responses ranged from the Adam-can-do-no-wrong variety to complaints the track is "too pop" and not enough of the Glambert we grew to love on AI.
For his part, Lambert does not condone the release, stating: "The work I did back then in no way reflects the music I am currently in the studio working on."
"Back in 2005 when I was a struggling artist, I was hired as a studio singer to lend my vocals to tracks written by someone else. I was broke at the time and this was my chance to make a few bucks, so I jumped at the opportunity to record for my first time in a professional studio."
He continues: "I'm thrilled to be working with some of today's hottest songwriters and producers and can't wait for people to hear what my music really sounds like."
Songwriters and producers like the biggest thing in music today, Lady Gaga's RedOne.
Is Hecker's decision to release this unofficial debut move purely based on monetary gain?
He says no, stating that it's simply because the music is just that good. "We saw that it was the right thing for fans to hear this music. We're doing everything on the highest level, from the mixes to how we're promoting it."
Hecker also promises that Lambert will share in whatever financial success comes with On With the Show, which is due to be available on iTunes starting June 23.
E! News has reached out to 19 Recordings/RCA Records for a statement on the upcoming release.
Regardless of the outcome of the old-school Lambert's album drop, his true debut with RCA Records is expected to hit stores this fall.
(Originally published June 20, 2009, at 12:15 p.m. PT)