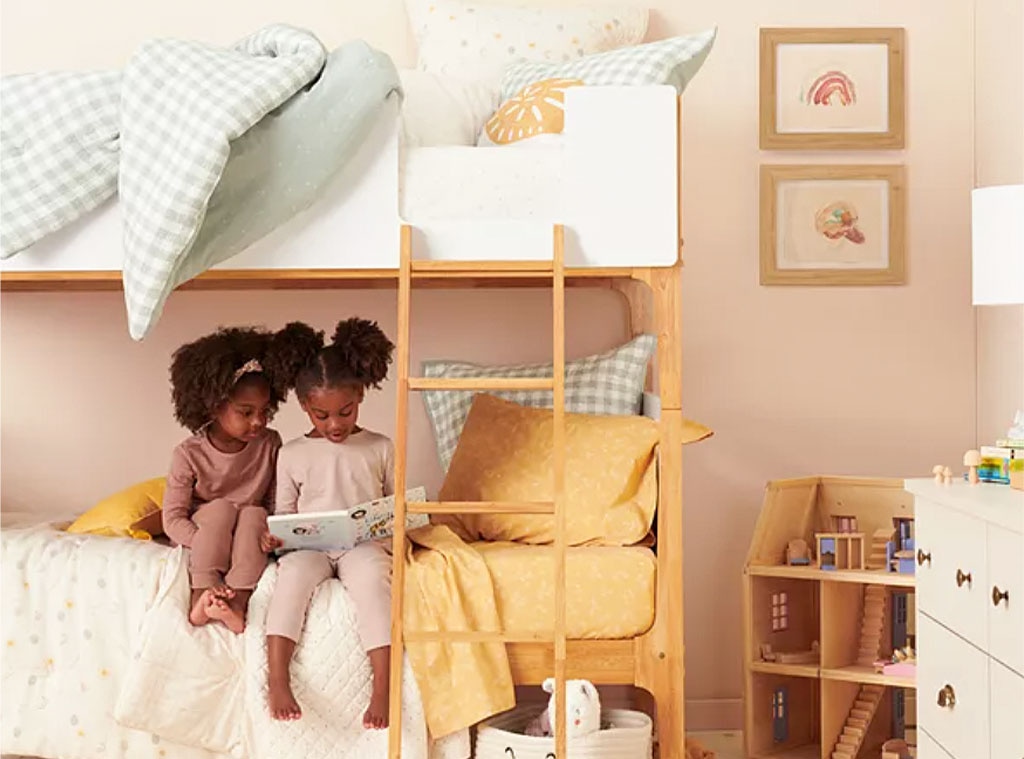 We interviewed Lauren because we think you'll like her picks. Some of the products shown are from her own line. E! has affiliate relationships, so we may get a commission if you purchase something through our links. Items are sold by the retailer, not E!.
Looking for a way to up the cozy and cuteness factor of your little one's room? Lauren Conrad has you covered!
This week, the Little Market co-founder expanded her Little Co. line at Kohl's to include gender-neutral kid's home essentials and we are obsessed! And we don't even have kids. Building on the same earthy color palette and commitment to sustainability prevalent in her LC Lauren Conrad apparel and Little Co. clothing lines, the mom of two designed everything you need to upgrade your little one's bedscape.
"I really love the Little Co. aesthetic. We were able to create a beautiful collection with cozy, sustainable fabrics and in a color palette that was sun-bleached and composed of shades found in nature," Lauren explained to E!. "We also really focused on creating gender-neutral art for our garments so they could easily be coordinated with or passed down to siblings."
"When decorating my own kids' bedrooms, I tried to do it in a way that felt like an extension of their personal style," the author revealed. "After we launched Little Co. apparel and had such a wonderful response, a home collection felt like a natural next step."
From mushroom print crib sheet sets to blue gingham comforters and snuggly throw blankets, this collection is one thing both you and your opinionated toddler can agree on. Thankfully, we were able to catch up with Lauren to hear more about the launch!
E!: What is your favorite product and why?
LC: I love the comforters. The fabric is lovely and they have different complimentary prints on each side, so it gives you the option to change up the styling whenever you feel like it.
Little Co. By Lauren Conrad Blue Gingham Comforter Set
Little Co. by Lauren Conrad 3-Pack Baby Muslin Swaddle Blanket
E!: Would you ever release an gender-neutral apparel or home collection for adults?
LC: The direction we are currently taking our home pieces in actually feels very gender-neutral. So Yes. And I love the idea of carrying it over into apparel. I often pull pieces from my husband's side of the closet. (That's a nice way of saying I steal his sweaters).
Little Co. by Lauren Conrad Throw Blanket
Available in green, ivory and gold, the throw blankets are perfect for dressing up a bedscape and extra warmth during colder nights.
E!: Given your passion for sustainability, do you have any advice for parents who want to teach their kids about sustainability and being conscious shoppers?
LC: I think it's really about the small choices you make in your everyday life. Kids are always learning from our actions so teaching them green habits at a young age can make a huge difference.
Little Co. by Lauren Conrad Percale Crib Sheet Set
Little Co. by Lauren Conrad Way Up High Comforter Set
We love these comforter sets for so many reasons. One being each purchase supports more sustainable cotton farming. Plus, these adorable sets are made from safe, recycled materials.
E!: Which fall trends are you loving?
LC: I'm very excited for fall this year.  I am normally a little sad when summer comes to an end, but this year I can't wait. I love all the beautiful yellows and oranges, and denim blues I am seeing for this fall. I am also seeing really soft fabrications and ultra-cozy knits everywhere.
 
Little Co. by Lauren Conrad Percale Sheets with Pillowcases
Available in toddler, twin, full and queen sizes, these organic cotton sheets will fit almost any bed! For just $24, you'll get a matching fitted, sheet, flat sheet and pillow case.
Little Co. by Lauren Conrad Throw Blanket
Okay we might not be a toddler, but we want one of these throw blankets! They look so snuggly, plus the gray, ivory and pink colorways are so chic.