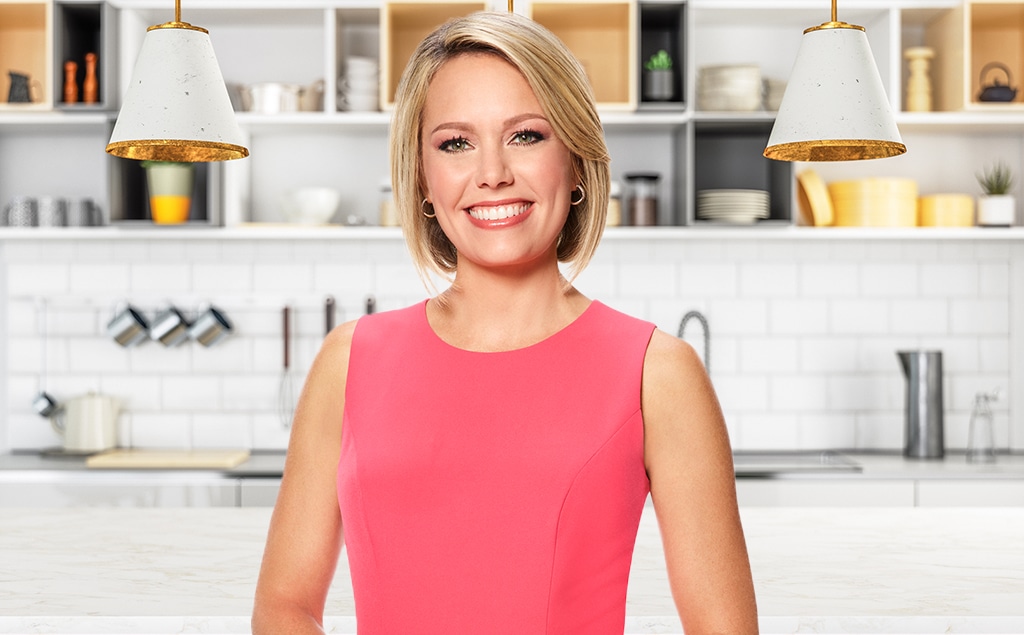 Mary Ellen Matthews/NBC
We interviewed Dylan Dreyer because we think you'll like her picks. E! has affiliate relationships, so we may get a commission if you purchase something through our links.  Items are sold by the retailer, not E!.
Dylan Dreyer really does it all. She's a meteorologist, television personality, and, she's even a children's book author. Her book Misty the Cloud: A Very Stormy Day drops on October 12. The mother of two (soon-to-be three) integrated her love for the weather into this unique story, telling E!, "There there are no cloud characters in books, or really anywhere. Emotions parallel the weather so much I mean you feel the mood of the weather, whether it's sunny or rainy or cloudy."
Dylan continued, "So, we thought it would be just such a good resource for children to have, an emotional book, but a fun story, a fun story about clouds. They can use their imagination and they can think about clouds, even when they're not reading the book because they're always up there and out there."
The Today star added, "And then if they want to take it a step further and learn more about clouds and why thunderstorms really happen or why rainbows happen, there's that extra section in the back of the book that kind of delves into the science a little bit more." The book really has something for everyone to enjoy and serves as a great lead-in for some valuable family discussions and lessons learned.
In addition to reading, Dylan loves to cook with her kids. She and her son Calvin's Cooking With Cal segments on Today provide must-watch content. There are so many insights to gain from Dylan (and Cal) watching them whip up their favorite dishes, but a major component of cooking is having the best tools possible. Dylan shared her must-have kitchen appliances, ingredients, and tips with E!. Keep on scrolling to see her favorite items, including some that she's had for years from her own wedding registry and the one thing that gives Al Roker for Christmas every year. 
Cutco Knife Set & Block
Dylan told E!, "For some reason I'm just obsessed with Cutco knives. I guess because you can always send them in they can sharpen them. Plus, they last for a long time. They just work so well and there's the perfect size for everything, you know I use every single one of them. It was actually a wedding gift from my dad and his wife, so they're just special the block that we have is engraved with 'Brian and Dylan' and our wedding date. So, I mean it's just I love the knives."
Dylan concluded, "I love how they look on the counter and they work so well. I just I love this set because it, it literally has everything I could possibly need in the in the kitchen. This particular set came with a set of kitchen shears, which I'll use for everything."
Opinel Le Petit Chef Knife Set & Kids' Apron
Dylan explained, "Plastic knives help you cut but Calvin always wanted to cut the carrots, you know, the harder stuff and these are great for that. I was more worried about him cutting himself. They say it's more dangerous to cook with a dull knife than a sharp one, so I just sort of searched to see if there were knives for kids and I mean these are legit sharp knives. I mean, they're not toys, for sure. But, it's got the little hole in it, it teaches them how to hold it properly, and as long as I'm there with him, I am comfortable with him using it."
She continued, "It's just his size and I noticed in the last cooking segment we did, he chopped up some parsley and he's learning to put his hand on the top of the knife. I just think he learns this now he can only get better with it and there's less chance of injury."
Monini Premium Extra Virgin Olive Oil
"I go through so much olive oil, I mean it's just what I cook with every day I could cook with it. I can snack with bread and olive oil and cheese, every moment of the day so it's it's certainly a must have," the author admitted.
She even revealed, "I give Al Roker a bottle of olive oil every Christmas because what do you get somebody who has everything and who can buy himself whatever he wants? So, I always just get him a good bottle of olive oil because I know he's gonna use it. It's not that olive oil is expensive, you know, so it's an inexpensive gift but it's still just something I know how to use and appreciate, because he cooks as much as I do."
Mommy's Helper, Adjustable Kitchen Step Stool
Dylan recalled, "I first started using this for cooking with Cal. Now, it's almost time really to transition Oliver into it. And it's a step stool that  has kind of a guardrail around their chest area. You know kids can't stand still or stand straight on a regular stool. When Calvin was little, a regular stool was just unsafe, you know. This puts them up at at almost my height, and yet they're still protected and you're not worried about them falling over."
"A friend of mine recommended it to me when she knew that I was cooking with Calvin a lot more and it's just, it's one of my favorite things, you know, and even with brushing your teeth it's great. It's really useful all around the house," the meteorologist shared.
BEABA Babycook Solo Baby Food Maker
"I've always just fed Calvin and Oliver whatever we were eating. I cooked dinner every night. If I was cooking carrots or chicken or whatever, I could take a handful of it, throw it in this baby food maker, which is it's really just a steamer. After it steams it, you pour what was steamed into the bigger container and it, but it purees it," the mom explained.
She elaborated, "So if I was making chicken soup, half the time I just throw the carrots, the potato, and whatever's in the soup and in the steamer and blend it. You know, so this way the baby was always eating whatever we were eating. I put salt and pepper in it and I flavored it up just like I would want. And it almost became one of those things where it was cheaper to just make it myself because I had all these ingredients and I was cooking dinner anyway as opposed to buying baby food. Who knows what's in those pouches and all that kind of stuff? It was so easy to do. You know, especially with with this steamer, it just made life easier and I could cook everything at once." This baby food maker is available in eight different colors.
Vitamix A2300 Ascent Series Blender
"I think it gets a lot of hype because it's like the name brand version of the high speed blender, you know, as opposed to just a traditional blender you grew up with that was for piña coladas or whatever. It's powerful, it's strong. I use it mostly to make smoothies for the boys. When you throw in all the spinach or the ice cubes, or you know all the chunky stuff, it just whips it up so nice and smooth. So, I have just have never tried another brand. We got it as a wedding gift and it still works," Dylan shared.
Skura Sponges- Set of 4
"I like these sponges since don't smell because they're antimicrobial. They don't get that funky. Instead of that sponge with all the holes in it, like a classic sponge, these are more like a foam, thicker foam so they suds up so easily. You know when you open a new sponge and it takes a while to get the suds going it can be frustrating. These suds up easily from day one and they stay soapy. You don't have to use as much soap because they just they hold the soap," she shared.
Dylan added, "On the back side, there's a little pattern on it and when the pattern wears off, it's time to throw it away and get a new one. It reminds you to replace the sponge, because how often do you just kind of keep your sponge going and it's like 'I should really get a new one'? This is like a nice reminder that it's officially time to get rid of it."
Farberware Electric Percolator
Dylan shared, "People make fun of it because it's like such an old fashioned type of coffee pot. I don't like the K-Cups because I don't like those single serves. I just want a pot of coffee. I love the sound of the percolator pot because you know it's working and it's so hot. The coffee just is so piping hot which I love. And I just love the pour. I love the sound of pouring a cup of coffee. It's more of an experience. I'm off coffee right now just because I'm pregnant. It's killing me. I love a percolator coffee pot so much."
Presto 07061 22-inch Electric Griddle With Removable Handles
"I used the griddle this morning," Dylan shared, "I made French toast. I love diners. I love diner food. I love pancakes, eggs, waffles, french toast, and all breakfast foods."
She recalled, "My dad got me this years ago. And I love the flat surface that you can cook on. It's easier to flip pancakes. It's easier to cook multiple pancakes. You know, I was able to make four French toasts at once because it's just a nice griddle. Growing up, my dad always made breakfast and we had an old fashioned stove in our kitchen, an old fashioned one from like an old, old diner. It had a griddle on it. And I never saw my dad make eggs or bacon or anything on anything other than a griddle, he never used a pan. I don't have an old fashioned stove with a griddle. This comes so close and it just perfectly."
Breville Smart Oven with Convection
"I love how even this cooks," Dylan said. She added, "Sometimes, I don't want to turn on the whole oven because it just makes the house hot. This is just big enough that I can cook everything I need for our little family. I mean I think once the boys start growing up and there's a lot more grown men in the house, I will start using the actual oven more often. But, for now, it's perfect."
Specifically, she remarked, "I can throw some carrots in or some asparagus or I can even cook big chicken thighs in it, because it's big enough for what you need for dinner without having to turn the whole big oven on."
Misty the Cloud: A Very Stormy Day by Dylan Dreyer
"The book sort of checks off a little box for everyone. If you just want a fun, imaginative story, you know, some silliness with clouds, that's there for you. If you want to learn a moral lesson you know like I'm sure parents like to find something that their kids can learn something from, that's there. You know especially for teachers or parents at home you know kids ask a lot of questions about the weather and this way it's a resource for parents and teachers to be able to explain it in a way kids can understand," Dylan said.
If you're looking for more celebrity-recommend kitchen items, check out these Amazon kitchen essentials that Dorinda Medley has.