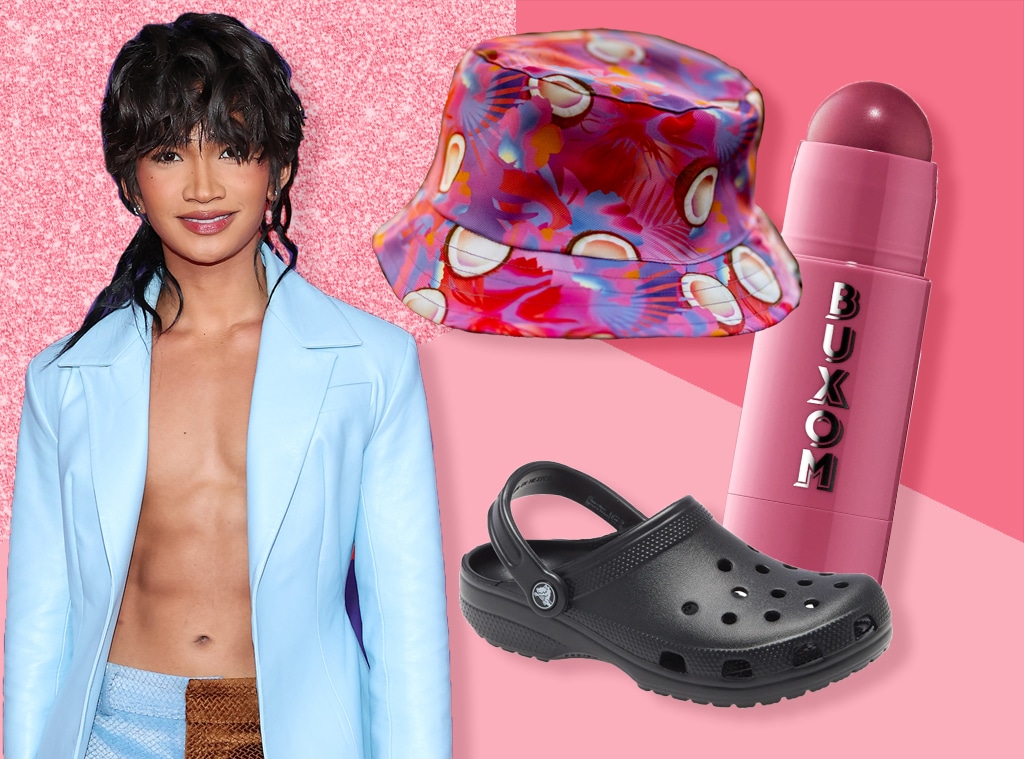 Amy Sussman/Getty Images/E! Illustration
We interviewed Bretman because we think you'll like his picks. Some of the products shown are from Bretman's own line. E! has affiliate relationships, so we may get a commission if you purchase something through our links. Items are sold by the retailer, not E!.
If anyone knows how to celebrate World Coconut Day, it's Bretman Rock aka the internet's top coconut water connoisseur. 
The social media star famously tried dozens of coconut water brands during his "Coconut Water of the Day" series in 2019 to find the best tasting coconut water on the market. Considering he gave Vita Coco an almost perfect score, it's no surprise he's teaming up with the brand in honor of World Coconut Day to release a limited-edition capsule collection featuring coconut-inspired apparel and accessories. 
"Every partnership I work on has to have a purpose and be true to who I am and what I support, whether that's for the environment, our youth, the AAPI or the LGBTQ communities," the MTV star explained. "Becoming a Vita Coco Real Partner and launching the World Coconut Day capsule collection is an organic way for me to give back to the coconut farming communities that I hold close to my heart. Be sure to check out all the merch now at Shop.VitaCoco.com."
"World Coconut Day is a celebration of all the goodness that comes from coconuts, plus everyone knows I can't live without coconut water," Bretman added. "Coconuts come from my home in the Philippines and Hawaii, so it's also a celebration of myself, my family and my culture."
Proceeds from the collection will go towards the Vita Coco Project, the brand's social impact initiative that supports coconut farming communities in the Philippines and Sri Lanka.
In addition to coconut water being an essential part of his everyday routine, we wanted to know what else Bretman goes nuts for. Scroll below for his picks!
Coconut-Themed Capsule Collection
"The print and capsule collection I'm dropping with Vita Coco is intended to be worn by anyone, anywhere who wants to wear their love for coconuts on their sleeve. The new unisex collection includes a packable backpack, bandana, reversible bucket hat, sweatshirt and t-shirt. And of course all of the proceeds go to support coconut farming communities. You all need this bucket hat!"
Vita Coco Coconut Water
"I am coconut water's biggest and baddest fan! Not only do I love Vita Coco for having the best coconut water out there, but I love the fact that they are investing in the growth of coconut farming communities in the Philippines, where I'm from! My favorite is Vita Coco Pressed because it has a really natural coconut flavor, and it makes for great post-workout fuel which y'all know I love!"
Crocs
"I literally have a pair of crocs for every mood, every color, every style, every size. I also customize them with different fun Jibbitz collections. We love a versatile shoe!"
Taco Bell
"Taco Bell is my pleasure that I don't even feel guilty about. My go-to order is a baked taco with no sour cream and extra rice. No sour cream because I'm lactose and talented, as I like to say. I can have this meal at any time, day or night, and be so happy."
YSL Touche Éclat All-Over Brightening Concealer Pen
"If I ever see dark circles form under my eyes because I'm traveling or didn't get enough sleep, this pen is my go-to. This brightening pen is so creamy and blends really naturally – I use it to conceal or to add an extra pop of light to my snatched features. Whether I'm going full glam look for a red carpet or want an everyday natural look to go shopping, I always carry her in my bag. The shade range is also great, which I love because my tan changes throughout the year."
Buxom Power-full Plump Lip Balm
"Crusty lips aren't my vibe, so I always keep some lip balm on me for emergencies! This one specifically enhances the color of your lips, so it gives you a nice subtle but meaningful pop of color to your every day look. I recommend this for boys, girls and everyone in-between."
Tom Ford Ombré Leather Eau de Parfum
"When you're serving a look, I think you always need to smell good too. I love putting on this Tom Ford parfum when I have a face full of makeup on. This one is new and I'm really hooked on it lately. I've been all about playing with the concept of gender ever since I was a child and my grandma told me that I am both handsome and pretty, so with that being said I can smell like a handsome man while looking like a pretty female in the face. It's the dichotomy for me!"
Michael Kors Aviator Sunglasses
"You can't separate the man and legend Michael Kors from his iconic aviators, and these gold ones are my favorite. Who wouldn't want to see the world through a golden tint? These are the best for when I'm outside at my local beach tanning. Protect your eyes, protect the skin in your eye area, and see the world through a golden hue – all while looking cute."
Avocados
"I would literally put an avocado on ANYTHING! If I'm traveling and not picking them myself from my backyard, then I need the most fresh, organic and biggest avocado you can find at the store to replicate my home."
House Plants
"If I can't be in my Hawaii garden because I'm in LA or NYC for work, then I need plants in my apartment or hotel. Indoor plants that don't need a ton of sunlight are the best. I love this baby palm tree because it brings the island with you, wherever you are."