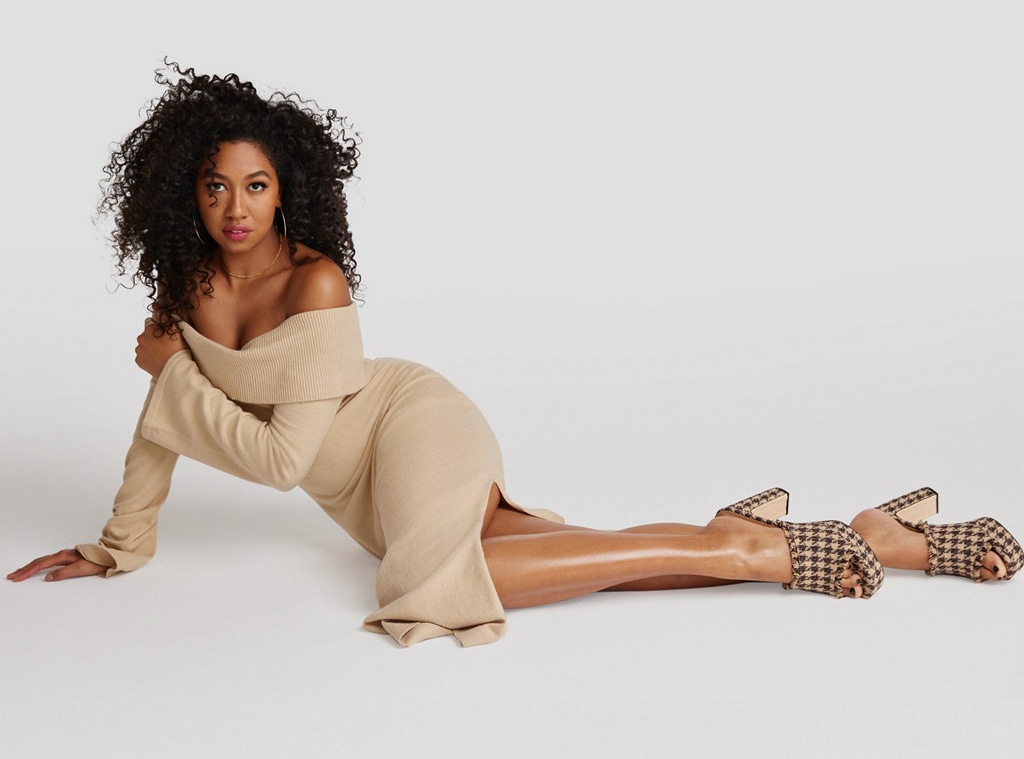 Aoki Simmons x JustFab
We interviewed Aoki Lee Simmons because we think you'll like her picks. The products shown are from her own line. E! has affiliate relationships, so we may get a commission if you purchase something through our links. Items are sold by the retailer, not E!.
For most, the first day of school as a college student means getting your schedule, finding your classes, reading a bunch of syllabi and getting reacquainted with campus life. In addition to starting her junior year at Harvard University today, model Aoki Lee Simmons launched her very own footwear collection with JustFab!
The Reboot Collection With Aoki Lee Simmons features nine modern interpretations of JustFab's inaugural designs drawing inspiration from '90s icons like Kate Moss, Chanel Iman, and of course, Aoki Lee's mom Kimora Lee Simmons, who was JustFab's creative director when the brand was founded in 2010. Ahead of the launch of her collection, E! caught up with the model to talk all things shoes, college life and finding a work-life balance.
E!: Given your mom was such an integral part of JustFab's growth, how does it feel to have your own collection with the brand?
Aoki Lee: I was really flattered they reached out to me and felt like I could carry and launch a collection on my own. It's very validating that I can do something on my own with my parents' legacy and support, but on my own with my own opinions. It was really great! 
E!: Besides drawing inspiration from JustFab's early days, what else inspired the designs?
Aoki Lee: I'm a really classic dresser, so I really enjoyed the opportunity to add these classic French details. It's very '90s, lot of throwback looks. I think the great thing is the shoes are timeless. They can go with a very youthful ensemble or with something older, more mature.
Heather Throwback Platform Sandal
Drawing inspiration from the early 2010's era when JustFab launched, Aoki gave the exaggerated platform a modern twist with a houndstooth print that will get you excited for fall.
E!: If you could pick a favorite style from the collection, what would it be? How would you style it?
Aoki Lee: Definitely the Lou Throwback Lace-Up Bootie. They're really high, have breathable material and are very comfortable. I just love them! I would wear them with my skinny jeans, either dark black or dark gray, a nice bodysuit, a leather jacket if it's cold and my big tote bag for castings.
Chenin Throwback Heeled Bootie
Walk the walk and talk the talk with these faux leather stiletto booties adorned with pearl button details. They also offer a comfortable foam sole that has twice the thickness of a standard foam insole, so you don't have to slow down!
E!: How do you find a balance between work and school? What tips do you have for people who are in a similar position?
Aoki Lee: Compartmentalize, give your all to what you're doing; multitasking is not a thing. I took psychology and would know it's not a real thing. Your brain takes about 10 minutes to adjust fully to a new task. So, if you're thinking about shoes or homework or about your flight, you aren't really thinking about any of them fully because you don't have enough time. 
I would rather have 30 minutes to talk to my agent and plan my modeling then 30 minutes to do homework than an hour to be on the phone, look at a modeling email and do homework because that doesn't work out. So, definitely giving your full attention for 15 minutes or two hours to whatever you're doing helps.
Arabella Chain Detail Mule Pump
Fit for a night out, sitting front row at NYFW or a special occasion, these sleek pointed toe pumps will become your go-to heels.
E!: What tips do you have for college freshmen?
Aoki Lee: Have good friends, bring your stacks, definitely have several pairs of sheets, get a mini fridge and water cooler because water is super, super key.
Lou Throwback Lace-Up Bootie
These booties are sure to turn some heads! Plus, you can comfortably walk in them thanks to a breathable, high-stretch mesh knit construction.