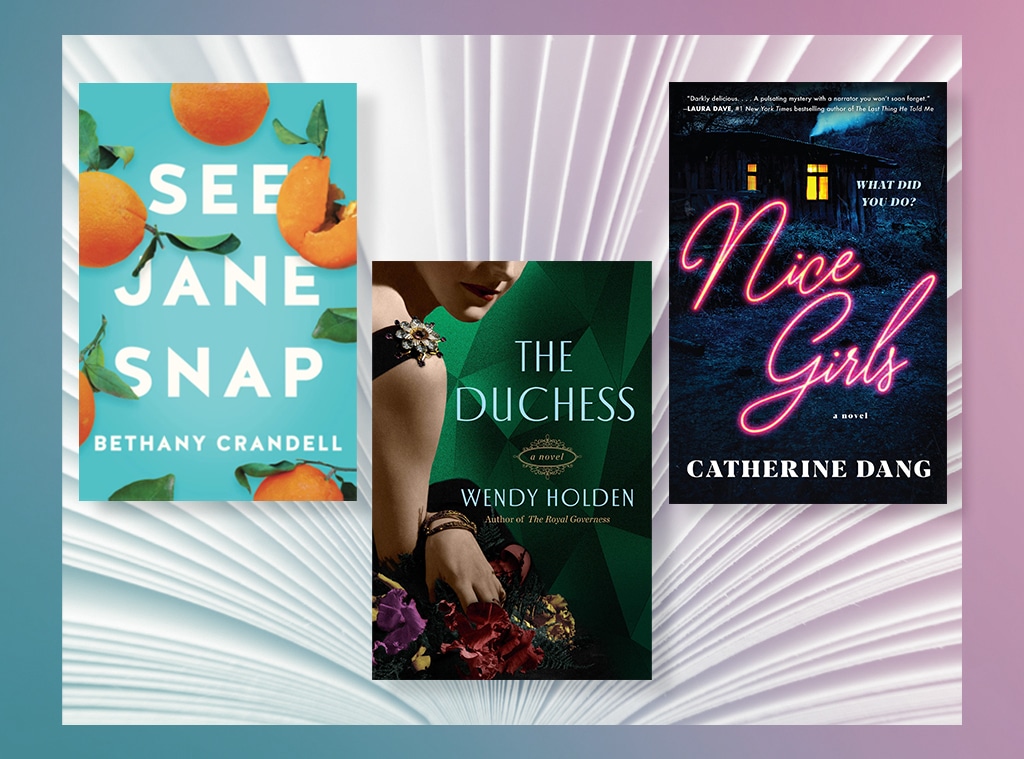 E! Illustration
We love these products, and we hope you do too. E! has affiliate relationships, so we may get a small share of the revenue from your purchases. Items are sold by the retailer, not E!
It's going to be a September to remember. And not just because it's officially pumpkin season.
Readers, prepare for a month of nonstop new releases from some of the biggest names in literature. Sally Rooney and Liane Moriarty are set to drop their latest novels, while Lisa Jewell's latest thriller is sure to keep you up all night. And did we mention Lauren Groff and Anthony Doerr are releasing their highly anticipated follow-ups to Fate and Furies and All the Light We Cannot See, respectively? It's almost too much. Keyword: almost. 
So go ahead, grab a seasonal latte of your choosing, throw on a comfy sweater and find a cozy nook to post up in and start reading after shopping physical copies of our picks or—because, you know, technology—pulling them up on Kindle Unlimited or through a free trial of Audible.
Here are 13 books to check out as we head into fall...
The Night She Disappeared by Lisa Jewell
Rejoice thriller lovers, our queen has returned! Jewell delivers yet another gripping mystery that will have your pulse and mind racing. One year after a young couple disappeared following a party at a massive country estate, a writer moves into a cottage near the woods that borders the same property. The forest is known as the Dark Place, which makes it fitting that it's exactly where she stumbles upon a clue, a note that simply reads, "DIG HERE."  Yep, we were just Jewell'd again. (September 7)
Matrix by Lauren Groff
In her first novel since 2015's Fates and Furies, Groff goes in an entirely new direction, heading to the 12th century to tell a surprisingly urgent story about a young woman finding her voice: Real-life poet Marie de France, who was cast of out the French royal court at 17 years old and sent to England to be the new prioress of an ailing abbey filled with sick and starving nuns. Prepare to be stunned once again by Groff's powerful prose. (September 7)
Fault Lines by Emily Itami
Wanderlust warning! Itami's dreamy debut will have you craving a trip to Tokyo while exploring the inner life of a modern Japanese housewife. Mizuki thinks she's content with her husband and two children until she meets successful restaurateur Kiyoshi and rediscovers freedom, fun and the vibrancy of the city she loves. But which life will she ultimately choose? (September 7)
See Jane Snap by Bethany Crandell
Forget snap, prepare to read Jane's lies that she tells to keep her perfect life—including a successful husband, adorable daughter and PTA chairwomanship—in order. But when her spouse of 18 years reveals he's been living a double life and is in love with a man, the couple agree to keep up appearances...until Jane has a very public breakdown while also breaking the law. And you thought you were having a bad day. (September 7)
L.A. Weather by María Amparo Escandón
Prepare to get lost in the Alvarados, the Mexican-American family at the center of the Box of Saints scribe's fast-paced story. As a massive storm is about to descend upon Los Angeles, the family members are each harboring their own secrets that could cause more destruction than the rain. (September 7)
Apples Never Fall by Liane Moriarty
Do yourself a favor and read this ASAP 'cause it'll likely be everyone's next binge-worthy TV obsession by next year. The author of Big Little Lies and Nine Perfect Strangers returns with another unputdownable book about what it really means to be family. The four Delaney siblings are divided into two pairs when their mother goes missing and their father is the prime suspect. Which siblings are right? What is their dad hiding? And did he actually do it? (September 14)
Nice Girls by Catherine Dang
Nice girls don't get kicked out of college in their senior year, they don't move back to the hometown they swore to escape from and they definitely don't get involved in the disappearance of their childhood frenemy. But that's exactly what Mary does in this engrossing and sharp debut that true crime fans will devour faster than an episode of My Favorite Murder. (September 14)
Feeding the Soul (Because It's My Business): Finding Our Way to Joy, Love, and Freedom by Tabitha Brown
Hello there! Unfortunately, we all can't eat every delicious concoction the vegan home cook makes. But we can feast on her words of wisdom and infectious positivity in her relatable and down-to-earth book. Filled with personal stories, easy-to-follow recipes and life lessons, prepare to fall even more in love with one of the Internet's most beloved personalities. (September 28)
Cloud Cuckoo Land by Anthony Doerr
From the Pulitzer Prize–winning author of All the Light We Cannot See, Doerr's highly anticipated release was worth the seven-year wait. The ambitious novel spans thousands of years and three different narratives, set in 1453 Constantinople, present-day Idaho and far into the future on a spaceship. And to answer the obvious question, yes, they will all come together in a surprising and beautiful way that will leave you in awe. (September 28)
Out of Love by Hazel Hayes
Most love stories don't begin at the end, but that's exactly where Hayes' book kicks off, recounting a five-year romance by moving backward in time, from the devastating relationship-ending fight to the fireworks-inducing first kiss. If you loved Normal People and One Day, this moving, messy and magical debut is for you. (September 28)
As Good As Dead by Holly Jackson
Are you ready for the gripping third and final installment of the A Good Girl's Guide to Murder series? In the finale, Pip is still being haunted by the last investigation just as she's about to head off to college. Sure, she's dealt with hate since her true crime podcast went viral, but one anonymous message stands out: "Who will look for you when you're the one who disappears?" When her investigation into her stalker connects to a local serial killer caught six years ago, Pip must find the suspect before she becomes the next victim. (September 28)
The Duchess by Wendy Holden
An intimate look at one of the most notorious scandals of the 20th century, Holden delivers our monthly fix of royal family drama by recounting the love story of Prince Edward and Wallis Simpson. He was the future King of England. She was a divorced American socialite. They were never supposed to be together and yet...(September 28)