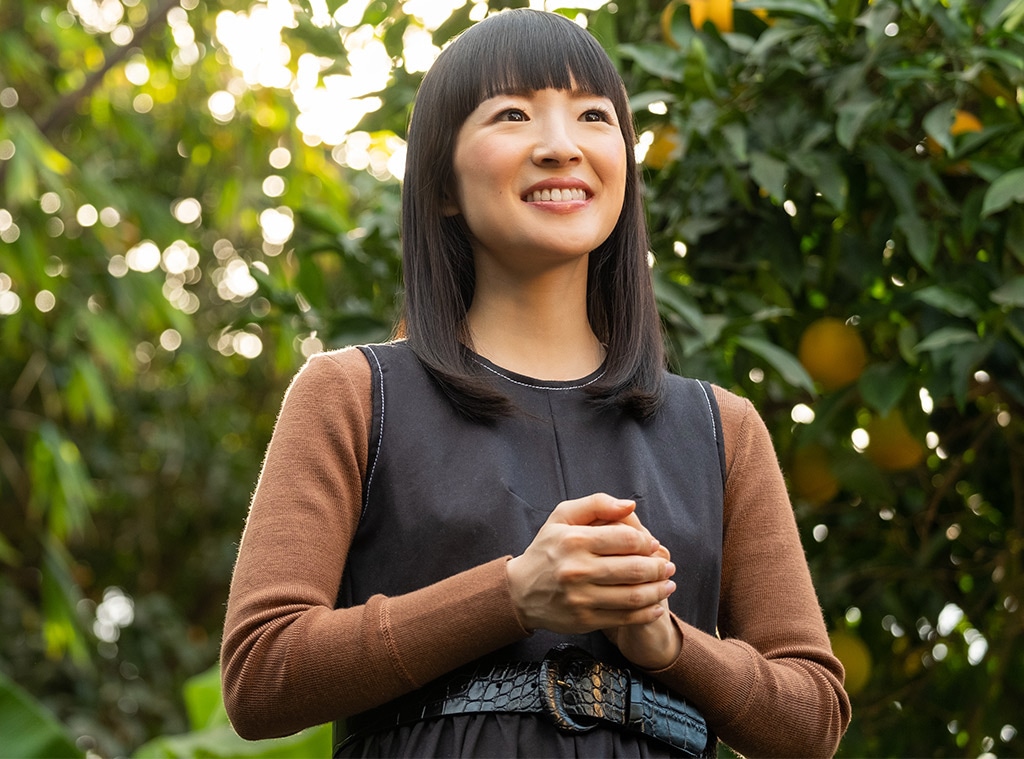 Adam Rose/Netflix
We interviewed Marie Kondo because we think you'll like her picks. The products shown are from her own line, KonMari. E! has affiliate relationships, so we may get a commission if you purchase something through our links. Items are sold by the retailer, not E!.
If anyone knows how to make everyday tasks spark joy, it's Marie Kondo. 
The creator of the KonMari Method, who also introduced the term "sparking joy" into our pop culture lexicon, is making her Netflix comeback today with a new three-part series appropriately titled " Sparking Joy." The show will inspire viewers to get their lives in order as they watch Marie take her life-changing organizing method a step further to help three deserving businesses organize their workplace.
Ahead of the series premiere, we caught up with the pro organizer to find out the things that spark joy in her personal life.
"Watching my children grow is the greatest source of happiness for me," Marie explained to E!. "They teach me how to find joy in the simplest things, and their attitude toward life brings me so much delight. This has had a profound impact on my approach to life. I've learned that while finding things that spark joy in your life is important, so is sharing this joy with others - it can turn a single spark into a roaring flame in your life and the lives of those around you."
Given she tackles messes that would make most of us break down and cry, we also wanted to know Marie's secret for feeling relaxed when she's not inspiring the masses.
"I have several special rituals that help me feel centered and relaxed, and one that I really cherish is soaking in a bath at the end of the day," the Netflix star explains. "Not only does bathing help purify and cleanse, it also helps me wash off all the troubles and weariness from the day. I tend to use very hot water for my baths, which is typical in Japanese culture, and soaking in the water helps bring a renewed sense of peace and makes me feel revitalized after."
Curious to see what things Marie can't live without? Scroll below to find out!
Small Hikidashi Storage Boxes - Set of 14
"Almost every space in my home has Hikidashi boxes. These simple, elegant  boxes have multiple uses - they can be used in dressers to divide the space, or used in shelves to create mini-drawers. Ultimately, they serve as a resting place for my cherished items, which helps make tidying more joyful and allows me to feel gratitude for items."
Finding Balance: Tuning Fork & Clear Quartz Crystal
"I use this tuning fork and crystal every day to reset, begin my workday and end my workday with a simple ritual. Made of aluminum alloy, this KonMari tuning fork has a frequency of 4,096 hertz and the clear quartz crystal clears away any negative energy. Striking the fork against a crystal creates pure tones that are believed to help restore a sense of balance."
Traditional Japanese Donabe
"Donabe are a staple of Japanese kitchens and I use mine daily, specifically to cook rice. Rice prepared in a donabe is infinitely more delicious – each grain becomes perfectly plump. My trick is to soak the rice in water for 30 minutes before cooking it. Try it out!"
Carbon Steel Japanese Garden Scissors
"Spending time in nature has always sparked joy for me. Over the past couple of years, I've been communing with nature in my own backyard – my vegetable garden. When it comes to flowers and greenery, these Garden Scissors are a major upgrade. Made in Japan from long-lasting SK carbon steel, these shears will make for happy bouquets and ikebana arrangements – and last for years to come."
Ceremonial Ceramic Matcha Bowl
"Tea ceremonies (or "chanoyu" in Japanese) have been an essential part of my life ever since I was a young girl. My grandmother imparted knowledge of tea traditions to me and now I regularly prepare ceremonial matcha as a way to find calm and enjoy a moment of solitude. This generously-sized bowl features a traditional Shino glaze in milky white and gray. I recommend sipping the matcha slowly to find your center at the end of a long day or for a sustainable energy buzz at the beginning of one."
Historical Japanese Cast Brass Cone/Stick Incense Holder
"Every morning I burn incense, not only to cleanse the atmosphere but also to relax me. In Japan, kōdō – the appreciation of incense – is considered a traditional art form. This particular incense holder has a rich heritage in metalwork. It is created by Nousaku, which is based in the Japanese city of Takaoka, a center for metalsmithing since the 17th century. The brass holder is also designed for use with traditional Japanese incense sticks."