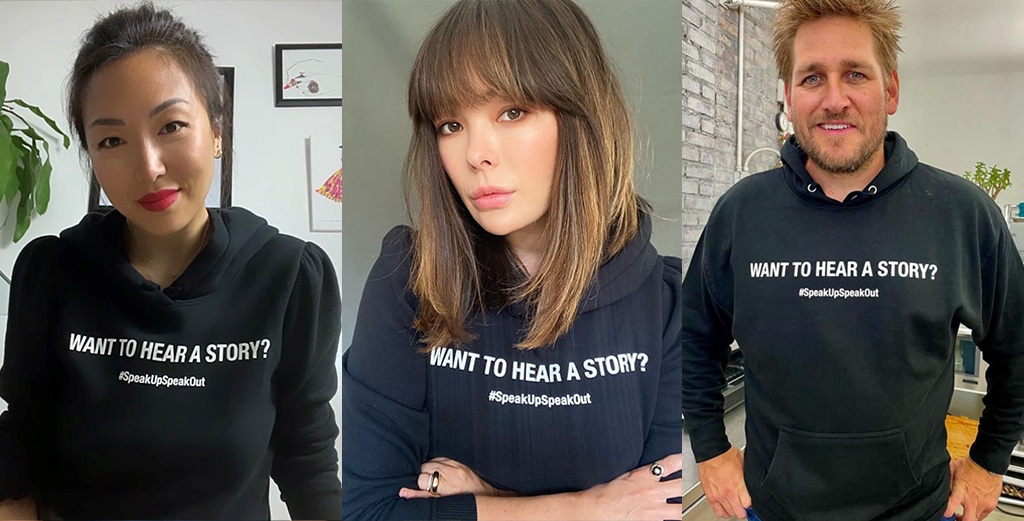 We interviewed Alice Kim and Lindsay Price because we think you'll like their picks. The products shown are from the Alice Kim's own product line. E! has affiliate relationships, so we may get a commission if you purchase something through our links. Items are sold by the retailer, not E!.
Atypical and Beverly Hills, 90210 star Lindsay Price and designer Alice Kim have teamed up for some feel good fashion that gives to a great cause. 
Kim, founder and CEO of the brand PerfectDD, just happened to be watching TV when she saw an Ellen DeGeneres Show segment on Heart of Dinner, a NYC nonprofit started by partners Yin Chang and Moonlynn Tsai that has helped deliver more than 80,000 meals to East Asian elders throughout NYC.
"Growing up with first-generation Korean parents, I have a special place in my heart for the local Asian community," Kim tells E! News exclusively. "It breaks my heart that the elderly are most at risk with COVID-19, and on top of that, with the proliferation of Asian hate crimes, older Asians are doubly afraid to go outside even to get necessities like groceries. It made me immediately think of my parents who sacrificed everything to give me and my sister a chance to live the American Dream."
Kim reached out to friend Lindsay Price. Price tells E! News that she and her husband, chef Curtis Stone, had faced similar fears and stress during the pandemic regarding the safety of her mother if she went to the local Korean market alone.
Price shares, "Growing up, we were not encouraged to speak out or acknowledge racist comments for fear of giving them value." To change this thinking, Lindsay and Alice created the #SpeakUpSpeakOut hashtag to empower the AAPI community to use their voice.
"Speaking to Lindsay about our experiences this past year, we came up with the #SpeakUpSpeakOut collection to amplify the AAPI voice while fundraising for an organization we both feel passionately about, Heart of Dinner," Kim shares. "We launched a collection of two sweatshirts featuring 'Want to Hear a Story?' to evoke conversation, whether it's to share your Asian experience or just to say that you're supporting our AAPI initiative."
Speak Up Speak Out: Limited Edition Charisse Sweatshirt
This 100% cotton fleece Charisse hoodie features a lower neckline, slim body and on-trend puff shoulders. The "Want to Hear a Story?" slogan appears on the front of the shirt, with the "#SpeakUpSpeakOut" hashtag featured on the back.
Speak Up Speak Out: Limited Edition Unisex Sweatshirt
This unisex hoodie is made of soft, mid-weight fleece and features a generous fit for comfort. The "Want to Hear a Story?" slogan appears on the front of the shirt, with the "#SpeakUpSpeakOut" hashtag featured on the back.
The sweatshirts come in two versions: the super cute Charisse version with slightly puffed shoulders, and roomy unisex version; 100% of proceeds from the sweatshirt collection will benefit Heart of Dinner.
"When you hear other people's stories, you can see yourself in their situation," Price notes. "Then you understand what unites us."
So show your support with one of these sweatshirts, share your stories and let the conversations begin!