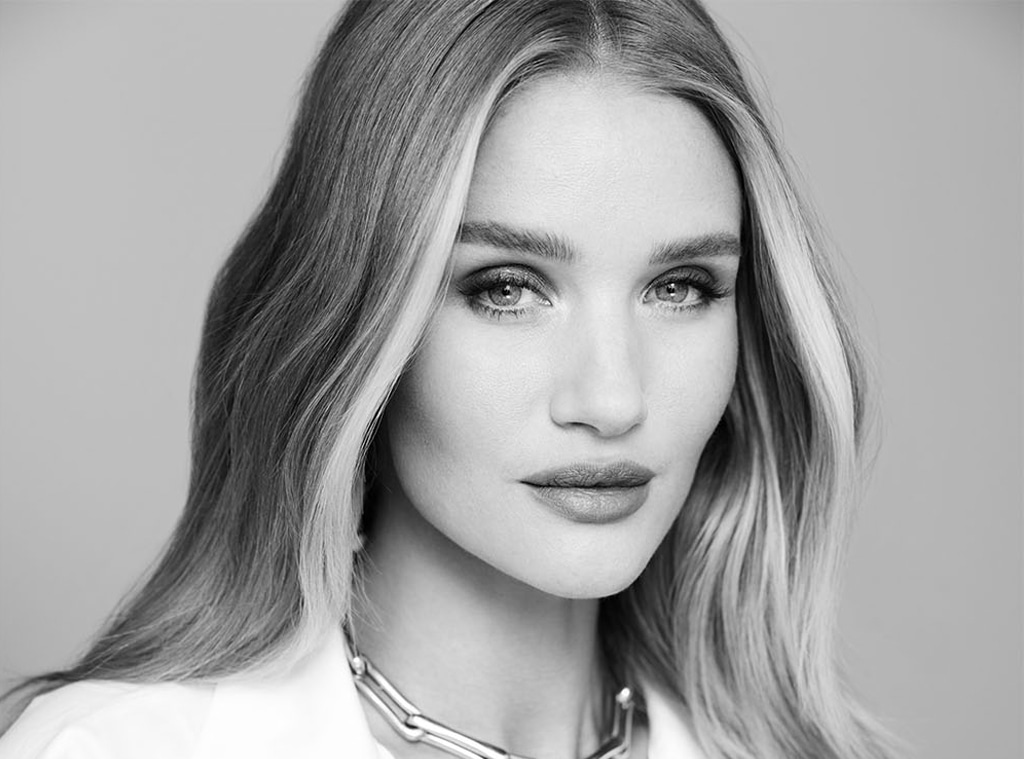 Courtesy of Rose Inc.
We interviewed Rosie Huntington-Whitely because we think you'll like her picks. The products shown are from Rosie's own line. E! has affiliate relationships, so we may get a commission if you purchase something through our links. Items are sold by the retailer, not E!.
We know Rosie Huntington-Whitely as a model, actress, and editor. Now, she can add "founder" to her list of titles thanks to the launch of her beauty line Rose Inc., "a vanguard brand that unites efficacy and ethics in cosmetics and skincare." Every product has 100% non-comedogenic formulas with an emphasis on being "fully transparent" in every aspect possible, from the products to the packaging. 
After spending years getting glammed up as a model, Rosie knew exactly what she needed in her own makeup and skincare products. Rosie and Rose Inc.'s CEO Caroline Hadfield dished on starting the company, her favorite products, and application tips/tricks in an exclusive interview with E! News.
E!: What makes Rose Inc. different from other beauty brands?
CH: Transparency and efficacy. They work hand in hand and were two pillars both Rosie and I did not want to sacrifice in development. Rose Inc. is committed to full transparency with everything we do, packaging, formula and ingredients, and performance. And, we know our products are efficacious, as we have clean innovation pioneer Amyris providing 5 powerful and proprietary bioengineered botanical ingredients, that are both good for people and the environment.
E!: You've had your makeup done many times throughout your modeling career. Did modeling inspire you to create certain types of products/formulas for your own line?
RHW: Absolutely. After being in the makeup chair for over 20 years, I have definitely seen and experienced the best (and sometimes the not so great) when it comes to beauty products. I knew before embarking on this journey that I would be able to take what I learned, tried, and experienced and apply that to Rose Inc. We are launching with the Modern Essentials collection, which are all the products I feel are must-haves to look and feel your best, without the fuss. In terms of formulations, we've integrated 100% non-comedogenic formulas, with over five skin-nourishing proprietary bioengineered botanicals and safe synthetic ingredients. Collaborating with Amyris, the clean innovation pioneer known for its proprietary science and putting brands at the forefront of trustworthy beauty, was very important to me from the very beginning.
 
E!: What are three words you would use to describe this brand?
RHW: Transparent. Effective. Sustainable.
E!: What's the best makeup or skincare tip you've received and who gave you that advice?
RHW: Several years ago my facialist Biba De Sousa encouraged me to check all my skincare, make up and even haircare products for pore clogging ingredients and replacing them with non-comedogenic options. Editing them all out and checking them for potential pore cloggers took a lot of time but was so worth it. Using non-comedogenic formulas has really helped me manage my acne prone skin so of course it was essential to me that all Rose Inc products are certified non-comedogenic so they won't disrupt the skins microbiome or congest the complexion. 
E!: What's your favorite product from Rose Inc.?
RHW: I get this question often and it really is so hard to answer. They are all my babies that I can't pick just one! Each product is so unique and part of my daily routine.
Keep on scrolling to learn more about the products from the first Rose Inc. collection and to see Rosie's insider tips for the best makeup application.
Rose Inc Softlight Clean Dewy Hydrating Concealer
Rosie declared, "This concealer is my life saver product. It does it all." The Rose Inc founder elaborated, "It comes in 20 shades and brightens, blurs and contours. I absolutely love this concealer because I've been able to cut foundation from my daily makeup routine. Once I buff it into my skin with a brush, my complexion looks brighter and smoother, but completely bare. There's no trace of makeup, just smooth, radiant skin. It's hydrating and nourishing which allows for a nice glow. It provides nice coverage without it being too thick, but it also buildable."
There are 20 shades to choose from.
Rose Inc Lip Sculpt Clean Moisturizing Pigmented Lipstick
The model admitted,"It's hard to name my favorite shade, but I think I'm going to go with Abstraction." She also divulged a behind-the-scenes tidbit about creating the lipstick, sharing, "I wanted to create a lip crayon that I could throw in my bag, apply without a mirror and forget was on my lips, even when it's a statement shade. It's an everyday, day or night shade, that just works on every skin tone."
Specifically, she elaborated, "Our lip color is more of a balm formula, in a stick. It's incredibly hydrating, never drying and assists with a plumper, fuller, more defined pout. It's infused with hyaluronic acid, squalene, ceramides, hemp and vitamin E. It glides on like a dream." There are six different shades to choose from. 
Rose Inc Brow Renew Clean Tinted Eyebrow-Growth Gel
"Brows are so important to me. A lifted, sculpted brow really changes the whole face," Rosie shared. She explained, "I spend so much time perfecting my own that I wanted to create a product that not only makes them look polished and sets them in place all day, but also conditions them. The gel is a pomade-serum hybrid that volumizes and grooms for expertly shaped brows, while the squalene, pea sprout and vitamins E and B5 strengthens the brow hair."
The brow gel is available in clear in addition to four tinted shades.
Rose Inc Blush Divine Clean Dewy Cream Blush
Rosie told E!, "I'm a huge fan of cream blushes so it was a no-brainer to have a cream blush in the line. What's special about this is that it doubles as a lip color so it's really all you need to throw in your bag. It was important to me to create a cream cheek color that was pigmented but also light and buildable on the skin, each color looks so flattering across skin tones."
If you've never tried a cream blush or if you're just looking for application tips, Rosie shared, "I like to dab this with a brush or my fingers on the apples of my cheek bones and upwards toward my temple a bit. After applying color to your cheeks, gently pat the cream onto your lips for a monochromatic look that's instantly put together. Also, this product is 50% post-consumer recycled plastic compact and there's a refillable compact designed for reuse." There are 12 different shades to choose from.
Rose Inc Radiant Reveal Clean Brightening Vitamin C Serum
"I could never find that holy grail product that made my skin plump, smooth and dewy but wouldn't clog my pores, especially for my acne prone skin," Rosie confessed. She shared, "Our serum preps skin for makeup and transforms my skin into that plump, smooth and dewy canvas, without any breakouts. It's quick-absorbing formula contains a weightless blend of hydrating squalane, circulation-boosting vitamin C and illuminating sea fennel extract. Putting it on before makeup is such an indulgent experience and really changes the way makeup sits on my face, that I rarely ever apply makeup without it. Sometimes I just wear this and SPF for a healthy glow."
Rose Inc Skin Resolution Clean Exfoliating Acid Toner
The entrepreneur said, "I love the idea of a toner and it's essential to my skincare routine, but sometimes they leave my skin so dry." And that's why she decided to make her own toner. Rosie shared, "This tones is alcohol-free and utilizes powerful alpha hydroxy acids, which was important for my acne-prone skin. It's gentle enough to use every day and always gives me radiant results."
If you're not sure how to apply toner, take these tips from Rosie. She explained, "I like to shake a few drops onto a Reusable Cosmetic Round and gently push it into the skin, moving from the center of the face towards the hairline. This patting motion helps boost circulation and reveal beautiful rosy glow."