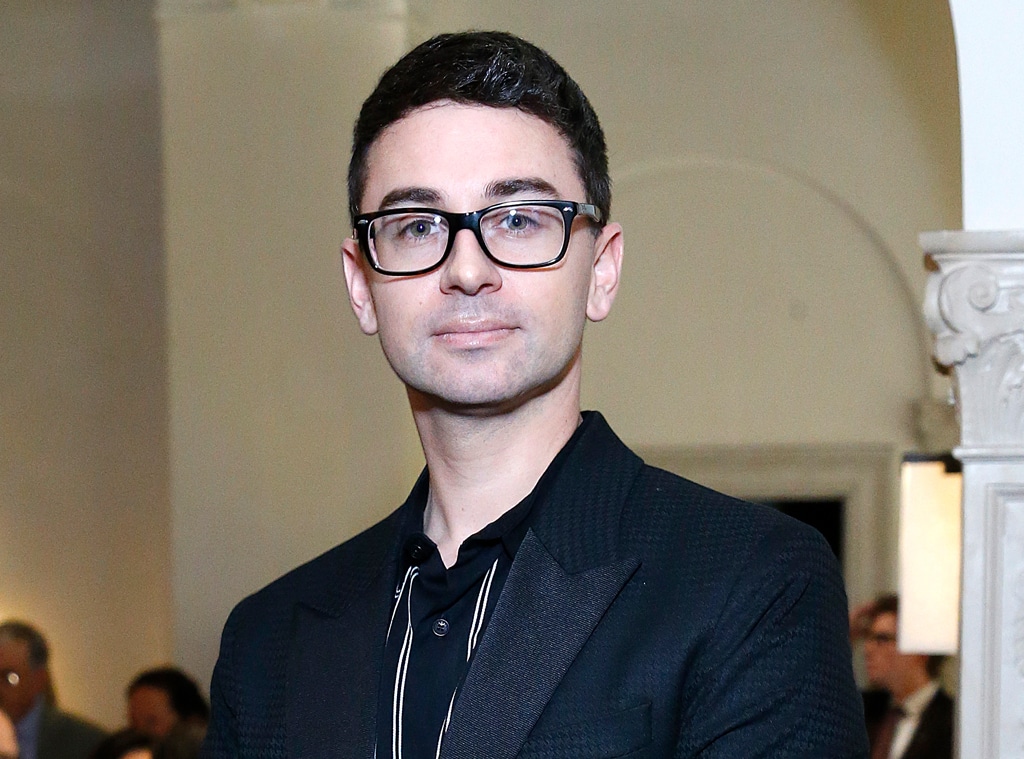 John Lamparski/Getty Images
We interviewed Christian Siriano because we think you'll like his picks. The products linked are from their own line or brands they are paid to endorse.  E! has affiliate relationships, so we may get a commission if you purchase something through our links. Items are sold by the retailer, not E!.
The world first met Christian Siriano when he was a contestant on Project Runway Season 4, which he won. From there, he worked to become a successful designer and build his brand. He also returned to Project Runway as a mentor for the contestants. Now, he is returning to his fashion competition roots as a judge for the clothing brand SHEIN's first-ever contest, the SHEIN X 100K Challenge. The four-episode series has a star-studded judging panel, which includes Christian, Khloé Kardashian, Law Roach, Jenna Lyons, and Laurel Pantin.
The challenge started with 30 emerging designers, hoping to make it as one of the top five contestants. The five finalists will fly to Los Angeles for the finale to get one-on-one mentorship from the judges during the final challenge: Be You!. These SHEIN X designer creations will be showcased during SHEIN's Fall/Winter 2021 virtual fashion show and streamed to millions of viewers globally. The winner also gets a grand prize of $100,000. The SHEIN X 100K Challenge series started on Sunday, August 22. You can catch up (and tune into the upcoming episodes) on SHEIN's free app as well as SHEIN's official YouTube, Twitter, Instagram, and Facebook pages.  
The finale airs on Sunday, September 12th. In the meantime, we spoke to Christian all about the competition, the evolution of fast fashion, his love for SHEIN, and the advice he has for up-and-coming designers. 
E!: Tell us about your decision to collaborate with SHEIN for this challenge with emerging fashion designers.
CS: I thought it was such a great opportunity because I've been a mentor. I've worked with a lot of young designers. I have a lot of young designers that work for me in my studio. I think it was just really such a good opportunity to hopefully help this younger generation of designers. Let me tell you, when I was starting it was tough. There were a lot of things that I wish I would have learned or I would have known. That's why I wanted to be a part of this, hopefully to just lend a helping hand and share how the business really is.
I want the younger generation of designers to feel like we are there to help them. Also, without them, why are we still pushing ourselves? We're all pushing ourselves for the greater, bigger picture in a way. 
E!: Are there any insights that you want to share with young designers?
CS: You don't have to be everything to everybody. You have to really make sure that you are your brand and that you're really authentic. What you want to make is what you should make. I had a lot of people telling me what to do in the beginning of my career and I wish that I just would have done what I loved. If you love making cool streetwear, then that's what you should make. If you love making ball gowns, then that's what you should focus on. I think that sometimes young designers try too many things and that's when it doesn't work. It's better when it's really authentic to them.
E!: What do you love about SHEIN?
CS: I think a brand that can connect with its customer and what people want really quickly is very important. SHEIN is really in the now, in the moment, and very reactionary to a trend or idea and I really like that. I think that's what's really cool about it. They are always in the moment and I think that's very interesting. There are not a lot of other brands that can do that. Especially this younger generation loves SHEIN so much because they're giving you fashion that is exciting and accessible. I think that is very important.
There is a customer who is really looking for something new, different, and exciting. They want to change up their wardrobe and have something that's new and cool or maybe something a fabulous actress just wore. I think it's important that brands are trying to be as productive as possible, focusing on all the right things.
People who have good style mix high, low, vintage, and new pieces. I think that's what's cool and makes someone stylish. There are plenty of people who mix in SHEIN items with designer pieces that are in their closets.
E!: What do the judges bring to the table for this challenge?
CS: I think it's perfect casting for this. Everybody brought something unique. Jenna Lyons, working with such big retail companies before, helped her point of view. Khloe is somebody who actually wears clothes and gets photographed every day. She's definitely thinking about what would look good on her and what she would want to see. Same with Law, Law literally worked with every brand in the world.  So Law's kind of thinking 'What would I put on my clients?' but also, 'What is different that I haven't seen before?' It's so well-rounded. Having Laurel Pantin from InStyle is amazing. With me, I bring the perspective of someone who's in the business right now. I go to the studio every single day and make clothes for customers. I'm really in the moment. It's definitely a great group. 
E!: What can we expect from the series?
CS: The young designers really honestly are so talented. When you hear their stories, some of them have really really struggled and I think that was beautiful to see them thrive and get to be creative again. For all of us, I think that's why we wanted to be involved. It was the most important thing and beautiful to hear. Sometimes, when it gets really hard, we are in a pandemic. For young talent, young designers, young singers, young artists, this is a great opportunity for them to not give up. That was why it was a really great experience working and filming. It was wonderful actually. Truly wonderful. It helps you remember why you love doing the job.
E!: The fashion business has changed so much in recent years, due in large part to social media. Do you think it's easier or more difficult to break into the fashion industry these days?
CS: I think it's a mixture. I think it's much easier now. If you think about it, when I was on Project Runway almost fifteen years ago, Instagram didn't even exist. Getting your brand out to the world was really really difficult. I worked for almost ten years to really build my core business. It took me a really long time. Now, customers can post something and have an immediate customer. I think that's really incredible. I think there's something for everybody and that's what's really cool about it. Yes, it's highly saturated and people may not have a billion-dollar business, but maybe they'll have a million-dollar business, which is amazing too.
SHEIN Maternity Allover Dalmatian Print Roll Up Sleeve Drawstring Waist Jumpsuit
View your pregnancy as an excuse to try out some new looks. This animal-print jumpsuit, is lightweight, comfortable, and bump-friendly. 
SHEIN 2 In 1 Solid Sports Skorts
Tennis skirts are on trend whether or play the sport or not. This skort is available in green, blue, and white.
SHEIN Twist Front Plunging Neck Crop Top & Skirt
This white two-piece set is perfect for Labor Day Weekend. You can also wear the top and the skirt with other pieces you already have. If you really love this one, you might as well nab it in every color. 
SHEIN Plus Solid One Shoulder Blouse
This elegant, one-shoulder top is something you need in your rotation. You can dress it up or down and no matter what you pair it with, you'll nab a ton of compliments. It's available in sizes ranging from XL to 4XL and you can get it in beige, burgundy, green, blue, yellow, and rust brown.
SHEIN One Shoulder Split Thigh Fitted Dress
Most of us have a ton of weddings to attend in 2021. There are all of those 2020 events that got postponed in addition to the 2021 weddings you would have went to anyway. Shopping for wedding guest (or bridesmaid) dresses at SHEIN is the way to go. Specifically, we are loving this one-shoulder dress with the slit at the leg. PS: it's available in four other colors.