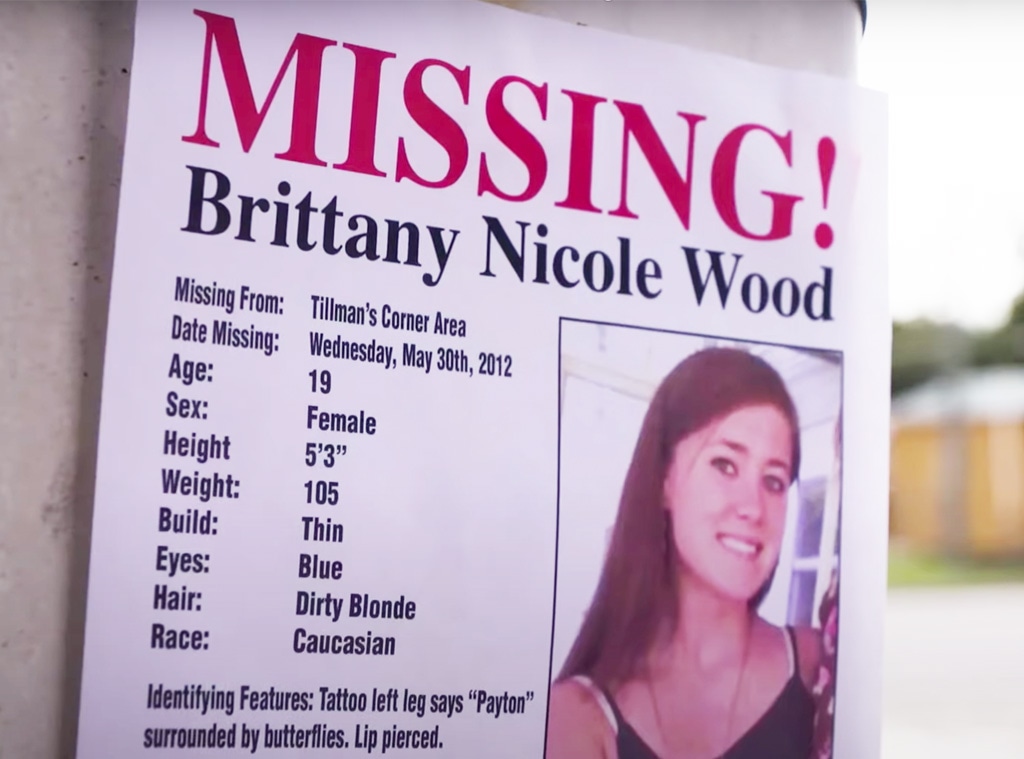 Peacock
Brittney Wood's family last heard from her on May 30, 2012.
They reported the 19-year-old single mom missing three days later, and posters seeking information about the whereabouts of the 5-foot-3 female with dirty-blonde hair, blue eyes and a lip piercing were plastered all over southwestern Alabama.
She's never been found. What authorities did discover in the aftermath of her disappearance, however, sent an entire community reeling.
Peacock's new three-part documentary series Monster in the Shadows delves into the events leading up to Brittney's last known day, as well as the unspeakable crimes revealed afterward that occurred all too close to home.
Shocking doesn't even begin to cover it. And there was more than one monster lurking.
It wasn't long before authorities realized they had much more than a missing girl on their hands.
She had told some friends that she was going to go visit her uncle Donnie Holland at a place out by the Styx River Basin, about 40 miles away from her home in Tillmans Corner. A cell tower ping put her last known whereabouts in that area. Two days later, on June 1, Donnie drove out to a secluded area overlooking the Fish River and, according to officials, shot himself in the head. He died a few days later.
It was when no one could reach Brittney to tell her about her uncle shooting himself that they realized something wasn't right.
Upward of 70 volunteers and search and rescue units from neighboring counties joined local authorities in combing the five-mile radius where Brittany's phone placed her. The Salvation Army of Coastal Alabama showed up to provide food and water for the search teams.
"Her uncle has committed suicide and supposedly he was the last one she was with and so we're worried about that," Brittney's dad, Wallace Hanke, told CBS affiliate WKRG two weeks after Brittney vanished. "I'm hoping to God and I really don't think he would hurt my baby." His wife, Stephanie Hanke, told AL.com it wasn't unusual for the girl to spend time with her uncle, and Brittney's mother, Chessie Wood, said she'd known her brother-in-law Donnie, who was married to her sister Wendy Holland, almost her whole life.
What Chessie may not have known was that the police were closing in on her family.
Baldwin County Sheriff's Office
On June 19, 2012, per multiple reports, Chessie's brother Randall "Scott" Wood and brother-in-law Dustin Kent (the husband of her sister Mendy, Wendy's twin sister) were arrested by Baldwin County Sheriff's deputies. Randall was charged with second-degree sodomy, second-degree sexual abuse and incest, and Dustin with first-degree sodomy and second-degree rape.
Dustin was arrested again July 16 and charged with second-degree rape, incest and second-degree sodomy involving a second victim—and then again Aug. 2 in Mobile County, resulting in charges of first-degree rape and first-degree sodomy, all involving a victim between the ages of 12 and 16. 
More charges were filed against both men Oct. 22 in Mobile County: First-degree rape, first-degree sodomy, production of obscene matter of a person under 17 and sex abuse of a child less than 12 against Dustin; second-degree rape, second-degree sodomy and enticing a child into a building or dwelling against Randall. 
Baldwin County Sheriff's Office
Meanwhile, Brittney's older brother, Derek Wood—whom Chessie had called his sister's "protector," the 21-year-old having been front and center at the search around the Styx River—was arrested July 13, another bust in what turned out to be a sprawling sex crimes investigation involving multiple members of the family in multiple jurisdictions that authorities had been piecing together for three months. Derek was charged with second-degree rape, incest and second-degree sex abuse.
A few days later, Donald Holland Jr., Brittney's 20-year-old cousin and the son of her late uncle Donnie, was arrested and charged with second-degree sexual abuse and rape, as well as incest. He and Derek stood accused of raping the same 12-year-old girl—as did Donald's friend William Brownlee, who was charged with second-degree sodomy and sex abuse. Additional charges for Brownlee followed that October: First-degree sodomy, sex abuse of a child younger than 12 and two counts of first-degree rape.
And in August 2012, Brittney's aunt Wendy, Donnie's widow, was arrested and charged with one count of endangering the welfare of a minor and her two grade school-age children were removed from her home by social services. Three months later, Wendy was also charged with first-degree sodomy, sexual torture and sex abuse.
Almost two months after last seeing Brittney, Chessie told Al.com that, as for Donnie, "We don't know if he took his life because he didn't want to go to jail, or did he kill himself because he did something to my daughter, or both?" (Authorities confirmed that Donnie was also under investigation for sex crimes and, in fact, they considered him the ringleader of the whole sick enterprise. They also thought the bullet hole behind his ear was in a strange place for a self-inflicted wound, but the official cause of death remains suicide.)
The family offered a $1,500 reward for any information that would help them find answers.
In a different interview, Chessie said of Brittney, "We as a family do not see how she had the means to run. We've covered every friend, every one of them are accounted for. I mean if she had to run because she's that scared, I would really believe that she would have [brought] her daughter with her."
Brittney's 2-year-old daughter, Payton, had been staying with her father and other relatives since her mom disappeared. "She asks for her every time she gets in the car with us," Stephanie, Brittney's stepmom, said. "We just keep telling her she's bye-bye right now. We don't know what else to tell her."
Chessie said of her granddaughter, "Nobody knew what to do, I mean, what do we tell a 2-year-old? We thought this was going to be very short-lived, we're just going to find Brittney, y'know, wherever and bring her home. And now she's saying, 'My mama's been at the store a very long time, I think she's buying everything in the store. Can you tell her to come home?'"
Months went by and the search continued, the KlaasKids Foundation (named after Polly Klaas, who was 12 when she was kidnapped from her California home and killed) dispatching volunteers to aid investigators' efforts. But they found no sign of Brittney. As Christmas approached, fliers were posted asking hunters to please keep their eyes peeled for any trace of her in the woods.
Chessie told Al.com she had decorated her tree that year with photographs of Brittney from past Christmases, her daughter's favorite holiday.
A prayer service and candlelight vigil were held May 30, 2013, the one-year anniversary of Brittney's disappearance, at her mom and stepdad's home.
Chessie marveled at all the people who were still invested in finding Brittney and who'd shown their support, that at least the scandal engulfing her family had made that many more folks aware of the missing young woman.
"People have their own lives, their own problems, but Brittney's still the talk of the town," she told the Press-Register.
During this time, authorities maintained that the sex abuse allegations were not connected to Brittney's disappearance—but that they did discover an alleged victim while conducting the missing-person investigation. "We were able to determine we have a juvenile victim from three years ago," Mobile Police Cpl. Chris Levy told Fox 10 after Dustin Kent's third arrest. The girl, who was 17 by then, had come forward.
But they also admitted that a lot of vital information disappeared along with Brittney.
By the end of 2013, eight of her relatives—including Brittney's mother, Chessie—and three family friends were arrested on suspicion of involvement in an incestuous underage sex ring, accused of molesting and violating each other's kids. Four alleged victims had come forward.
Baldwin County Sheriff's Office
"We often times look for that golden nugget, that one person that can make the difference in your case," Baldwin County Police Detective Eric Winberg told Fox 10 as the arrests piled up. "In this particular case, Brittney Wood was that person. She was the person that could tell the whole story." Noted a Mobile County Sheriff's Office spokeswoman in November 2013, "They all have something to do with Brittney Wood, maybe not her disappearance, but they're all connected. It's just constant."
Mobile County Assistant District Attorney Nicki Patterson, the lead prosecutor on the case, told AL.com, "Family members sharing their children, unfortunately, is not new. It is not that unusual from what we know."
Still, she said, "This is a more layered group than we have seen or uncovered here in Mobile."
Chessie Wood pleaded not guilty to sodomy and child sex abuse charges, insisting she didn't know what was going on with her family until after her daughter went missing. "I shouldn't be convicted, innocent people don't get convicted," she told reporters after a court appearance. She said she would not take a plea deal.
And throughout her own legal battle, she tried to keep the conversation focused on what happened to Brittney.
"I believe my daughter went to confront [Donnie] about other victims and it backfired on her," she said during a press conference held at her attorney's office in October 2013. "She was a fireball and she found out some information that she couldn't handle...I believe Donnie killed my daughter over the sex crimes."
 Chessie also said, "I have been hoping and praying to God above that something about my daughter will come out in one of their trials. So, throw it in front of a judge and see what happens."
"There are innocent people in this and there are guilty people in this," Chessie Wood told the Associated Press in October 2014. "I don't know how the judicial system is going to figure it all out because they're not the sharpest tools in the shed." She acknowledged, however, that Brittney had been one of the victims of the guilty parties (though any crimes committed against her were not part of the ongoing court cases).
"The No. 1 thing here is to find Brittney," she said. "The No. 2 thing is to get all these sick [people] off the streets."
Dustin Kent was sentenced to 17 years in prison after pleading guilty to second-degree rape and sodomy in Baldwin County. He pleaded out in Mobile County as well and received the same sentence in November 2015, and Patterson recommended he be allowed to serve his sentences concurrently.
"His cooperation enabled us to convict some other people who also committed the same crimes and we might not have been able to convict without his help," the A.D.A. said in court. "Is it enough? Probably not. But on the other hand, I think it would be unfortunate if only one or two people were convicted when we knew how many people were ultimately involved in these cases." 
Dustin apologized to the victims and said he hoped they could "live a normal life."
Brynn Anderson/AP/Shutterstock
Randall Wood—who Patterson later said was the family member who first started cooperating with law enforcement, allowing authorities to cast a wider net—pleaded guilty to sodomy and in February 2015 was eventually sentenced to three years in prison. Derek and Donald Jr., classified as youthful offenders, also pleaded to lesser charges.
Wendy Holland went to trial and it reportedly took the jury two hours to convict her of sodomy, sexual abuse, sexual torture and child endangerment. A judge sentenced her to 219 years in prison.
Her twin Mendy Kent was also convicted of sodomy and sex abuse of a child under 12 and sentenced to 40 years. Family friend William Brownlee was convicted of sodomy and sentenced to 20 years in prison, the maximum time allowed. The judge said he deserved more, calling his actions "depraved, disgusting and sickening to this court."
In October 2016, Chessie pleaded guilty to a misdemeanor count of reckless endangerment and didn't have to serve jail time. Patterson told reporters, "This is one of the very last of a lot of cases. What was done today was a misdemeanor plea and that was done in full cooperation and conjunction and really at the request of the child victim and her family."
But Chessie has never stopped trying to find out what happened to Brittney, and she participated in Monster in the Shadows, saying in a series preview, simply, "I'd like to find my child."
She told Mobile's Fox 10 News recently, "I promised her that I would not give up ever until I take my last breath and if this documentary is it, which we're praying it may be, we were willing to give it a shot."
Monster in the Shadows is streaming on Peacock.
(E! and Peacock are both members of the NBCUniversal family.)