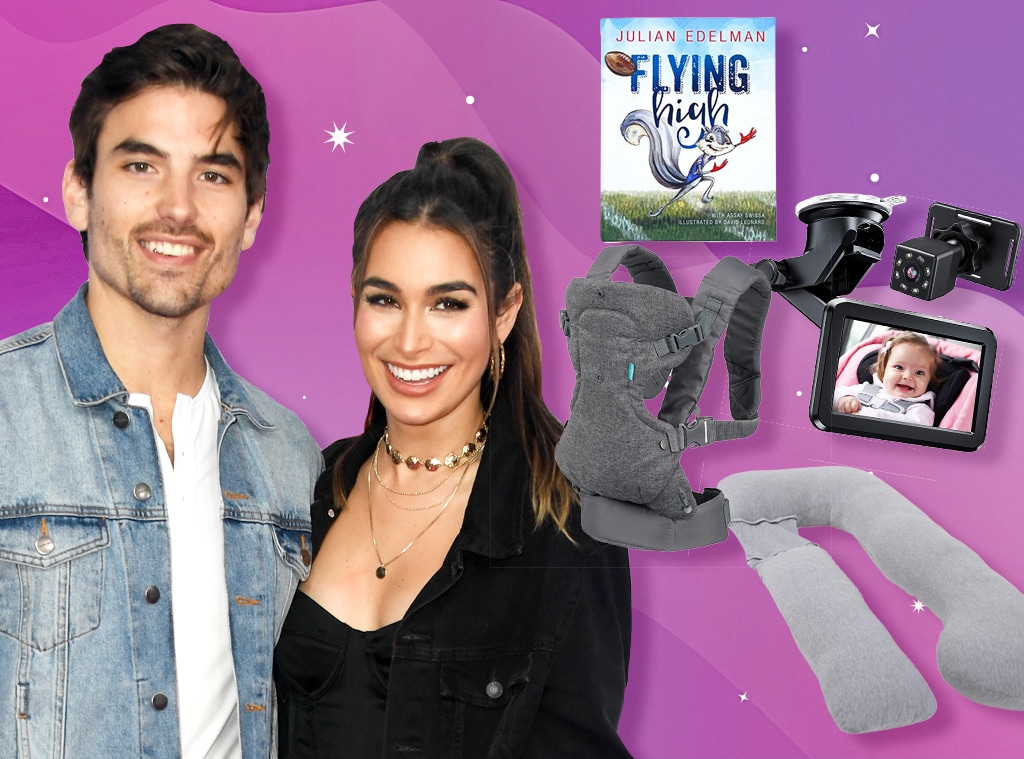 We interviewed Ashley Iaconetti and Jared Haibon because we think you'll like their picks. The products shown are from their own line or brands they are paid to endorse.  E! has affiliate relationships, so we may get a commission if you purchase something through our links. Items are sold by the retailer, not E!.
Bachelor in Paradise fans saw Ashley Iaconetti and Jared Haibon connect on the beach. We even got to see their engagement on TV a couple of seasons later.  The fan favorites have been so open with their fans from the moment they arrived at The Bachelor mansion. They have shared so much of their lives on social media and they're both podcast hosts. Ashley hosts the The Ben and Ashley I Almost Famous Podcast with former Bachelor Ben Higgins in addition to her I Don't Get It podcast, which she hosts with her sister Lauren Iaconetti and Naz Perez. Jared hosts Help! I Suck at Dating along with Dean Unglert, who is also in a Bachelor Nation relationship with Caelynn Miller-Keyes.
They've also been sharing personal updates on Amazon Live. They announced Ashley's pregnancy on the platform, in addition to sharing some of the baby products they've bought so far. And, earlier today, the Haibons revealed the sex of their first child in another Amazon Live broadcast. Drum roll please..... they are expecting a baby boy, perhaps the future lead of The Bachelor circa 2046. You never know, right?
Ashley and Jared talked to E! News before publicly announcing that they have a boy on the way. The children's book authors discussed the excitement of pregnancy milestones, the Amazon products they're buying, and more in our exclusive interview.
E!: You've been very open about the ups and downs of pregnancy. How have you been feeling these days?
AI: I'm definitely feeling better, thankfully. I'm not currently feeling like my 'normal' self or anything, but I am feeling very grateful for the improvement over the past four weeks. Jared is the champion of all the world. I compliment him all day long because he does so much for me. I know it is a bunch of little, simple tasks, but throughout the day it really adds up and he's tired of hearing his name.
JH: I feel bad getting a round of applause for doing the bare minimum and things that I should be doing. She's the one throwing up constantly and she's the one carrying our child. She is doing way more than anything I'm contributing, but I'm happy to help with anything that I can. 
E!: How does it feel to have the pregnancy out in the open?
AI: After we announced, I felt so much better because I just felt like I was hiding so much of myself. It's hard to describe, but it was a big relief when we shared the news.
JH: It's exciting news so we were happy to talk about it. It helped cement that 'fatherly' feeling and made me look forward to all of the milestones coming up. Putting together the carseat and the bassinet was one of the first times that I felt really connected with our future kid and it made me so happy. Picking out clothes made me so happy and I felt 'this is getting more and more real.' It was definitely cool going through all these baby products for the first time, buying things and seeing what we should get, and going through all of the product ratings. This is starting to feel real. We just had our 15-week ultrasound and we could see that the baby was forming and that we could see the head and the mouth moving. Even knowing that we can now refer to him as 'him' and think 'that's our son.' It's no longer just 'our baby.' It's 'our son.' That just gives a certain impact to our child that wasn't there before.
E!: So much of your jobs involve being open and honest with your fans, was it tough keeping things private during the initial stages of pregnancy?
JH: It's not just about a job. Everybody can relate to it because a lot of people don't want to talk about their pregnancy early on. I feel like everyone. goes through this especially in the age of social media where everybody has a Facebook, Instagram, and other platforms. People wonder 'Can I post this? Should I post this? Should I wait to share the news? Should we not wait to share the news?' We weren't sure if we 'had to' tell certain people before the news was public. We were on the same phone with some of our friends ten minutes before we announced it publicly. We worried about forgetting someone we should have told before we announced.
E!: You have multiple platforms with captive audiences. Why did you share your baby's sex via Amazon Live?
JH: It was fun announcing it live. If we posted on our Instagram or one of our podcasts, it's all pre-recorded, which is great too. But, there's just something very special about being live.
AI: The feedback during the livestream was insane. We could not keep up with it. Everyone was so nice and very helpful. It was really cool because people also gave good advice and tidbits on things to buy for the baby and throughout pregnancy. Now, that we know it's a boy, we are hoping the Amazon shoppers can give us some great ideas for cute little items that we can get on Amazon too.
E!: Has knowing that you're having a boy changed any of your shopping plans and preparation for parenthood?
AI: Not for the big items like strollers, car seats, and bassinets, but I want to pick out the clothes for a boy and I'm really excited for that.
JH: I've already found so many Tom Brady onesies.
E!: What makes Amazon such a reliable store for parents-to-be?
AI: We love the fact that Amazon has so many reviews, which makes shopping so easy. I've definitely become so safety-conscious with shopping. I've learned a lot so far. We have a stroller and a carseat that are very highly-reviewed and safe. With Amazon, all of the important information is in one place and I feel very informed before I make any purchases.
JH: We are reading every little thing because our little boy is going to be in it. We want to be extra sure that everything is good, secure, and safe for him.
Keep on scrolling to see some of the Amazon products that Jared and Ashley have to help with her pregnancy and in preparation for their son.
Itomoro Baby Car Mirror, Back Seat Baby Car Camera with HD Night Vision Function Car Mirror Display
"You know how so many parents will turn and look at the kids in the backseat and that's so dangerous. My mom is always telling me 'Stop looking at [dog] Lois in the backseat.' You can't take your eyes off the road, especially with a baby in the car. This has a projector basically so you can put it where the rearview mirror and you can see what the baby is doing," the mom-to-be said.
PharMeDoc Pregnancy Pillow
Ashley said, "I got a pregnancy pillow, which I'm so excited about." And, who could blame her? This one has 42,400+ five-star reviews from Amazon customers raving about the comfort and peaceful rest they got with this pillow. It's available in pink, grey, blue, olive, and beige with multiple fabric options.
Infantino Flip Advanced 4-in-1 Carrier
Ashley commented, "I love those little carriers and I can already picture Jared with the baby on his chest all the time," with Jared chiming in, "Yeah, those things are awesome." Specifically, the Haibons selected the Infantino Flip Advanced 4-in-1 Carrier. It's ergonomic, convertible, and there are options to carry your little one face-in or face-out. It's suitable for babies from eight to 32 pounds.
And, yes there are plenty of baby carriers available for purchase, but the one Ashley and Jared bought is one of the most sought-after baby products on Amazon. It has 26,800+ five-star reviews from Amazon customers who are happy with the product.
Snoo Smart Sleeper Baby Bassinet - Bedside Crib with Automatic Rocking Motions and Soothing White Noise
In addition to relying on Amazon reviews to make purchases, Ashley and Jared have also turned to fellow Bachelor in Paradise alums Jade and Tanner Tolbert for some insights. Jared shared, "There's one item that Jade and Tanner told us about, the Snoo," with Ashley adding, "Our other friends also have It."
The BIP stars aren't the only people who influenced Jared and Ashley about the power of the Snoo. The dad-to-be recalled, "One of my high school buddies has two girls and he randomly brought it up and told me to get the Snoo. He lives in Rhode Island. He drove on a Friday afternoon in heavy traffic to Boston to get the Snoo because he was like 'I need it immediately.'" Ashley shared, "It is supposed to add an hour to two hours of sleep every night."
We're Pregnant! The First Time Dad's Pregnancy Handbook by Adrian Kulp
Lucy & Clark: A Story of Puppy Love by Ashley Iaconetti & Jared Haibon
Ashley and Jared's children's book is a must-have read for families. The book Lucy & Clark: A Story of Puppy Love is based on their real-life dogs and is a great story for anyone looking for a confidence boost.
Baby Shusher the Sleep Miracle– Sound Machine
This sound machine uses a real human voice to calm and lull your baby to sleep. It has 15 to 30-minute timers to help the most sleep-resistant little ones get some rest. It's portable, easy-to-use, and it comes with batteries. This game-changing product has 8,200+ five-star reviews from happy Amazon customers.
Disney Baby Boys' Lion King Footies and Hat Set Simba
The Haibons love all things Disney, so of course they had to throw in an ode to The Lion King with this adorable set.
4moms mamaRoo 4 Baby Swing, Bluetooth Baby Rocker with 5 Unique Motions
This baby rocker has five unique motions and speeds. It's Bluetooth-enabled with four built-in sounds and an MP3 plug-in. The cover is removable and machine washable. The device is rechargeable, which means there's no need to worry about replacing batteries. This rocker has 4,100+ five-star reviews from Amazon shoppers.
Playtex Diaper Genie Complete Pail with Built-In Odor Controlling Antimicrobial
This diaper pail isn't just a spot to throw out diapers. Its system controls odors. It has a foot pedal for easy, hygienic, hands-free opening. It is antimicrobial to prevent the spread of germs and inhibit bacteria. More than 1.5 million parents put their trust in Diaper Genie Complete and it has 9,000+ five-star Amazon reviews.