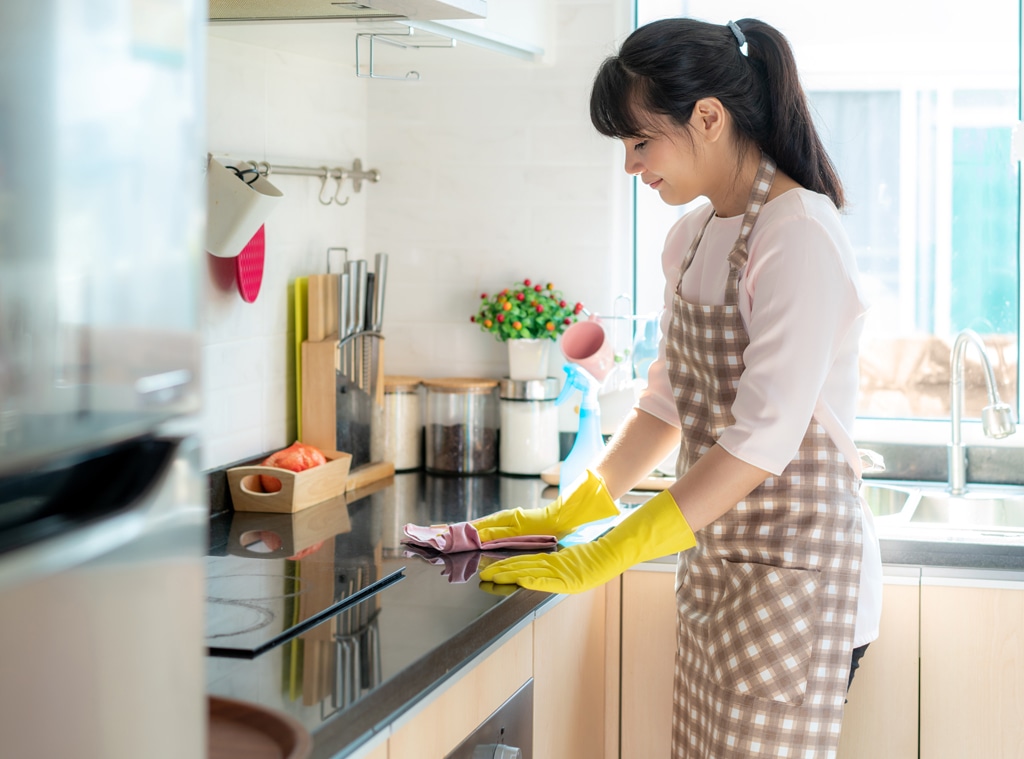 Getty Images
We love these products, and we hope you do too. E! has affiliate relationships, so we may get a small share of the revenue from your purchases. Items are sold by the retailer, not E!.
You either love cleaning or loathe it, there's really no in-between.
Whether you're a clean freak and tidy up every day or save your chores for a weekend morning, keeping your house clean and organized is an essential part of adulting. Not only does taking care of your space make you feel more clearheaded, but it can help increase productivity levels and improve your mood.
Contrary to popular belief, cleaning can be an enjoyable experience. As with every chore or task like making a cup of coffee, there's an opportunity to romanticize it and make it less drab and more fab.
Below, we break down how to make everything in your house sparkle and smell amazing while boosting your mood at the same time.
Set the Mood & Get Comfortable
Turn on some music. We suggest beginning with Britney Spears' "Work Bit*h." Although we would love to wear a fur-lined robe and pretend like we are a #RichMom while vacuumming, it's best to stay comfortable in a less extravagant yet equally cute fit.
Cool Nights Kimono Short Robe
Make cleaning easy and breezy by wearing this stylish kimono! We don't know about you, but we would rather not have to wash more clothes after a morning of cleaning the house. 
Apple HomePod Mini
Get some classical, Hip-hop or rap music going before you start tackling that sink full of dishes or dirty floor. This mini speaker will fill the entire room with rich 360-degree audio. 
Microfiber Floor Cleaning Slippers
Complete your look with these microfiber slippers that will also help you avoid awkward footprints while cleaning your floors.
Stock Up on Products That Smell Good & Get the Job Done
You don't want to have to re-clean every day or sacrifice a clean house for nauseating smells that linger after you hang up your gloves. We suggest investing in multi-tasking gadgets and safe products that will make your house smell like a spa.
My Fair Lady Dish Washing Gloves by LemonJelloCo
Thanks to these fabulous gloves, you can protect your manicure and feel chic while cleaning your dishes.
Microfiber Cloth Cleaning Rags
Shark® Wandvac System™ Cordless Stick Vacuum
A quality vacuum will change your life and your floors. We love this lightweight, cordless stick vacuum that manages to get catch everything in its path, even in hard-to-reach places. It comes with a compact charging dock and holder that isn't an eyesore. Additionally, this model offers multiple attachments to take care of all your vacuumming needs. 
Swiffer Sweeper 2-in-1, Dry and Wet Multi Surface Floor Cleaner, Sweeping and Mopping Starter Kit
Complete your floor cleaning routine and make that wood or tile sparkle with the help of a Swiffer Sweeper. This 2-in-1 kit includes one mop and 10 refills for only $12!
Clean Freak Kit
We credit our newfound love for cleaning with Kris Jenner and Emma Grede's premium home care brand Safely. Not only do the products smell amazing, but they are plant-powered and made without harsh chemicals. Bible! The Clean Freak Kit is an absolute must. It includes the Everyday Laundry Detergent, Universal Cleaner, Glass Cleaner, Hand Soap, Hand Sanitizer and Hand Lotion.
Method Eucalyptus Mint Daily Shower Cleaner Spray - 28 fl oz
Another amazing-smelling product we love is Method's Eucalyptus Mint Daily Shower Cleaner Spray. It gets our shower sparkly clean while leaving it smelling like a spa. The spray also works on tile, fixtures, glass and tubs.
Earth Day Is Everyday Bundle
Whether you prefer an exotic, fruity or citrusy scent, Cleancult offers all three. This bundle includes everything you need to clean your kitchen, bathroom and clothes like reusable empty glass bottles, three 32 oz refills (including laundry detergent, liquid hand soap and dish soap), a 16 oz all purpose cleaner refill, a bar of our customer favorite bamboo lily soap and three dryer balls.
Scrub Daddy Sponge - Halloween - Non-Scratch Scrubbers for Dishes and Home (3-Pack)
If tackling grease, grime or stains isn't frightening enough for you, pick up Scrub Daddy's Halloween-inspired sponges. They'll make your fall cleaning a bit more festive!