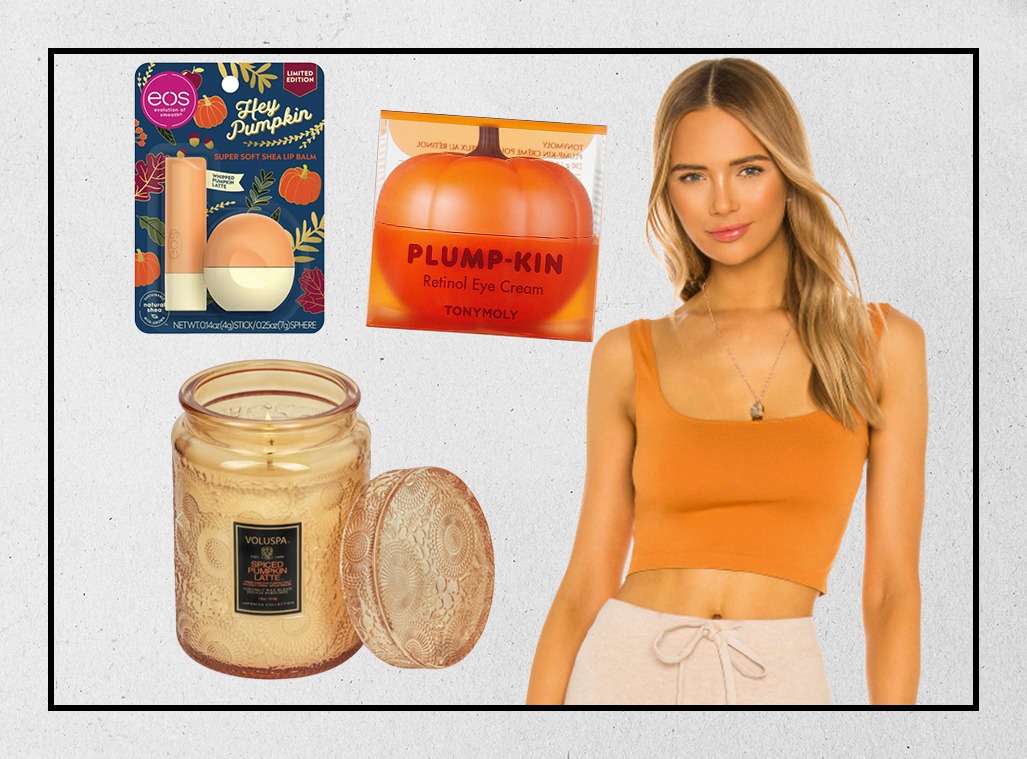 We love these products, and we hope you do too. E! has affiliate relationships, so we may get a small share of the revenue from your purchases. Items are sold by the retailer, not E!.
Basic bitches, assemble!
It's October 2, so you know what that means: It's National Pumpkin Spice Day. Yes, it's an autumnal ally's version of Christmas. Today is the day to unabashedly and unapologetically let your love for all things pumpkin be known. Proudly become the sixth member of the Spice Girls—Pumpkin Spice, duh—you always dreamed of being. Go get that Pumpkin Spice Latte. Pair it with a pumpkin-flavored pastry. Perhaps you want to slather it in some pumpkin butter?
But it's not enough for us to just sip and taste the season. No, no, no, we must pumpkin spice our entire life—including our kitchen cabinets, makeup bags and bath tubs—with seasonal delights that will have you dreaming of falling leaves and cozy sweaters. 
Whether you want to eat it, wear it or inhale it, we've got the pumpkin-themed option for you. Spice optional, but highly encouraged.
So grab that PSL, put on your coziest flannel and prepare to spice up your entire life with our list of the best pumpkin-themed products.
Mush Pumpkin Pie Oats (6 Count)
Have you long dreamed of eating a piece of pumpkin pie for breakfast, only to shame yourself into eating a bland bowl of oatmeal in the morning? Mush is here to help you fulfill your most basic of fantasies, delivering a thick and creamy seasonal offering that has real pumpkin puree, almond milk and just five other natural ingredients. 
LesserEvil Organic Pumpkin Spice Popcorn
Once you pop the fun don't stop with our favorite popcorn brand's latest seasonal offering. Made with coconut oil and featuring just the right amount of spice, we recommend stocking up on this one to level up all of your movie nights this fall before it sells out. 
Gigantic! Smashed Pumpkin Sortasweet Candy Bar (8 Count)
If we were homeowners, we'd be that cool house that handed out full size bars to trick or treaters and this is the only candy we'd hand out. Alas, we are mere renters, so we are hoarding this grown-up treat—made with real pumpkin and crunchy pecans, covered in dark chocolate and containing only 7 grams of sugar—for ourselves. Get off our lawn, kids!
Wild Friends Pumpkin Spice Peanut Butter (Variety Pack)
We've seen God and we can confirm they are actually a jar of this heaven-sent product that we double dog dare you to slather onto some pumpkin bread. Oh, did we mention they have a chocolate variation as well? And while you're at it, order their sugar cookie and gingerbread flavors, too, because it's your October and you'll Christmas if you want to, baby.