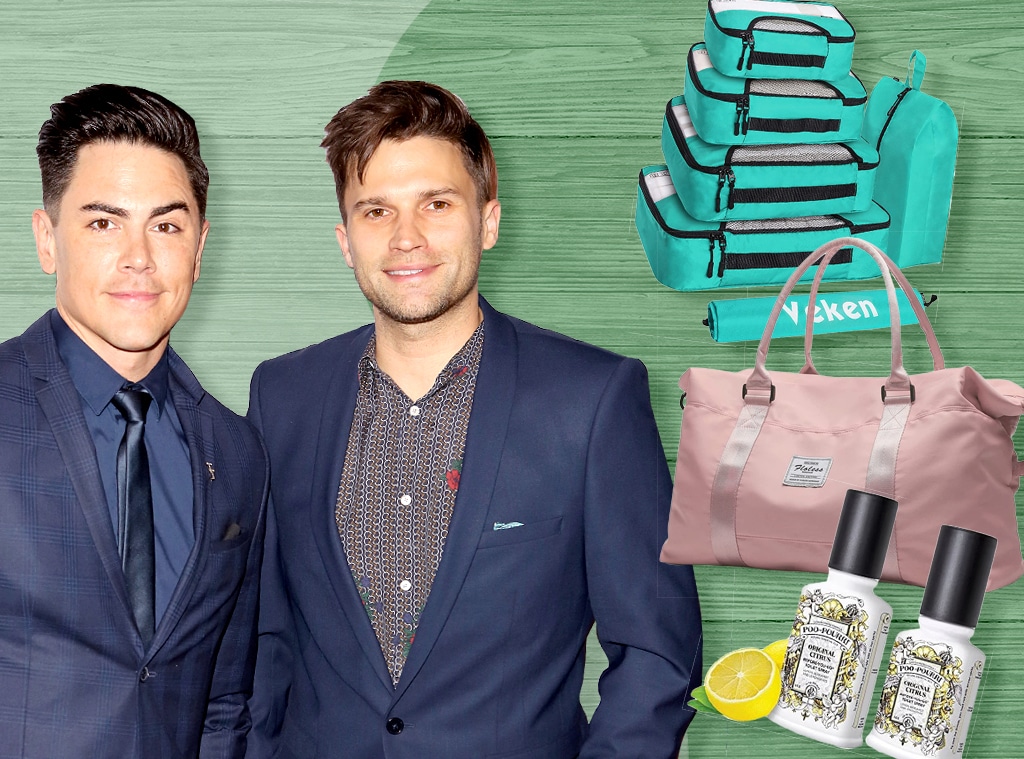 We independently selected these deals and products because we love them, and we hope you do too, and we think you might like them at these prices. E! has affiliate relationships, so we may get a commission if you purchase something through our links. Items are sold by the retailer, not E!.
Vanderpump Rules stars Tom Sandoval and Tom Schwartz are always prepared for any situation. They have a must-read wedding survival guide. They have discovered some of the most useful gadgets on Amazon. And, of course, they're on their self-care game with some of the most effective, affordable beauty products. Recently, Tom and Tom appeared on Amazon Live to share their must-pack travel products. Keep on scrolling to get some Amazon shopping recommendations from the dynamic duo.
Travel Duffel Bag
"We have the best duffle bag on Amazon. Honestly, it's sub-$30. It has a plastic compartment for your bathing suit or anything wet. It has tons of compartments. It's very well-made. This muted pink bag is beautiful. It should be like $150, but it's $26. It's sturdy. It's robust." Tom Schwartz said."
It's available in seven different colors and it has 4,300+ 5-star reviews.
Poo-Pourri Before-You- go Toilet Spray
"Here's the thing, a lot of people are poop-shy. Pooping is scary." Schwartz said, "If you have roommates, a loved one, or you live in a confined space, you need this. Pooping on plane is scary in my opinion. If you're gonna do it though, poop with confidence. It's not scary if you have Poo-Pourri. I strut with my chest out. It's a newfound confidence. This does a perfect job of masking the smell."
BlueHills Premium Soft Travel Blanket Pillow
"It's a little blanket and a pillow. It's so soft and cozy. It has a little strap on the side," Schwartz said. Sandoval added," I like that it has a carabener on it, so you can link it to the top of your backpack and it doesn't take up any space."
Schwartz said, "Being cold on a plane sucks. You're going to want to be prepared. 
Mzoo Sleep Eye Mask for Men Women
Sandoval shared, "We have these really great sleep masks, very very comfortable. They block out all of the light." Schwartz insisted, "It's literally the best sleep mask online, in my opinion. It's awesome for side sleepers, by the way. It's perfect. It's so comfortable. You'll barely feel like it's there. It's really perfect for travel. It's my favorite."
The Toms aren't the only people who love this mask. It has more than 42,200 five-star reviews from Amazon shoppers.
Simple Cleansing Facial Wipes (75 Wipes Total)
Schwartz insisted that these wipes are "amazing for makeup removal." He added, "After a long flight, these are a game-changer. You don't want to be greasy. If you have sensitive skin, these are your best bet right here. They will not make you break out. There's no alcohol or mineral oil."
eBags Classic Pack-it-Flat Toiletry Kit (Black)
"It's not very exciting. It's not sexy. It's a toiletry bag. This one is awesome. It doesn't take up too much space." Sandoval added, "It lays flat in your suitcase. You can fit a lot in here and it doesn't take up too much space when you pack. A lot of my previous toiletry bags bunch up and they're huge."
There are multiple colors to choose from too.
Anker Soundcore Life Q20 Hybrid Active Noise Cancelling Headphones
"I discovered these," Schwartz declared. Sandoval added, "They feel great. The Bose are like $300. These are $60." Schwartz said, "You don't always want to drop a lot of money on headphones. These are great for flights. You need noise-cancelling headphones on a flight."
These headphones have 19,100+ 5-star reviews on Amazon.
Inflatable Travel Pillow for Airplane
The Toms recommend this travel pillow if you're stuck in the middle seat on a flight. There's even a little spot to hold your phone. Sandoval also recommended these for sleeping on long car trips. Schwartz promised, "This is the pick of the day. It's so fast to deflate it too. This thing is amazing. I just deflated that in three seconds" Sandoval added, "It's so reasonably-priced."
Mario Badescu Facial Spray Herbs/Rosewater and Cucumber/Green Tea (Pack of 2)
"I know you've seen this. The Mario Badescu Facial Spray. After a long flight, this is an instant facial. It's like a little pick-me-up too. Instant hydration. It's really nice" Schwartz said. Their co-star Lala Kent recently told E! that she keeps this same spray in her bag.
Sandoval keeps his in the fridge and Schwartz said that he keeps his in his backpack "at all times." They also recommended this spray after a hike or during a music festival.
Physix Gear Sport Compression Socks for Men & Women
"Compression socks, you need circulation. If you get leg cramps or get swollen, these are amazing. These things are awesome if you're doing an Iron Man or a Marathon or you're on a long flight. They keep the blood flowing It's like a little permanent hug on your feet," Schwartz shared.
Sandoval added, "A lot of times when you are on planes, your feet will swell up. If you take your shoes off on a plane and you want to put them on when you land, it's tough." These socks have 46,800+ 5-star reviews from happy Amazon customers and they're available in multiple colors. 
Birkenstock Essentials Unisex Arizona EVA Sandal
Schwartz shared, "I'm on the Birkenstock train. They're essentially slides. I love them. They're so cozy and affordable." Sandoval said, "These are super lightweight. They're very inexpensive and they're waterproof."
These are available in many colors and they have 25,800+ 5-star reviews on Amazon.
Matein Travel Laptop Backpack, Business Anti Theft Slim Durable Laptops Backpack with USB Charging Port, Water Resistant
Schwartz insisted, "This is the best backpack on Amazon. It's under $30. It has so many compartments." Specifically, Sandoval shared, "It has a laptop holder," with Schwartz sharing that it has a built-in charger and he "can't believe this is under $30." 
Schwartz said "every Amazon review is positive." It has 37,300+ 5-star reviews from happy Amazon customers and The Bachelor alum Hannah Ann Sluss recently recommended it in her list of must-pack travel essentials.
JBL CLIP 3 - Waterproof Portable Bluetooth Speaker - Blue
"At this point, we are unofficial JBL ambassadors. We love JBL. Objectively, JBL is one of my favorite brands," Schwartz said. Sandoval shared, "If you like going skiing or snowboarding, this one is a great one to have. It lays flat and you can clip it on your jacket and listen to music without wearing headphones. It's awesome." 
This speaker has 31,700+ 5-star reviews from Amazon shoppers and there are a variety of colors to choose from. Russell Dickerson recommended the JBL waterproof speaker in his Father's Day 2021 gift guide.
Enovoe Car Window Shade - (4 Pack) - 21
"You should put these on your windows for a road trip if you don't want to roast the whole time," Schwartz recommended. He continued, "They just stick to your window. They're awesome, highly-rated, and I love them. You didn't know you needed them until now."
Nature's Bakery Whole Wheat Fig Bars, Blueberry (12 Pack)
"You know what else you want when you're on a trip, you want blueberry fig bars. They are filling, they are delicious, and they a lot of fiber in them so they will get you regular," Sandoval said. Schwartz recommended these as a "healthy option." These have 21,100+ five-star Amazon reviews.
If you're looking for more travel-friendly purchases, check out these multi-tasking, must-have beauty products.