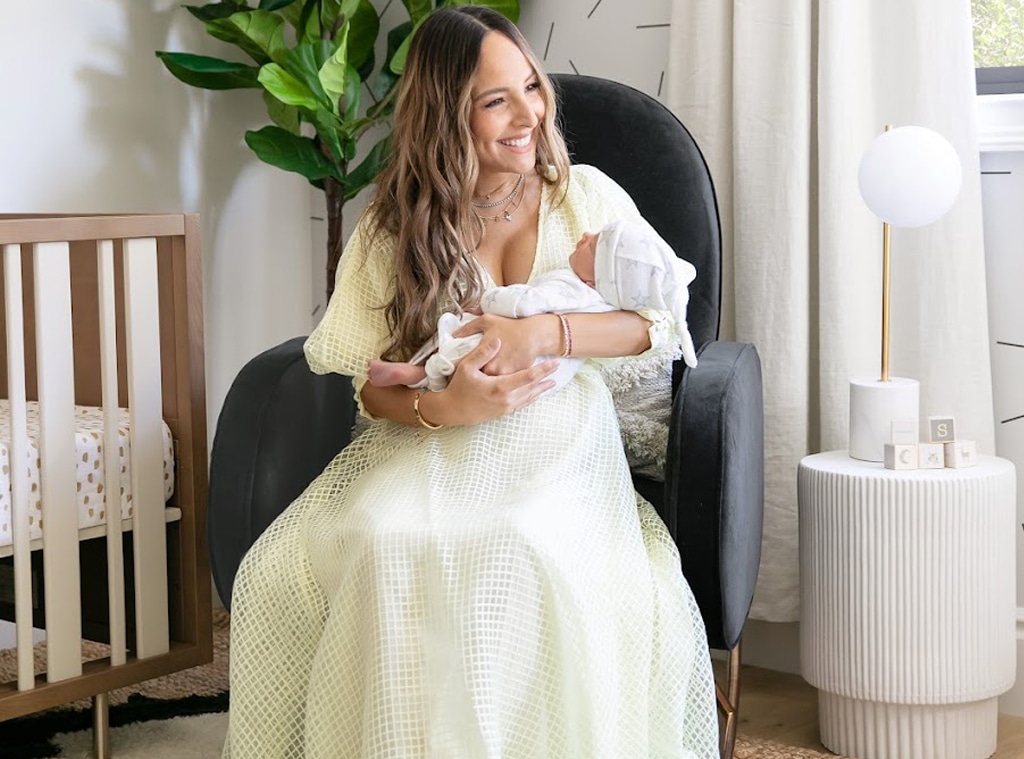 Courtesy of Pottery Barn Kids
We interviewed Lilliana Vazquez because we think you'll like her picks. The products shown are from a brand she is paid to endorse.  E! has affiliate relationships, so we may get a commission if you purchase something through our links.  Items are sold by the retailer, not E!.
E! News shoppers can always rely on Lilliana Vazquez to share on-point gift recommendations and personal insights on products she loves. Now, the E! personality is dishing on the nursery she and her husband Patrick McGrath designed for their son Santiago along with Pottery Barn Kids. Of course, our resident fashion expert incorporated elements of her personal style into the design, explaining, "The nursery is just as much for the parents as it is for the kids, especially when the kids are still so little. I think a nursery should just be an extension of the other spaces in your home."
The new mom said, "I could take any piece in nursery and put it in my living room and it would completely work. I could put the crib in my master bedroom and it would look incredible. If you can take those pieces and put them in the rest of your house that is an extension of you and your partner. That's an extension of how you live. That's what I think so special about this space."
Specifically, she created a room that "feels warm, inviting, and comfortable," adding, "I think sometimes it's easy to think the nursery is temporary. He's only in there until he transitions into a toddler bed. I wanted a room that you wouldn't have to worry about changing in two years or four years. To me, this is a design that we are committed to and I'm so thankful to their team. They were just so wonderful to work with. We created it together."
Liliana elaborated on her design philosophy and the Pottery Barn Kids pieces that she selected for Santi's room in an exclusive interview with E! News.
Courtesy of Pottery Barn Kids
E!: You didn't know the sex of the baby until he was born. How did that factor into your interior design decisions?
LV: When it comes to interior design, I feel that it is a reflection of your personal style and really just an extension of that. I just feel like it would be rare to walk into someone's home and think that this doesn't align with how they dress.
I feel like so many factors that play into how I get dressed are the same as how I design my home. The only difference, and the biggest challenge of the nursery, was that I didn't know the sex of the baby. But, I will say that not knowing actually ended up being such an advantage because I felt like I had more options. I feel like it definitely opened up the possibility to expand into different color palettes and to lean into different overall themes and designs that were really unexpected. That's what allowed something so beautiful to happen in the space.
I think not knowing the sex was a real advantage to me and the Pottery Barn team. It really opened up the possibilities to lean into unexpected themes and color palettes. We created more of 'a feeling' than a theme and I think that's why I love it so much and why he fits in with it so beautifully. We were just going for something that was really happy, warm, and inviting that he would love.
E!: What were some of the important aspects you wanted to incorporate into the nursery design?
LV: I wanted a space where my husband and I could spend a lot of time together and be really comfortable. That's what we ended up creating there. 
The other thing that was really important to me as well was culturally. I wanted my son to know how important our culture is. To me, obviously I'm half Mexican and I'm half Puerto Rican. I wanted to incorporate an element of that. I choose a piece of art that could really incorporate who I am. There's an Otomi textile that hangs right above his crib. That was gifted to me by mom. Otomi is this very timeless Mexican tradition. It gets passed on generation to generation and I love the look of it, but I also like that my mom gave it to me and it hangs above him. It's almost like it's protecting him and she's almost watching over him.
Courtesy of Pottery Barn Kids
E!: What do you love about Pottery Barn Kids?
LV: You start with the most stylish pieces even though it's Pottery Barn Kids. I'm 41 and there are pieces in his nursery that I would totally steal. There are pieces in there that will not only grow with him, but they're just so elevated, stylish, and sophisticated, and at the same time, they're designed with intent to fit a beautiful nursery or a beautiful child's room.
Often times we underestimate the design for child or the design for a baby. It doesn't have to be that different from how you design a space for yourself. It doesn't have to be 'kiddy.' I love how they have things that are obviously Greenguard Gold Certified. As a parent, you feel really safe about the product and textiles you're putting in the room, but also these elements reflect your personal style and design aesthetic. I'm having a baby at 41. I'm pretty set on how I want the spaces in my home to look. When I look at Pottery Barn Kids, I think 'I want that in my master bedroom.'
I think there's something for every taste and every age. I can also say that I appreciate the convenience of shopping on the website having everything delivered to your house. You can do so much on the website. Not only can you order something for your nursery, but you can also have everything customized. 
Courtesy of Pottery Barn Kids
Keep on scrolling to learn more about Santiago's nursery and the Pottery Barn Kids items that Lilliana and Patrick selected for the special space. 
Pottery Barn Kids Nursery Works Novella Convertible Crib
The E! personality shared, "The crib is one of my favorite pieces in the room. I knew I wanted something that was really elegant. I knew I wanted something with mixed tones. I knew all of that. That is a really central focus point of the room."
She explained, "The crib transforms into a bed for him. All of these pieces are investments because they are built to last and they are just beautifully designed."
West Elm x Pottery Barn Kids Timo Corner Daybed
"One thing that I underestimated was how much time you spend in that space," the new mom admitted. She elaborated, "We wanted a space where my husband and I could spend a lot of time comfortable. We incorporated pieces like that beautiful daybed, which is not only a gorgeous piece, but it's also great to be able to nap on."
She revealed, "When I came home from the hospital, I had a C-section, I slept in the daybed because I wanted to be close to him. But, also the daybed was so easy to get in and out of post-surgery. Even just from simple standpoint of coming home from the hospital and feeling comfortable, that was so welcoming. I also love that the daybed is Greenguard Gold Certified, so it creates this cleaner air. It has organic bedding too, so I knew that it was the perfect place for me to recover and also to take care of my newborn." 
Pottery Barn Kids Acrylic Wall Shelf
Lilliana shared, "Reading is such an important part of my life and a big part of Patrick's life. That's something that we want to pass onto Santi, so we really wanted to build a library for him in his room so there's no escaping the books. We used these beautiful Pottery Barn acrylic wall shelves to create a beautiful book wall that reflects our commitment to learning and creates so much color and vibrancy to the room. Any little kid would be naturally drawn to that corner. He's too little right now, but this is a nursery that's going to grow with him. That's what's so special about Pottery Barn Kids is that they give you a room that your child can grow into."
"With those Pottery Barn acrylic shelves, the books feel like art in the space. It looks like we created a gallery wall of space and that's what it is. A lot of those books are available from Pottery Barn Kids, but I didn't even have a registry. I asked my friends and family to send us their favorite kids books. We told everyone 'don't buy the baby anything, just send me your favorite books,'" Lilliana said.
Pottery Barn Kids Nursery Works Compass Rocker
"I knew that I wanted a really beautiful chair in the space. I remember being pregnant with him and I couldn't think of a more beautiful moment than to be nursing him in the nursery on a chair, so the chair was really important to me," Lilliana recalled, "I wanted a chair that really reflected who I am as a person, someone who has 'this type of taste' or 'this type of style.'"
She added, "It is so comfortable, I literally can sleep in the chair. If you look at it, it has these beautiful kind of sculptural lines and it almost looks like a vintage piece in the room. But, also, it's black. It's a really bold statement and it has rose gold legs. When I saw that, I was like 'this is it.' This chair is who I am in a furniture piece and this is where I want to raise my son and spend time with him."
Pottery Barn Kids Colca Plush Rug
"We have some beautiful pieces in the room, a gorgeous rug, the textures of the fabrics, all of that just came together to create this cohesive, beautiful space for Santi," Lilliana shared.
Pottery Barn Kids Dawson Extra-Wide Dresser & Topper Set
"Pottery Barn just so easy to shop and everything is truly built to last. These are not furniture pieces that i am buying temporarily. His dresser/changing table is something he's going to have when he's ten years old." 
Pottery Barn Kids Organic Muslin Baby Blanket
"We had a blanket customized for him. You can do that on the Pottery Barn Kids website. They have something for every personality," Lilliana said.
Pottery Barn Kids Acrylic and Metallic Nursery Storage
Stay organized with these acrylic nursery storage containers. There are handles for easy transport and clear acrylic baskets for visibility.
Pottery Barn Kids Brushstroke Dot Organic Crib Fitted Sheet
These brushstroke-print sheets have an artistic look and so soft feel. It's hypoallergenic and GOTS Certified to be safe from chemicals and synthetics. There are four different colors to choose from. 
Pottery Barn Kids PBK Neutral Blocks
These blocks are made from solid beech wood and finished with child-safe, water-based paint. You can take comfort in knowing these toys are BPA, Phthalate, and Lead-free.
Pottery Barn Kids Plan Toys x pbk Bunny Stacker
These toys will help your little one develop cognitive skills and dexterity as they stack these adorable bunnies.
Pottery Barn Kids Tiger Cuddle Plush