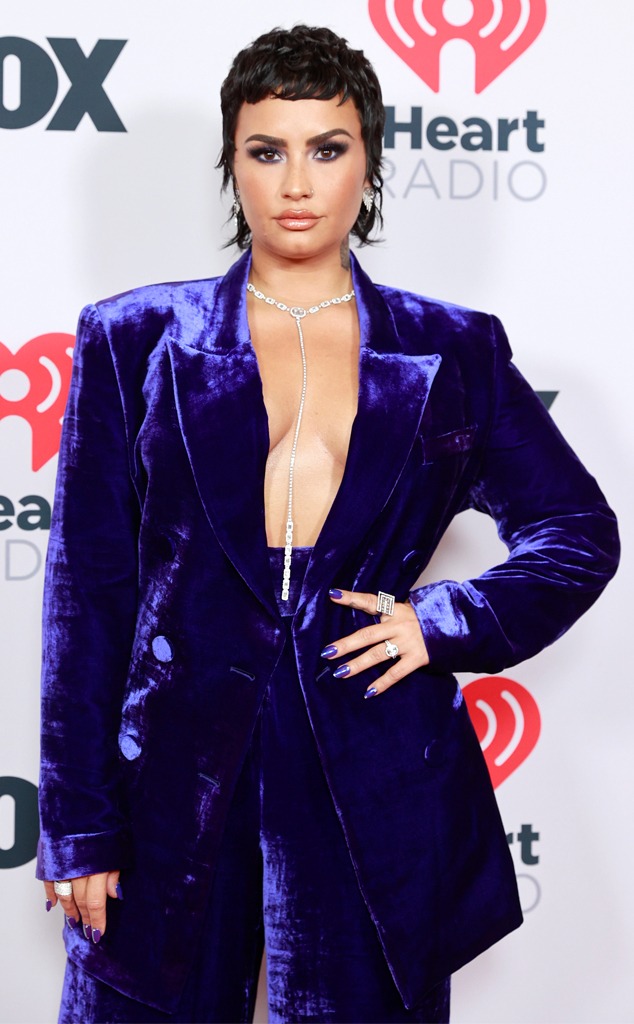 Emma McIntyre/Getty Images for iHeartMedia
In 2011, Demi Lovato stood tall as they sang of their own strength and resilience in "Skyscraper," a message about the immovability and majesty of a steel-frame structure rising from nothing resonating loud and clear.
A decade later, that tower has been torn down and built up a few times, and continues to undergo extensive renovations. But there it stands, Lovato now 29 years old and having just turned the page on a year that brought them to a new level of honesty, self-reflection and creative inspiration. And the view from up there is looking pretty damn good.
"This last year provided me so much self-growth and was so beneficial to my spiritual evolution," Lovato told The New York Times in April, pointing to their Aug. 20 birthday as a particular turning point. 
Not that the climb didn't have its harrowing moments.
"It's interesting that it took me a quarantine to work on this trauma stuff. I'd never really taken the time to dig deep and do the work," Lovato said in the 2021 documentary Demi Lovato: Dancing With the Devil, the first in-depth look at what led up to their 2018 fentanyl overdose and the aftermath of what was a closer brush with death than most people realized. 
Having spoken candidly about addiction, self-harm, eating disorders and having bipolar disorder in the past, it was difficult to fathom at first what more there was to share.
As it turned out, there was quite a bit.
Watch:
Demi Lovato Reflects on Their Yogurt Controversy
For starters, the July 24, 2018, overdose—four months after Lovato celebrated six years of sobriety in front of an adoring concert audience—came a couple weeks after they realized they had become "physically dependent" on heroin, having fallen off the wagon in April and then trying heroin and crack cocaine for the first time two weeks later.
Not that the realization led to anything other than more heroin use, culminating in a binge of drug use starting the night of July 23. Jordan Jackson, Lovato's assistant at the time, found his boss unconscious in their bedroom the next morning.
While family, friends and fans breathed a collective sigh of relief when Lovato woke up, the singer revealed in Dancing With the Devil that they were considered legally blind in the wake of all the trauma they'd suffered. "I had three strokes, I had a heart attack, I suffered brain damages from three strokes," Lovato explained. "I can't drive anymore and I have blind spots in my vision, so sometimes when I go to pour a glass of water, I'll like, totally miss the cup because I can't see it anymore. I also had pneumonia 'cause I asphyxiated and multiple organ failure."
In addition to getting back in the studio, doing a social media cleanse (no more notifications, who needs 'em), starting a meditation practice and other steps taken to feel better inside and out, Lovato also set about expunging toxic influences from their life.
"I kind of used to have this mentality that if I had negative experience with someone I always needed to mend it or I always needed to make things right," Lovato said in April 2020 on Jameela Jamil's I Weigh podcast. "I'm not really friends with any of my exes today because I had to realize that that wasn't healthy either. Trying to maintain close friendships with some of my exes just isn't realistic."
"I was afraid of fully letting go of people," they continued. "And now that I've been able to fully let go out of people, that was another thing that I've had to learn when it comes to combing toxic people out of your life. If they're an ex, it's for a reason."
Rich Fury/Getty Images for OBB Media
Wilmer Valderrama, whom Lovato dated for the better part of six years before their ultimate breakup in 2016, always remained a friend, visiting his ex in the hospital after their overdose and remaining part of their support system. But that all appears to be in the past, too, especially since the NCIS star got engaged to Amanda Pacheco. They welcomed a daughter, Nakano Oceana Valderrama, in February.
"I'm really happy for him and I wish him nothing but the best, but we're not in each other's lives, haven't spoken in a long time," Lovato told Harper's Bazaar of Valderrama last year. "But I think I needed that because I needed to learn to be okay on my own. When you get into a relationship with somebody at that young of an age and then you spend six years with somebody, you don't really get to learn about yourself."
Hindsight and hard-earned wisdom aside, Lovato was still up for the idea of a fairy-tale romance, getting engaged to Max Ehrich last July, just a few months after they fast-tracked getting to know each other by deciding to quarantine together early on during the COVID-19 pandemic.
Two months later, the reality that they didn't know the Young and the Restless actor all that well reared its head, and Lovato called the whole thing off.
Opening the 2020 E! People's Choice Awards in November, the freshly platinum-blonde singer told the audience, offering up a little pandemic humor, "I am so excited to be here tonight because honestly, this year has been the longest three years of my life. Don't get me wrong, it started out amazing."
They continued, "I performed at the Grammys and sung the National Anthem at the Super Bowl. But then COVID hit and everything shut down, so I did what everyone else did, I went into lockdown mode and got engaged. I also didn't know this could happen, but reached the end of Instagram four times. I binged seven seasons of Pretty Little Liars, got unengaged, then went looking for aliens in the desert [for the upcoming Unidentified With Demi Lovato on Peacock], so basically the same as everyone else."
Ehrich didn't care for that one bit, writing in the comments section of an unrelated picture Lovato posted on Instagram, "Exploiting our breakup for clout at PCA is not chill...stop talking about me on award shows. Thanks."
And yet, when he dropped his new single "Afraid" that October, he told Billboard, "I recorded this song as I was falling in love. It speaks of all the emotions that I was going through at that time... It's beyond fulfilling to be able to release these feelings in a song."
To which Lovato could have replied, "Stop using our relationship to sell records, OK, thanks" (but, for the record, did not).
In December, they wrote on their Instagram Story, "The best part about being single is knowing that my happiness is coming from no other person than myself."
Kevin Mazur/Getty Images for The Recording Academy
In the meantime, Lovato was starting to drop new music leading up the documentary, which premiered at SXSW before it landed on YouTube in March, followed by the release of their seventh studio album (and first since 2017's Tell Me You Love Me), Dancing With the Devil...the Art of Starting Over, on April 2.
Not a whole lot of detective work was needed to get to the meaning behind songs such as "Anyone," recorded four days before their overdose and impossible to hear later as anything other than "a cry for help," Lovato told Zane Lowe on New Music Daily. "I remember being in the hospital and listening to the song. I just remember hearing back the songs I had just recorded and thinking, 'If there's ever a moment where I get to come back from this, I want to sing this song.'"
Which they did, in their revelatory performance at the 2020 Grammys, barely two months before the world shut down.
Meaningful tracks that came to fruition in the wake of their recovery included "ICU (Madison's Lullaby)," a nod to their beloved little sister and waking up in the hospital unable to see her, the person they most wanted to see; "Met Him Last Night," a collab with close friend Ariana Grande; and "What Other People Say," featuring Australian singer Sam Fischer.
But transparency was always Lovato's intention, the veteran performer—who started out as one of the enthusiastic bunch on Barney & Friends when they were 9 years old—not being one to hide their heart when there's a perfectly good sleeve at the ready.
Nor do they shy away from sharing the raw truth of a situation, such as their admission in Dancing With the Devil that even almost dying didn't mean they never used again.
"I wish I could say the last night that I ever touched heroin was the night of my overdose, but it wasn't," Lovato said in the film. "I had just done a week-long intensive trauma retreat. The night that I came back from that retreat I called [my dealer]. I wanted to rewrite his choice of violating me." (In the movie, Lovato alleged that they were also sexually assaulted that night and implicated the unnamed dealer.)
"I wanted it now to be my choice," they continued. "And he also had something I wanted, which were drugs. I ended up getting high. I thought how did I pick up the same drugs that put me in the hospital. I was mortified at my decisions."
Lovato said they hadn't done hard drugs since. But, they added, "I've learned that shutting the door on things makes me want to open the door even more. I've learned that it doesn't work for me to say 'I'm never going to do this again.' Telling myself that I can never have a drink or smoke marijuana, I feel like that's setting myself up for failure, because I am such a black-and-white thinker."
Walking the fine line of moderation when it comes to substance use is only one of the journeys Lovato has been on lately.
"When I started getting older, I started realizing how queer I really am," they said in Glamour's March cover story. "This past year I was engaged to a man, and when it didn't work, I was like, This is a huge sign. I thought I was going to spend my life with someone. Now that I wasn't going to, I felt this sense of relief that I could live my truth."
"I hooked up with a girl and was like, 'I like this a lot more.' It felt better. It felt right," Lovato continued. "Some of the guys I was hanging out with—when it would come time to be sexual or intimate, I would have this kind of visceral reaction. Like, 'I just don't want to put my mouth there.' It wasn't even based on the person it was with. I just found myself really appreciating the friendships of those people more than the romance, and I didn't want the romance from anybody of the opposite sex."
Lovato also told Lowe last year that they hoped to start a family sometime in the 2020s—though what that scenario looks like is for fate to decide.
"I don't even know if I see it with a man or a woman, but like I just know that at some point, I would love to do that this decade," they said. "I would love to start doing more things that make me happy and worry less about success."
Having talked in the past about being open to relationships with both men and women, in May Lovato came out as nonbinary with the preferred pronouns of they/them.
In a July 13 post, they acknowledged that the new pronouns were a change it might take some people time to get used to—and they wouldn't take it personally if an errant "she" or "her" slipped out.
"If you misgender me—that's okay," Lovato wrote. "I accidentally misgender myself sometimes! It's a huge transition to change the pronouns I've used for myself my entire life. And it's difficult to remember sometimes!...As long as you keep trying to respect my truth, the shift will come naturally. I'm just grateful for your effort in trying to remember what means so much to my healing process."
In a conversation just yesterday during The 19th Represents Summit, Lovato said, "For me, healing is the catalyst for everything. For every decision that I make in my life, I ask myself, is this going to help my healing process while I'm here on earth? Because I believe in reincarnation, I believe in the fact that we're supposed to learn all of our lessons while we're here, so we don't have to do it again, so I always act out of what is going to be the most healing for me."
When they got involved with Ehrich last spring, Lovato explained, "that was great, but that led me to ignoring all the parts of myself that I didn't think were digestible for my partner at the time, who ended up becoming my fiancé. And I mean, in hindsight, the dissolvement of that relationship was actually probably the best thing that's happened to me, because of what that led inside of myself...I was able to stand on my own two feet without needing someone else to validate me or to make me feel accepted. And when I said goodbye to that relationship, I also said goodbye to everything that was holding me back from being my most authentic self.
"And I really started to identify with close friends and family as non-binary towards the end of last year. And yeah, it was the dissolvement of all things that had held me back from identifying as the person I do today."
The New Mexico-born, Texas-raised artist has also leaned back into acting, appearing last year in an arc on Will & Grace's second go-round as dad-to-be Will's surrogate and joining the cast of the upcoming NBC series Hungry. 
All of which has come with new challenges, such as harnessing the confidence to shoot a sex scene for the first time.
"I had a little anxiety going into it but the cast and crew were so professional and easy to work with, it calmed me down immediately," Lovato shared on Instagram. "Then, I thought about how proud I am for being able to feel comfortable enough in my skin to do that."
The network-appropriate scene "barely shows anything BUT STILL," they added, concluding, "I don't always feel good in my skin, so when I do, AND I feel sexy enough to post - I do just that! It's important to celebrate the little wins. Yay for this random burst of body confidence and yay for awkward hilarious sex."
Yay for confidence (nothing wrong with that), candor and what we hope will be Lovato's healthiest, happiest year yet.