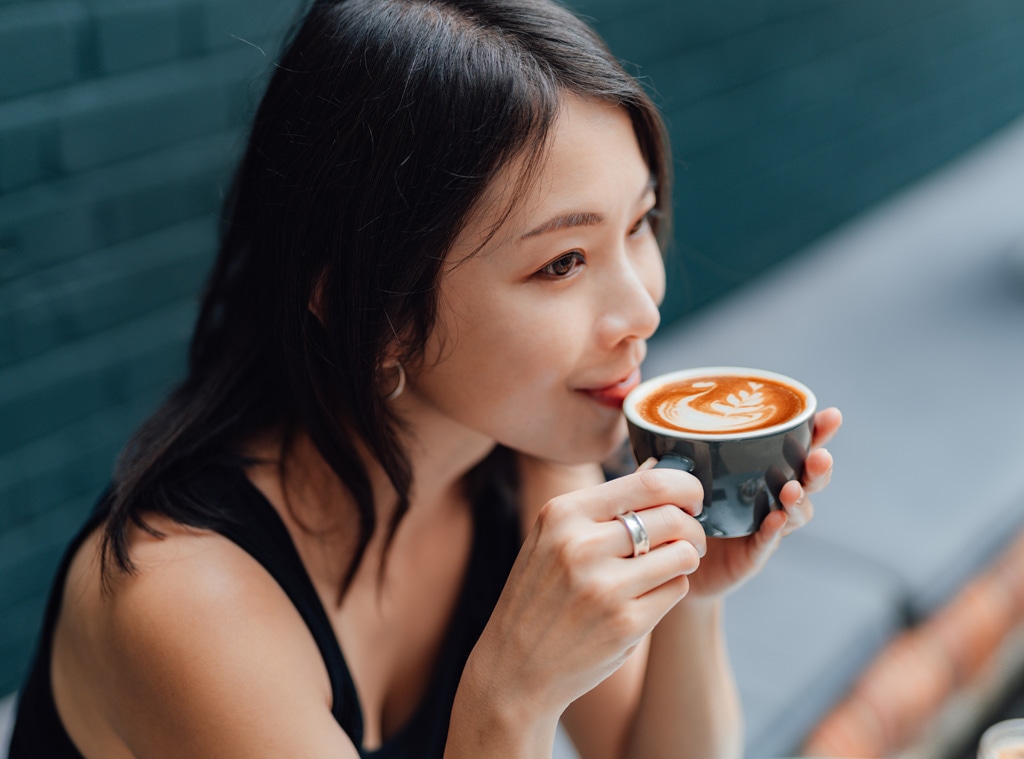 Oscar Wong
We independently selected these products because we love them, and we hope you do too. Shop with E! has affiliate relationships, so we may get a commission if you purchase something through our links. Items are sold by the retailer, not E!
Mornings can be rough.
Whether you're a morning person or like to sleep in, there's no denying that a cup of coffee is an essential part of getting your day started, especially if you're like us and stay up way too late scrolling on TikTok. Since we work from home, our mornings consist of walking from our bed to our dining room table to start work. Pretty exciting stuff, right? In an effort to break up the monotony of our mornings, we recently decided to switch up our routine by investing in ourselves and elevating everyday pleasures like making coffee.
Not only does romanticizing your morning cup of coffee force you to slow down and enjoy it, but it can save you money in the long run and set you up for a positive and productive day.
So, if you're wondering how to do it, we rounded up our favorite coffee blends, mugs and accessories to make an ordinary cup of coffee that much more special and rewarding!
Aesthetically Pleasing Coffee Mug
A cute mug can elevate a boring cup of coffee in an instant.
Soremo Design Pink Colored Ear Glass Mug by TreceCielos
Even if your coffee is plain, this colored ear glass mug will make it Instagram-worthy. Plus, it's safe for the dishwasher and microwave.
JoyJolt Savor Double Wall Insulated Glasses Mugs - Set of 2
Not only are these mugs so chic, but they are double-walled to keep liquids hot or cold for a longer period of time.
Flavorful Coffee
Coffee doesn't have to taste like dirt. It should awaken all the senses!
Social Dog Blend - Coffee Bag
We trust any and all recommendations Emma Chamberlain gives her fans, especially when it comes to coffee. In 2019, the social media star took her love for coffee to the next level by creating her own coffee company. The Social Dog Blend is one of our favorites as it offers a unique combination of flavors including notes of milk chocolate, roasted peanuts, brown sugar and a graham cracker finish. In a rush? Grab a box of the single-serve steeped bags for a flavorful cup on the go.
Rose Cacao SuperLatte
If you love the energy coffee provides but hate the taste or get the jitters, you have to try Clevr Blends SuperLattes, specifically the Rose Cacao flavor! Each serving is packed with good mood-inducing, health-conscious ingredients like regenerative cacao, organic rose petals, vegan creamer and organic probiotics. It tastes amazing, too!
Coffee Makers
You could buy a canned coffee from the grocery store, but whipping up your own caffeinated creation will allow you to make it just the way you like it. There's nothing worse than starting off your day with the wrong coffee order.
Caffettiera French Press
We know it might be a dated method for some, but we love how this french press allows you to get the most flavor out of your cup of coffee. Plus, this lavender color is so fun!
Keurig K-Mini Single-Serve K-Cup Pod Coffee Maker
A pink coffee maker will instantly boost your mood in the morning. We love how this one is compact (perfect for small spaces), gives you one cup and doesn't leave you with excess coffee or a huge mess.
Accessorize Your Cup of Coffee
It's all in the details!
Flower Sprinkles
If you really want to upgrade your morning cup of coffee, just add some of these edible flower petals. No more paying for an overpriced, Instagram-worthy latte at a café when you can make one at home.
ALINK Glass Straws - Pack of 8
For iced coffee drinkers, straws are a must! These clear glass straws will not only help you reduce your plastic waste, but they are easy to clean.
Gold Plated Stainless Steel Espresso Spoons - Pack of 8
Stir your coffee with purpose and style! These gold plated spoons will add a nice touch to your morning set-up.
Marble Coasters White - Threshold™ - 4-Pack
Put your morning coffee on the pedestal it deserves! These marble white coasters will protect your table from water rings and make the experience seem more luxe.
The Five Minute Journal: A Happier You in 5 Minutes a Day
Challenge yourself to set aside enough time to make an aesthetically pleasing cup of coffee and anchor yourself into a place of gratitude before you look at your inbox or hop on your first Zoom meeting. This journal provides daily guided gratitude exercises to empower you to take on the busiest of days! It only takes five minutes, so sip away and gain some optimism!