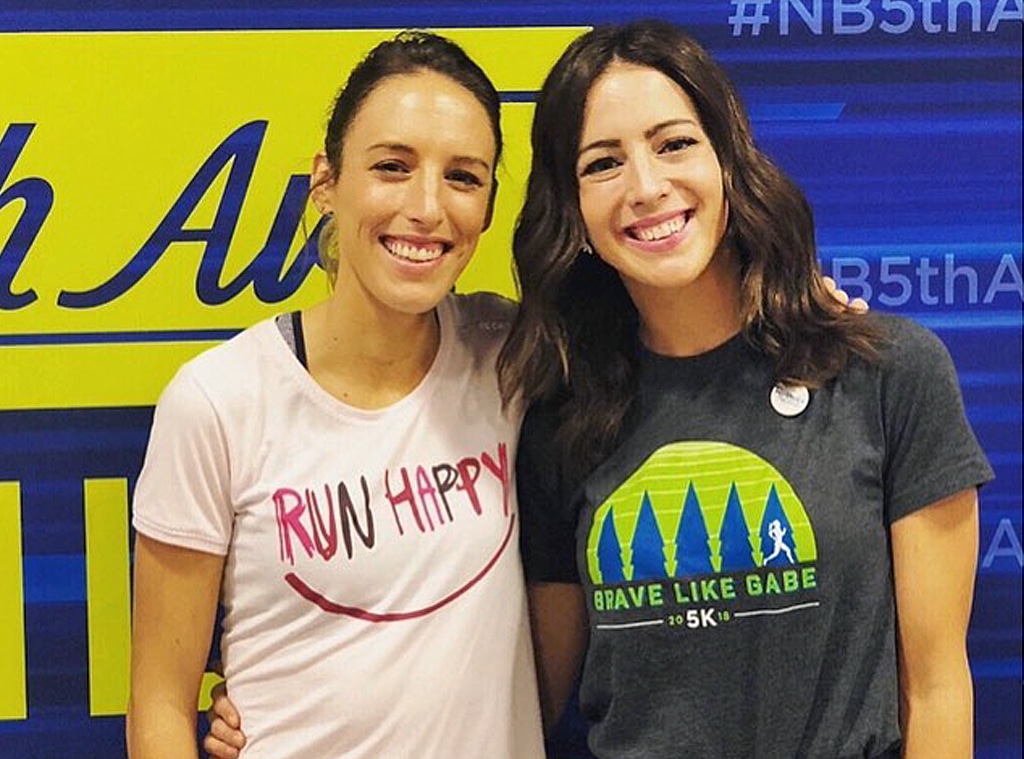 Instagram
Gabriele Grunewald's family is mourning the loss of another daughter. 
Two years after the professional runner died of cancer, her sister Abigail Anderson was reportedly hit and killed by a suspected drunk driver. 
According to WCCO local news, the 29 year old was hit by a car while walking near a soccer stadium in Falcon Heights, Minn., on Aug. 14. The Ramsey County Sheriff's Office told the outlet that a truck hit a parked car, which then collided with a woman later identified as Abigail. The truck reportedly made a U-turn, "running over the victim a second time while attempting to flee the scene," WCCO reports.
She later died at Regions Hospital, according to the outlet.
The driver's identity has not yet been revealed, but police told WCCO that the suspect is in custody and has had their blood drawn for tests.
Gabriele's husband, runner Justin Grunewald, confirmed his sister-in-law's death in a heartfelt Instagram post on Aug. 16.
"You were and are Gabriele's best friend, you are the best third wheel ever, you are such an incredible little sister," he wrote. "A part of me is happy you are with Gabriele. I was hoping maybe you'd give it another 50 years before going to visit her."
Justin, 35, went on, "I'm sorry I always gave you the hard big brother advice, I always wanted more out of you. In the end though, you were the perfect version of yourself."
He also said he was glad Abigail "found a great guy" in her partner Peter and that she was "happy with life as an amazing nurse."  Abigail, also a runner, was additionally interested in art, he said. 
He remarked, "You were creating your own legacy while elegantly carrying on your sisters."
"I'm so sorry you are gone," Justin concluded. "I'm praying I wake up tomorrow and this is just a bad dream and we can meet for coffee or beers later this week."
Peter commented on the post to say, "Thanks Justin [praying hands emoji] beautiful tribute."
Her passing marks the second tragedy for the Anderson family in recent years. Gabriele, known as Gabe to her loved ones, died in 2019 at age 32, about a decade after she was diagnosed with adenoid cystic carcinoma.
Abigail called her "the most beautiful person I'll ever know," and helped keep her memory alive through the Brave Like Gabe Foundation, which advocates for rare cancer research. 
In honor of Gabe's birthday this year, Abigail wrote in a tribute post on Instagram: "I don't know what to really say on a day like today... I see the visible absence of your presence more now than ever."
She continued, "Last year I was still swimming in a sea of deep dark grief. Now I am bracing the surface only to welcome a sight of an everlasting horizon. I am never going to see your land again. You don't exist there anymore. Instead, I am realizing what life really looks like without you in it. I am starting to see the sculpture of molding life around your absence unravel," adding, "There is no silver lining- just a glowing horizon to brace."  
E! News has reached out to the Ramsey County Sheriff's Office and Medical Examiner's Office.