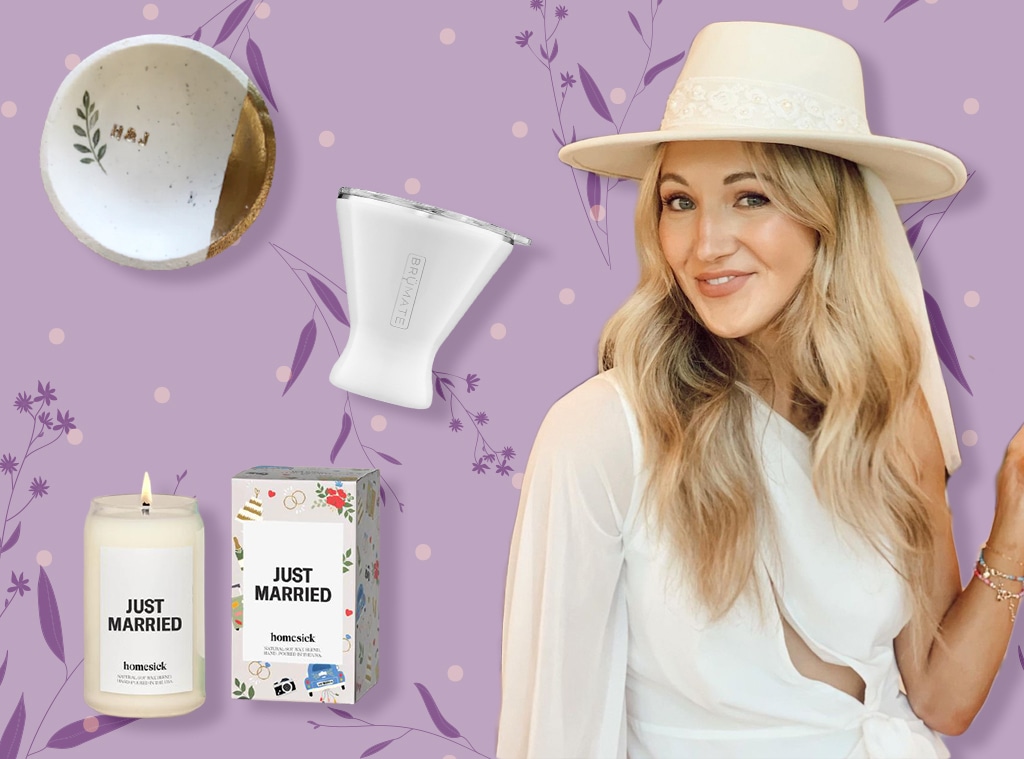 E! Illustration
We interviewed Nicole Pellegrino because we think you'll like her picks. E! has affiliate relationships, so we may get a commission if you purchase something through our links. Items are sold by the retailer, not E!.
Your best friend just got engaged and now it's time to celebrate. Before the wedding, there will be plenty of opportunities, including a bridal shower, a bachelorette party, and an engagement party. Even if there's not an engagement party, you probably want to get a gift for the happy couple. But, what do you do if they just got engaged and they haven't even registered for gifts yet? Before you freak out, take a breath and some advice from Nicole Pellegrino, Betches Senior Marketing Manager and Betches Brides podcast host 
We turned to the wedding planning expert for her engagement gift suggestions and she came through with some thoughtful picks and some witty commentary, of course. Keep on scrolling to check out her list.
Framed Sentimental Item
"This one's sure to win you bonus points as the 'thoughtful friend.' Whether it's matchboxes from their favorite restaurants, a photo of the couple, or a meaningful print, Framebridge makes it super easy to frame pretty much anything," Nicole explained. 
Homesick Wedding Collection Bundle
"'I don't like candles,' said no one ever. With a 'Bride's Bouquet,' 'Black Tux,' and 'Just Married' themed candle, this set is perfect for setting the cozy at home vibe as a newly-engaged couple," Nicole said.
Tiffany & Co. Diamond Point Champagne Flute Set
Nicole shared, "Although a pricier option, you can't go wrong with these as an engagement gift. They're classic and timeless, and Tiffany's has a variety of fonts to choose from for engraving the glasses. Bonus points if the couple can use them for their wedding-day toast!"
Betches Brides Matching Couples Crewnecks
"Everyone knows that getting engaged is the best way to get your significant other to wear matching outfits with you. Betches Brides has 'Bride Est. 2022' and 'Groom Est. 2022' crewnecks, making the perfect gift for the happy couple to wear to all of their pre-wedding appointments and festivities and beyond."
Brumate Margtini Gift Set
"This one's perfect for the cocktail-loving couple. Brumate has a variety of gift sets you can customize with insulated drink-ware, so the happy couple can keep their martinis and margs chilled for hours," the Betches Brides host said.
This bundle includes two Margtini tumblers and a shaker.
Personalized Ring Dish
Nicole jokes," Did you really even get engaged if you don't receive a ring dish as a gift?" She explained, "No but really, there's a reason these are such a popular gift: the couple is guaranteed to get use out of them. Just make sure they haven't already received seven others before you buy them one."
Paper Source Personalized Stamper
Nicole insisted," Although not the most glamorous gift, I promise you the newly engaged couple will get so much use out of this. Paper Source makes personalized address stampers with a variety of custom stamp options to choose from, so you can save the happy couple some time with all of their save the dates, invitations, and thank you's."
Custom Print
"If one thing's for certain, engaged couples love custom sh-t on their walls. There's plenty of options out there for unique custom prints, such as a funny inside joke or a saying on a restaurant guest check from Chicago-based small shop, Laundry Room Studios."
Betches Brides Wedding Planning Notebook
"Once the happy couple gets down from their engagement high, they're going to want to take a break from partying to start planning," the bride-to-be explained, "This is the perfect way to help them stay organized with all of their wedding planning notes."
The Mrs. Box
Nicole shared this pro tip: "Brides often forget about the fact that they need to have a ring box for the big day, so you might as well help them check this one off the list and get a beautiful custom one for them. The Mrs. Box comes in 44 different colors and a variety of customization options to choose from, and looks great in those day-of wedding suite photos."
Date Night Gift Card
"OK I know 'gift card' isn't a revolutionary idea, but hear me out. The newly-engaged couple is going to be spending a lot of time and money on their wedding, so for them to have money specifically for a date night is key. Whether it's a gift card to their favorite restaurant or even just a plain prepaid gift card, they'll be extremely happy and grateful."
Custom Vinyl
"This one's for the music-loving couple. Who knew you could literally create a vinyl record using the couple's photos and favorite songs? There's a ton of sites that make these, such as Vinyley or American Vinyl Co."
Betches Brides Husband and Wife Beach Towels
"Did I mention couples love a matching moment? With these 'Husband Est. 2022' & 'Wife Est. 2022' beach towels, they can continue matching all the way to the honeymoon and beyond."
If you're looking for more wedding content, check out these wedding favors that your friends won't throw out.