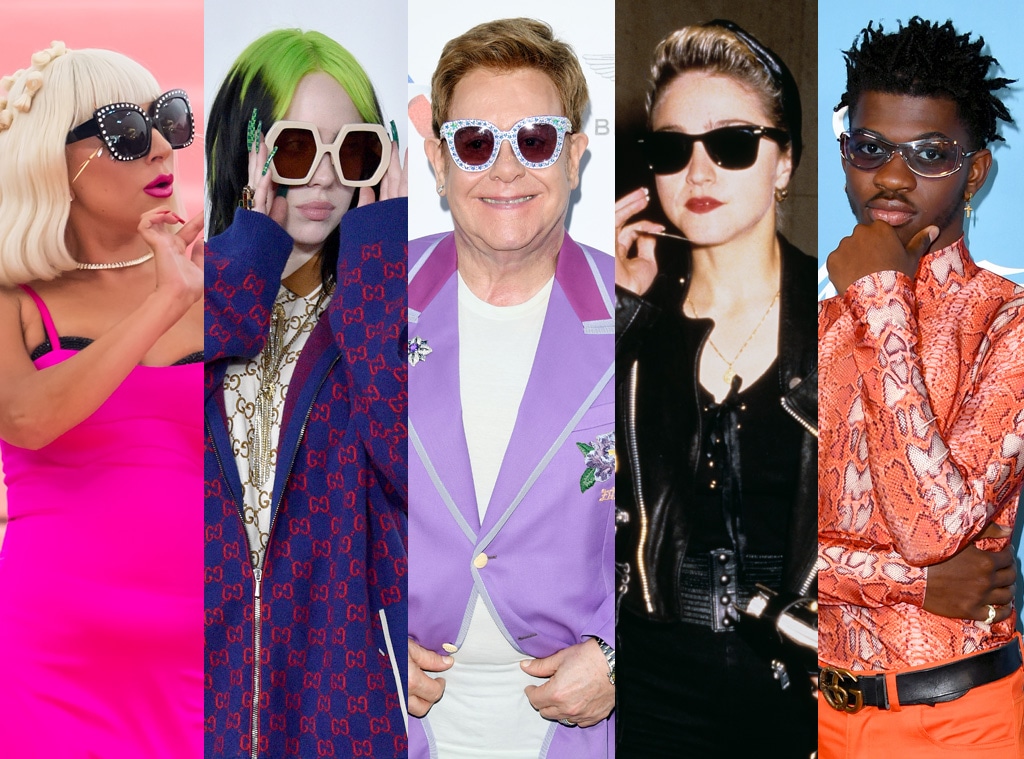 Daniele Venturelli/Daniele Venturelli/Getty Images/Gilbert Carrasquillo/GC Images/Gregg DeGuire/FilmMagic/Vinnie Zuffante/Michael Ochs Archives/Getty Images/Jon Kopaloff/Getty Images
We interviewed Zanna Roberts Rassi because we think you'll like her picks. Some of the products shown are from a brand Zanna is paid to endorse. E! has affiliate relationships, so we may get a commission if you purchase something through our links. Items are sold by the retailer, not E!.
If anyone knows about fashion trends it's Zanna Roberts Rassi. The E! correspondent has an encyclopedic level of knowledge on all things style and pop culture. She teamed up with Sunglass Hut to celebrate the company's 50th Anniversary this year, remarking, "Sunglasses have been such a part of our lexicon and have created so many icons over so many years. It is quite fascinating."
She also dished on the best eyewear looks from each decade and the most iconic sunglasses moments in pop culture history in addition to sharing styling tips that are truly timeless.
E! Who has made the biggest impact on sunglasses styles overall?
ZRR: Al Pacino in Scarface with the glasses that had the white line at the top and the big, big tinted frames. Think about Keanu Reeves in The Matrix, which was basically what Gigi and Bella Hadid  are doing today. One of my favorite all-time references is Thelma & Louise, the cat-eye sunglasses with the headscarf on. Just iconic. You could so see a Dua Lipa rocking that today. 
Aside from discussing her favorite fictional sunglasses moments, Zanna shared her real-life sunglasses icons. Flip through the gallery to see some of the most memorable sunglasses moments, according to Zanna.
Melodie Jeng/Getty Images
E!: Give me the elevator pitch for why people should put more thought into their sunglasses selection.
ZRR: People put so much effort into jewels, bags, and shoes. But, if you think about the amount of real estate that a pair of sunglasses takes, it's the biggest statement you can possibly make. Why wouldn't you do it in a really considered, stylish way? Think about the practical side as well. You're obviously saving your eyes. The health benefits of wearing sunglasses are incomparable to not.
E!: Are there any sunglasses trends or style that have stood the test of time?
ZRR: I would say a classic, smallish black pair, specifically the Ray-Ban Clubmaster.
Ray-Ban RB3016 Clubmaster Classic
"If you think about the Ray-Ban Clubmaster, it's one of those styles that is kind of inconspicuous," Zanna shared, elaborating, "Think about Tom Cruise in Rain Main. He wore them there. Or you've got Beyoncé wearing them today and Bruce Willis in Moonlighting. A simple black lens isn't a statement, but it's just a classic and you can't go wrong."
Zanna recalled, "Sunglasses became such a focal point in fashion when music stars started wearing them on the red carpet. Trying out these fun looks, sometimes centered around a pair of sunglasses, became so much more acceptable, on the red carpet and in life." The style expert reminisced about some of the most iconic sunglasses moments and trends from each decade of Sunglass Hut's existence.
The 2020s: Versace VE2198 x SGH 50 Limited
"We are in a return to glam," Zanna declared. She added, "I'm loving the idea of something that feels just a little bit warm, those bigger shades. There's this amazing Versace pair with a bright orange tint with the gold Versace emblem. It's super elegant and glamorous at the same time. I think people are tired of wearing sweats for however long and a glam pair of sunglasses this summer will elevate any look instantly."
The 2010s: Ray-Ban RB1969 Rectangle 1969 Mirror Evolve
"That was kind of a weird era with funky, rectangle shapes and all of those pink colors. There was a lot of gold, a lot of gold frame accents. It was very Sarah Jessica Parker. It was cute and almost quirky."
The 2000s: Burberry BE4336
"The early 2000s and Y2K era makes me think of Justin Timberlake when everyone had that blue pair of lenses. Very geometric shapes, rectangular shape glasses in vinyl-like colors, bright white and bright red. You can see wearing them with big, baggy oversizes t-shirts and bike shorts, very Instagram-worthy and in right now. We are in a Y2K revival," Zanna said. Specifically, she shared, "There's a white Burberry pair that look a little futuristic, but this was also exactly what we were all doing in 2001."
The 1990s: Ray-Ban RB3565 Jack
Zanna remarked, "Do you remember the Ray-Bans that Drew Barrymore wore on the red carpet, blue Ray-Bans? Little blue, round lenses that I think were the epitome of the '90s too cool to care vibes."
The 1980s: Ray-Ban RB2140 Wayfarer x SGH 50
When asked about the 1980s sunglasses trends, Zanna had one word in mind: "Madonna." She elaborated, "When I was growing up, watching Madonna in her Wayfarers, I just remember that so iconically. Just a classic shape, maybe with a turtle shell frame and those are easy to wear today. Another one of those trends that has never gone anywhere."  
The 1970s: Versace VE2199 x SGH 50 Limited
Zanna associated the 1970s with "Farrah Fawcett vibes, big sunglasses. Big frames, big lenses. And lots of hardware, gold hardware." She remarked, "I just love the idea of a pale lens with a dark frame. I have a pair of these Versace ones that are very 70s and I'm obsessed with them."